Cypriot souvlakia
Souvlakia is a street food that you can find all over Cyprus! Traditionally, they are made with chicken or pork, but my vegan version is made with tofu. They are served with pita bread and several condiments, salad and fries.
Vegan, nut free, gluten free | Serves 2 | MAIN
Ingredients:
280g firm tofu
2 tablespoons olive oil
2 tablespoons soy sauce
2 tablespoons balsamic vinegar
1 tablespoon maple syrup
1 teaspoon of oregano
Salt and pepper
Serve with:
Shredded white cabbage
Chopped parsley
Thinly sliced red onion
Lemon
Steps:
1.Freeze the tofu overnight, and then defrost it.
2.Remove the tofu from the packaging and squeeze all the water out (like a sponge). By doing this, you get to squeeze out most of water, the tofu then can absorb the marinade better and it also help with the texture.
3.Cut the tofu in 3cm squares and pat dry with some kitchen towel.
4.In a container, add all the remaining ingredients and mix. Add the tofu, coat it and put it in the fridge for at least 2 hours or overnight to marinade. Make sure to turn them, every now and then, so they marinate on all sides.
5.Add the tofu cubes on skewers.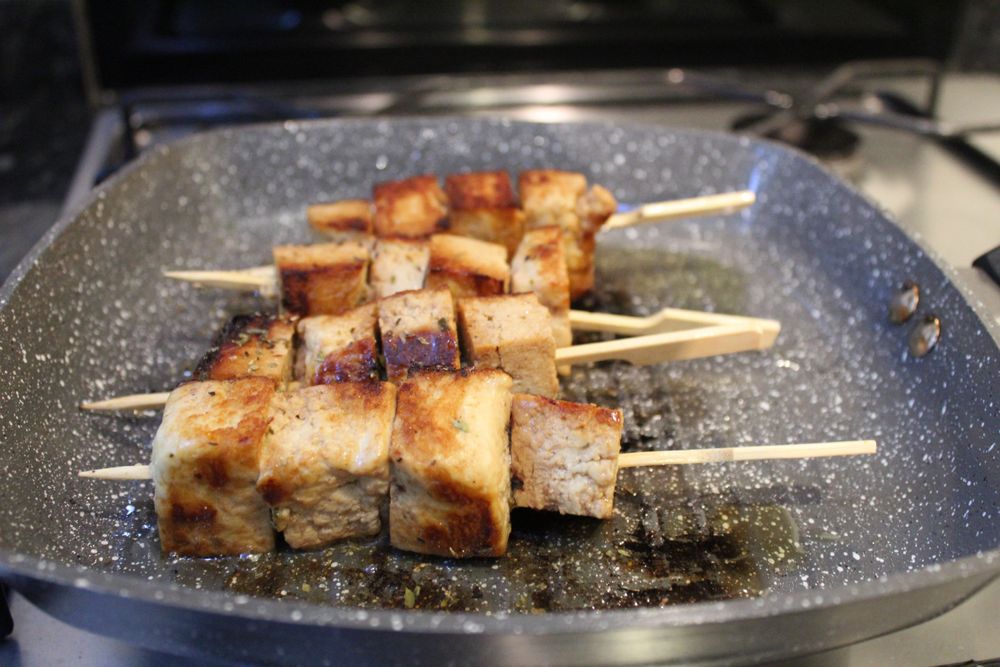 6.Preheat a cast iron pan, add a splash of olive oil and cook the skewers for few 2-3 minutes on each side. This step traditionally is done on the barbecue.
7.Serve with fries, pita bread, cabbage, parsley and red onion, lemon and tzatziki.
Happy cooking everyone!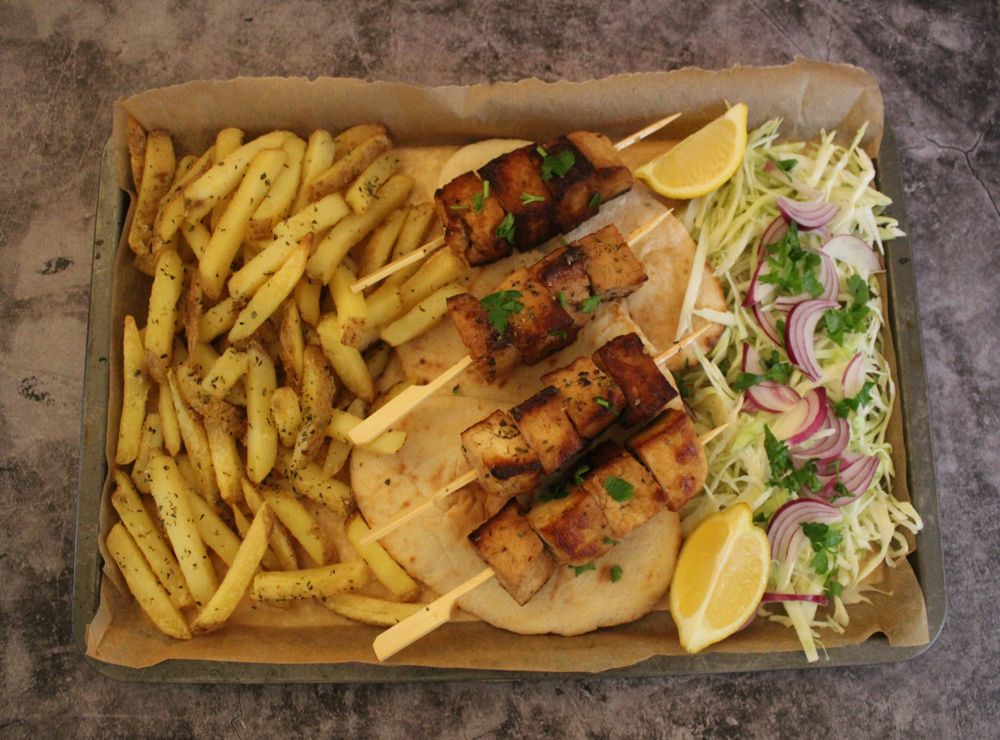 Did you try this recipe?
Let us know how it went, comment below and share a picture on Instagram or Twitter with the hashtag #natliciousfood
*Disclosure
Feel free to support me on Patreon!
Some of the above links are affiliate links, meaning at no additional cost to you, I may earn commission when you click through and make a purchase.