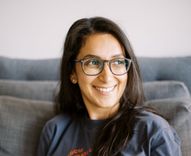 Natali Eleftheriou
My name is Natali and I am indeed a real food lover. I find myself more than passionate with anything related to food and especially cooking! I literally started this blog to share with you my cooking journey. A journey that I am really enjoying and can only thank my grandmother for. My life revolves around food as I spend all my free time cooking or experimenting in the kitchen and watching food related videos online.
I grew up in Cyprus, where grandmas really play a significant role in a child's upraising. I might say I was the annoying child wanted to be involved in the kitchen as she was cooking for the family. I spent hours and hours watching her cooking, always wanting to help and she always made sure I was involved in the process in any way she could involve me. She is an exceptional cook and I can say that her food is the most amazing I have ever had!
Around August 2017, I decided to change my whole diet, and while I was fully eating meat and dairy products, I turned to a plant based diet. It was really a big challenge for me as I was used to eat meat almost every day and a meal without meat seemed incomplete to me, something was missing! So after changing my eating habits I was determined to cook more and more tasty foods that can compete anything else I was eating thus far.
Stick around for some delicious or shall I say Natlicious plant based recipes!
Love Nat