Molasses infused bake tray
Molasses infused bake tray
This molasses infused baked tray is busting with flavours and it's really easy to make!
Vegan, nut free | Serves 2| MAIN
Ingredients:
2 medium size potatoes
200g butternut squash
150g cauliflower
1/2 red onion
250g firm tofu
Salt and pepper
1 teaspoon of each oregano and garlic granules
3 tablespoons of olive oil
3 tablespoons pomegranate molasses
1 tablespoon soy sauce
Garnish with:
Fresh coriander
Spring onions
Pomegranate seeds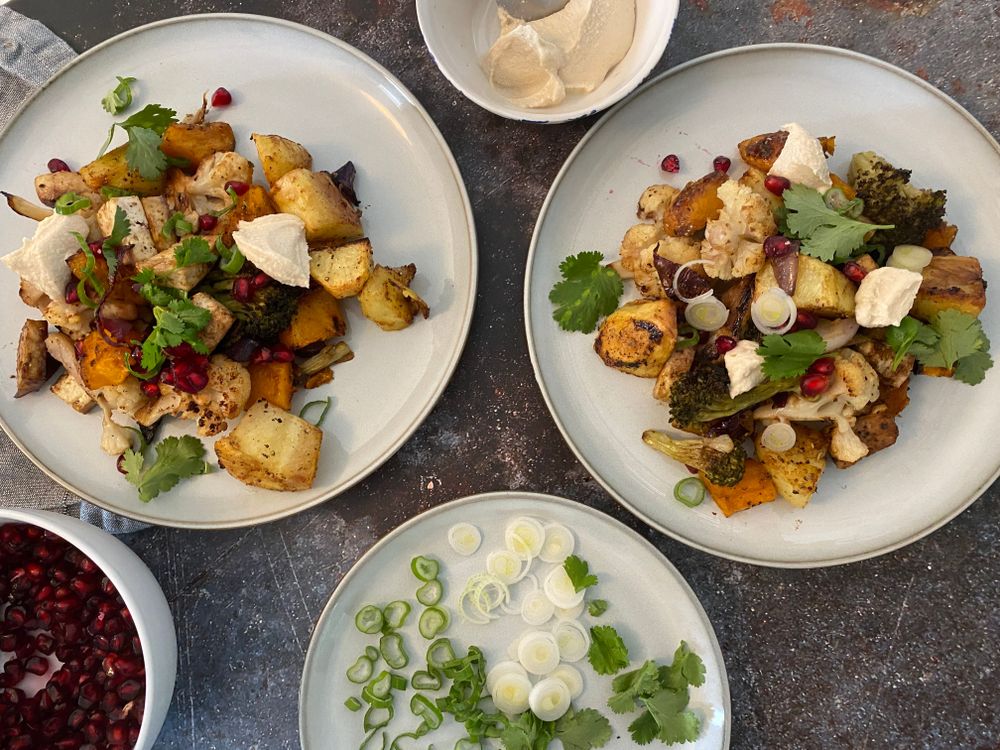 Steps:
1.Peel the potatoes and cut them in large chunks, add them in a baking tray.
2.Do the same with the butternut squash.
3.Drizzle half of the olive oil, and season with salt, pepper, oregano, and garlic granules.
4.Mix well and bake in a preheated oven at 180°C for 20 minutes.
5.In the meantime, cut the tofu in squares, the red onion in thick slices and the cauliflower in florets.
6.In a mixing bowl, add the tofu, onions, and cauliflower along with the remaining of the ingredients and stir to coat.
7.Remove the tray from the oven and add the tofu, onions and cauliflower and bake for another 20 minutes.
8.Serve with fresh coriander, spring onions, pomegranate seeds and hummus.
Happy cooking everyone!
Did you try this recipe?
Let us know how it went, comment below and share a picture on Instagram or Twitter with the hashtag #natliciousfood
*Disclosure
Feel free to support me on Patreon!
Some of the above links are affiliate links, meaning at no additional cost to you, I may earn commission when you click through and make a purchase.