Greek stuffed zucchini blossoms
Greek stuffed zucchini blossoms
One of my favourite summer recipes, if you haven't tried them before I highly recommend it!
Vegan, nut free, soy free, gluten free | Serves 5 | MAIN
Ingredients:
1 onion
1 carrot
2 courgettes
6 tablespoons olive oil
Salt and pepper
1 teaspoon of each dried oregano and garlic granules
175g rice (Baldo, Karolina or risotto rice)
1 tablespoon of tomato paste
1 veggie cube
A handful of fresh dill, chopped
2 spring onions, chopped
50 zucchini/courgette flowers
Juice of half lemon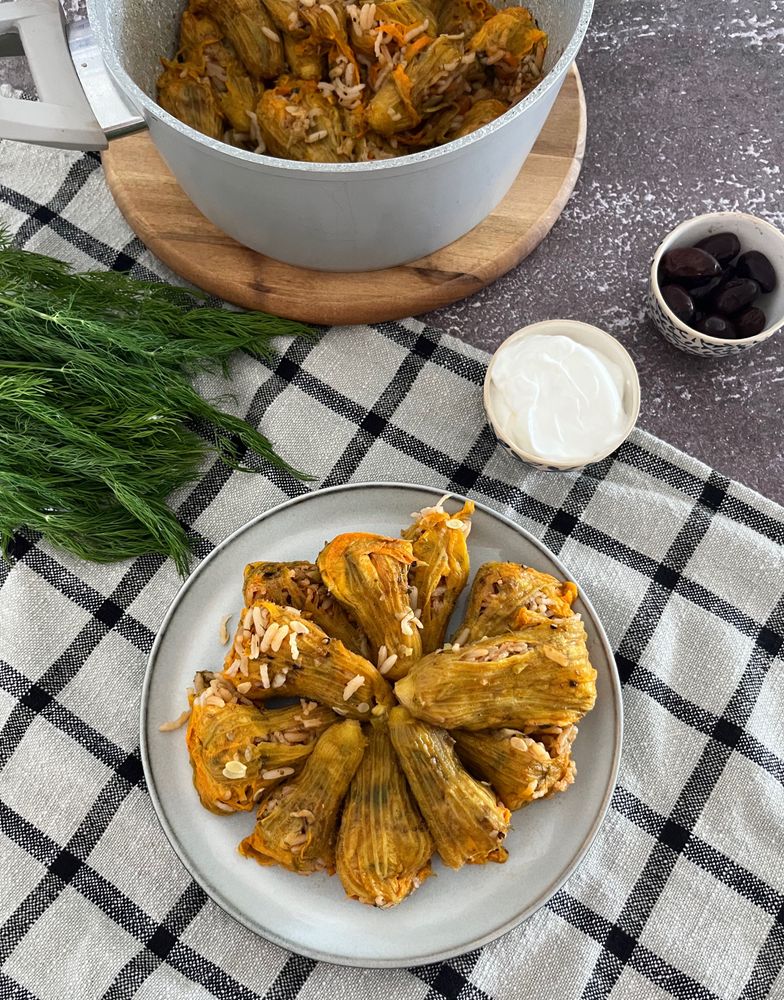 Steps:
1.Chop the onion, carrot and 1 courgette into small cubes.
2.In a pan on a medium high heat, add 2 tablespoons of olive oil and the chopped veggies.
3.Sauté for approximately 5 minutes, stirring occasionally.
4.Season to taste.
5.Add the rice, along with 1 tablespoon of olive oil sauté for a minute. Remember to add some salt.
6.Continue with the tomato paste, combine well and sauté for few seconds.
7.Desolve the veggie cube in 1L of hot water and add 250ml to the rice mixture.
8.Mix well and let the rice absorb the water.
9.After few minutes the water must be evaporated, turn off the heat and add the chopped dill and spring onion.
10.Let aside for few minutes to cool down, until you prep the flowers.
11.Remove the green parts outside the flowers and wash them thoroughly.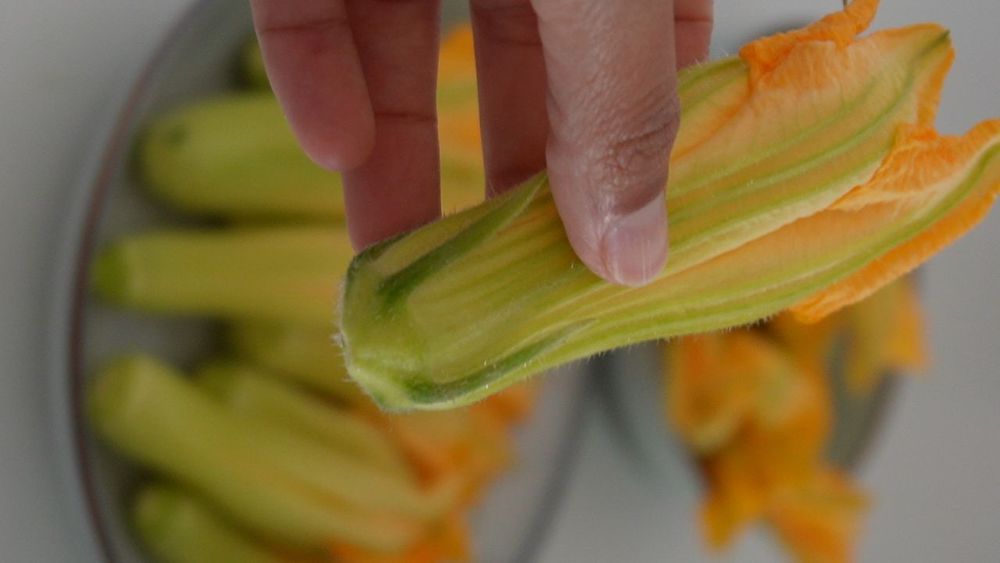 12.Let aside to dry a bit.
13.Cut the remaining courgette into 1cm thick coins and add a tablespoon of olive in the bottom of your pot.
14.Cover the bottom with a single layer of the courgette slices and season.
15.Fill the flowers with 1 teaspoon of the stuffing and seal them.
16.Continue until you fill all of them and place them next to each other.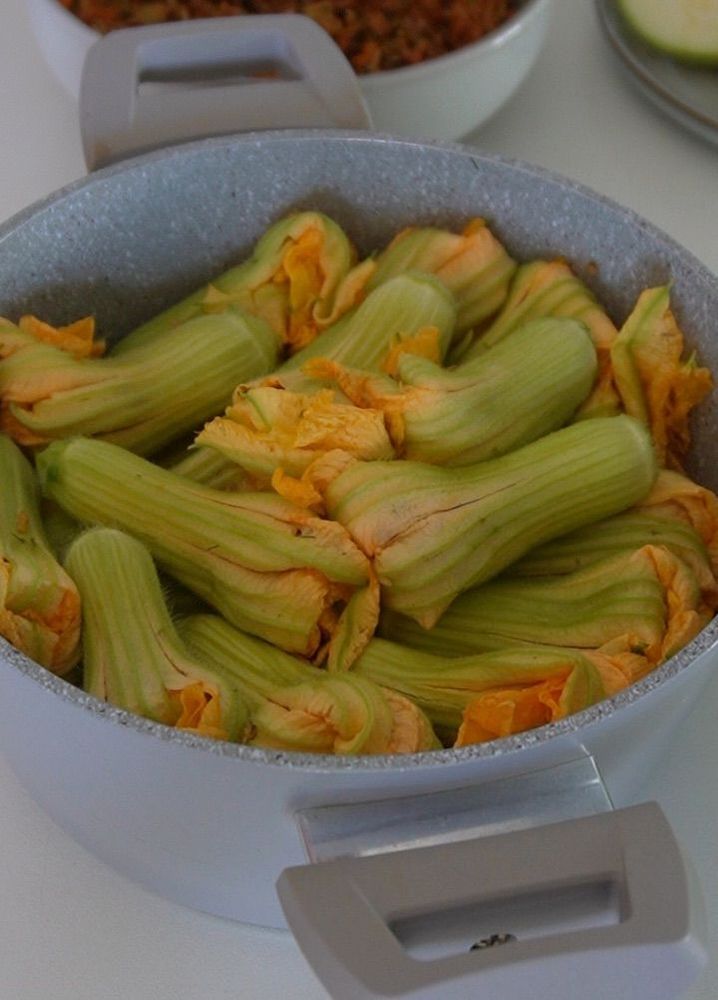 17.Cover with another layer of courgette slices, add 2 tablespoons of olive oil and some veggie broth.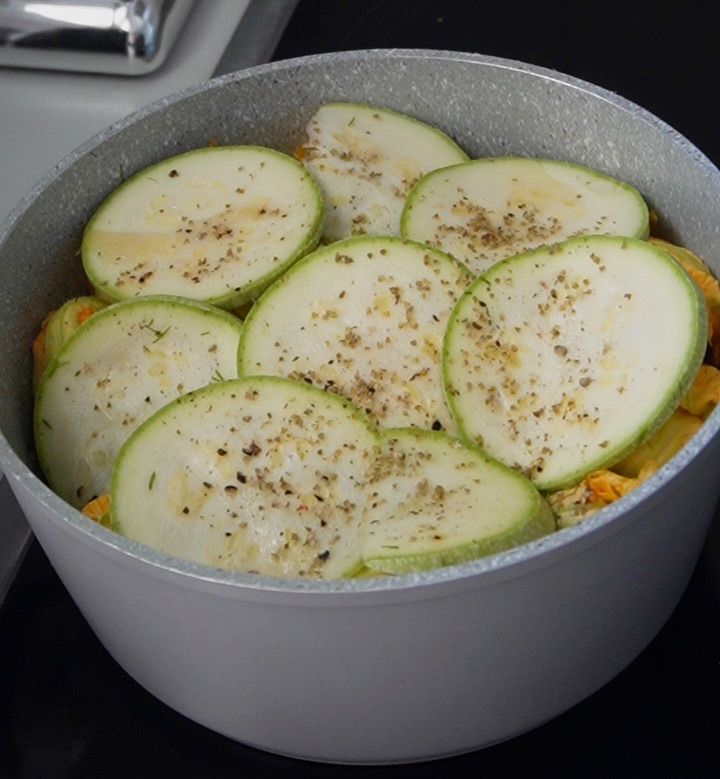 18.Add veggie broth up to the point you almost cover the blossoms.
19.Season the courgette slices, cover with a plate and a lid.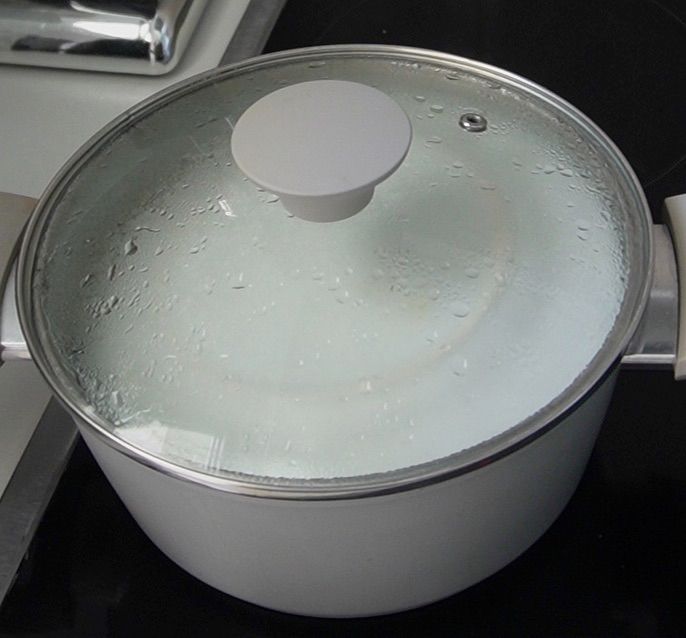 20.Start cooking for 10 minutes of a high heat, then lower the heat on medium and cook for another 25-30 minutes.
21.After half an hour, remove the lid and plate carefully, to check if the water has been absorbed and the rice has cooked.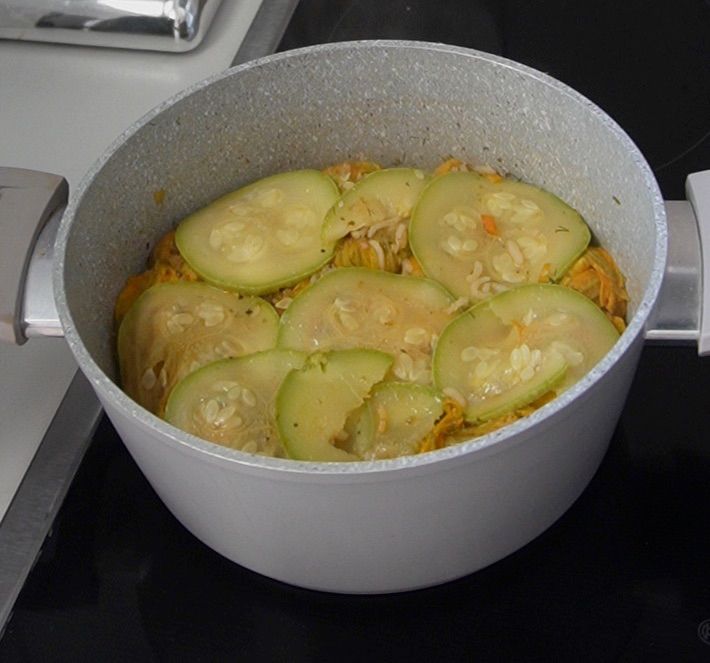 22.Turn off the heat and add the lemon juice.
23.Enjoy warm or cold, with tzatziki, salad and bread!
Notes:
*Wash the flowers very well as they might have insects or ants.
*Keep in mind that the flowers are open in the morning, so you need to make the recipe as early as possible.
*You can prepare the stuffing from the day before.
*Avoid overfilling them, as the rice expands when it's cooked.
Happy cooking everyone!
Did you try this recipe?
Let us know how it went, comment below and share a picture on Instagram or Twitter with the hashtag #natliciousfood
*Disclosure
Some of the above links are affiliate links, meaning at no additional cost to you, I may earn commission when you click through and make a purchase.