Fig galette
During this time of year, figs are in abundance, flourishing all around Cyprus! So, when I had the opportunity to handpick some figs from a tree in my neighbourhood, I couldn't wait to use them in this delicious galette. I hope you try it and you enjoy it as much as I did!
Vegan, soy free | 8 pieces | DESSERT
Ingredients:
For the dough:
250g all-purpose flour
1/2 teaspoon salt
30g sugar
155g cold vegan butter, in cubes
30ml ice cold water
To assemble:
20g pistachios
8-9 figs
1-2 tablespoons of four
3 heaped tablespoons fig jam
2 tablespoons of soy milk
1 teaspoon of maple syrup
Pinch of coconut sugar (or brown sugar)
1-2 tablespoons of icing sugar (optional)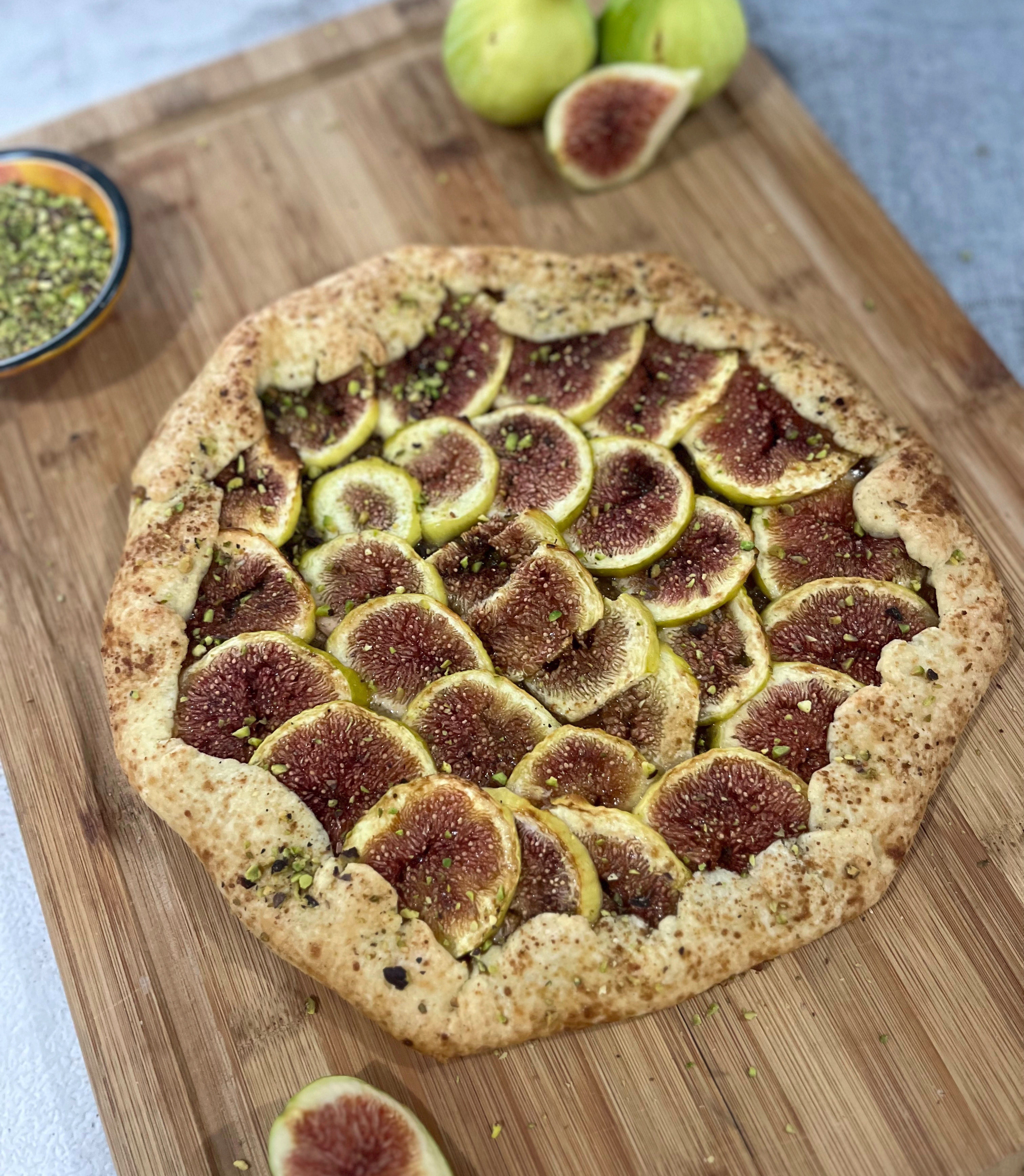 Steps:
1.In a food processor, add the flour, salt, sugar and butter pieces.
2.Pulse for few times until the butter is combine and you get a sand like consistency.
3.Add bit by bit the water, while blending.
4.Once the mixture comes together, place it on a clean surface and shape it into a disk.
5.Wrap it with clean film and put it in the fridge for 30minutes.
6.While the dough is resting, add the pistachios in a pan, and toast for few seconds.
7.Transfer them in a (clean) food processor and crush them into small pieces. Set aside.
8.Wash your figs under water and dry them carefully with a kitchen towel. Then cut them into 0.5cm slices and set aside.
9.Remove the dough from the clean film and place it on a lightly floured parchment paper.
10.Use a rolling pin to roll the dough into a circle of approximately 0.5cm thickness.
11.Sprinkle some flour as needed and once you have the thickness required, transfer the parchment paper with the dough on a baking tray.
12.Spread the fig jam, leaving a 2-3cm gap at the edges.
13.Sprinkle most of the pistachios on top of the jam. Keep 1/2 teaspoon aside for later.
14.Place the fig slices on top of the jam and pistachios, one overlapping the other one, starting from the outer side going in the centre on the circle.
15.Fold the edges of the dough on top of the figs all round and lightly pinch the dough when needed.
16.In a small bowl, mix the milk and maple syrup and brush the sides of the galette.
17.Sprinkle the pistachios you kept aside and the coconut sugar.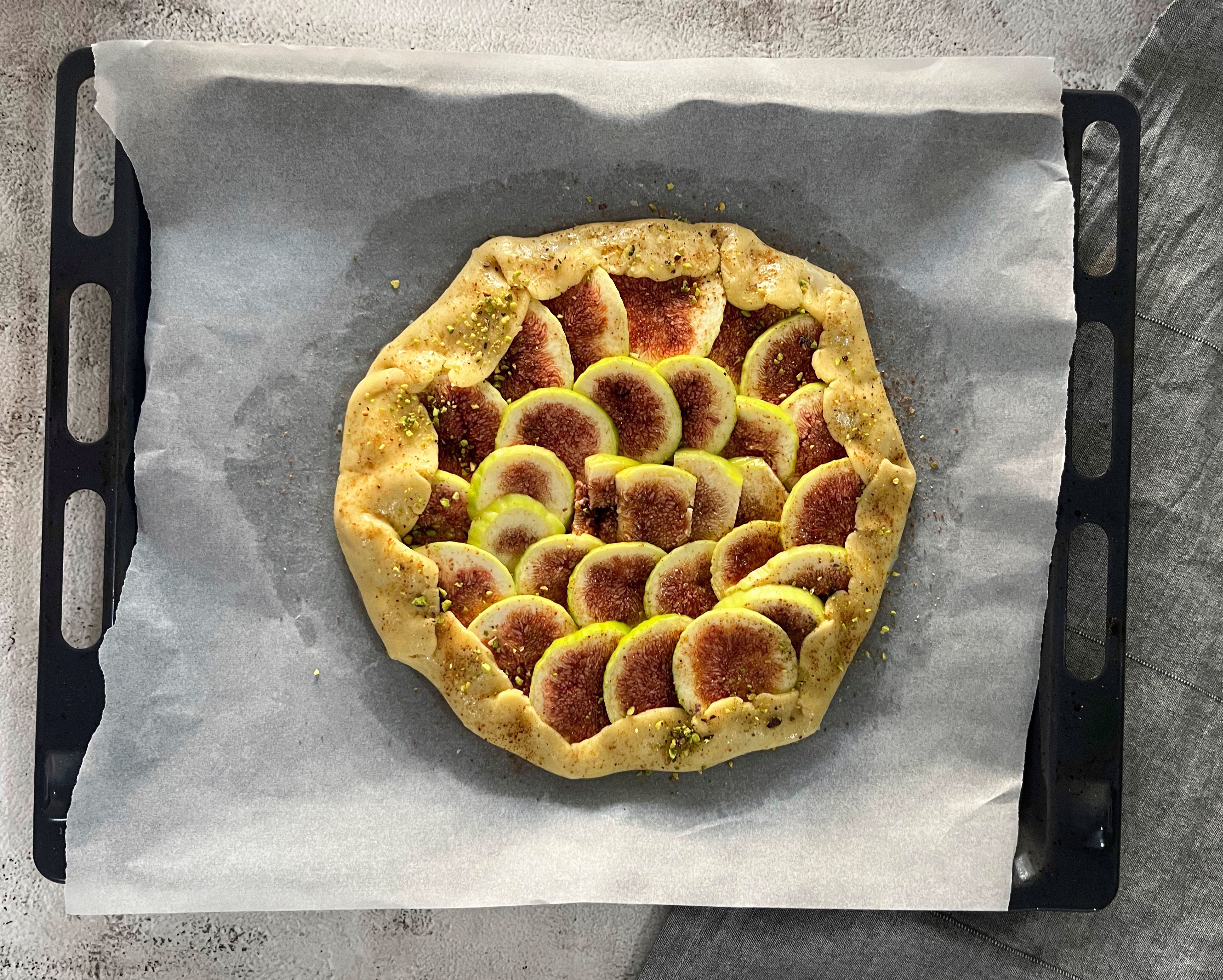 18.Bake in a preheated oven at 180°C for 25-30 minutes.
19.Once is baked, you can sprinkle some icing sugar around the figs, but that's totally optional.
You can serve with plant-based vanilla ice cream, but even on its own it's gorgeous!
Enjoy!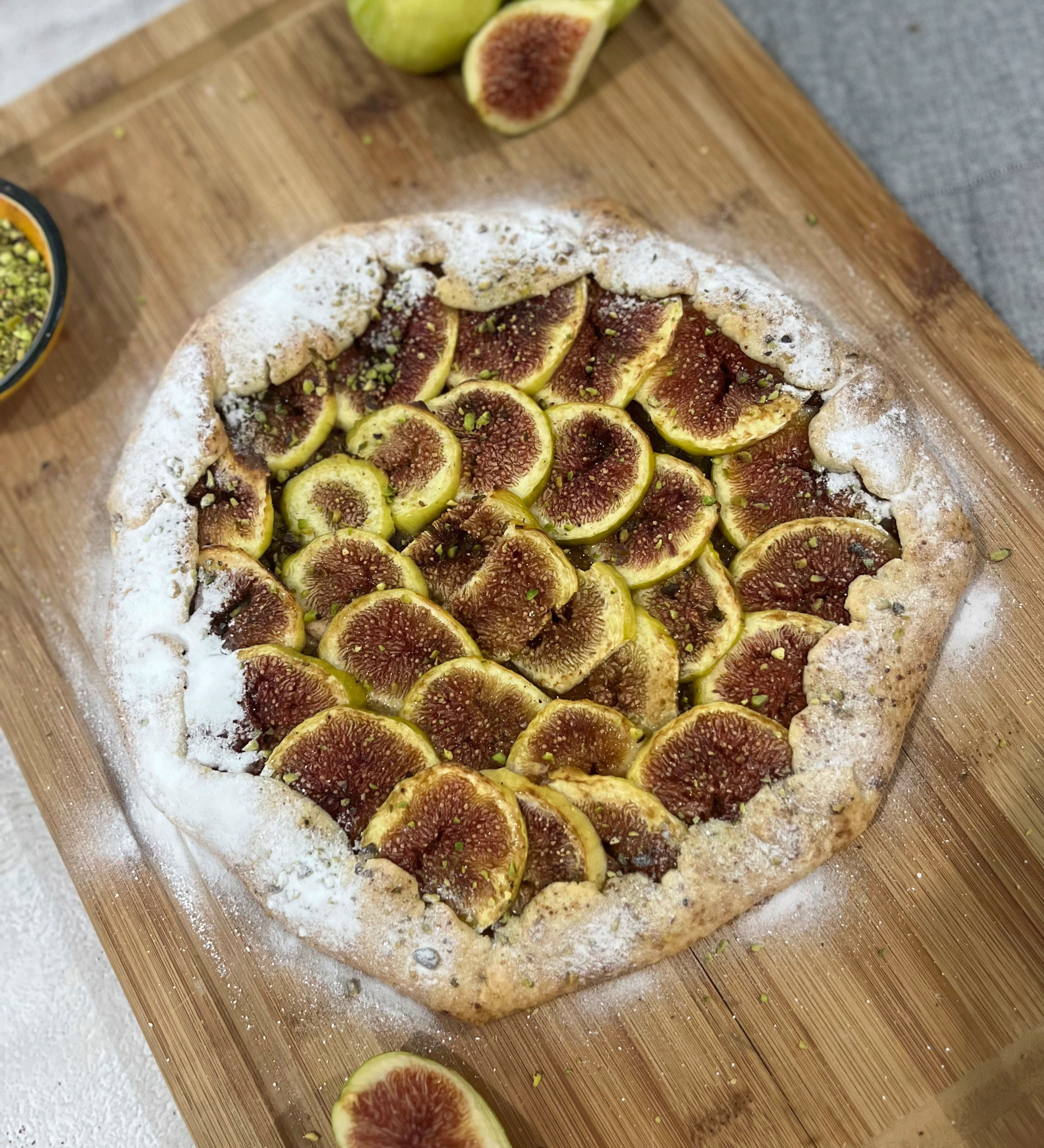 Notes:
*I used green figs in this recipe, but feel free to use any fresh figs you have available in your area.
*You can prepare the dough a day before and keep it the fridge, ready to be rolled the next day.
Did you try this recipe?
Let us know how it went, comment below and share a picture on Instagram or Twitter with the hashtag #natliciousfood
*Disclosure
Some of the above links are affiliate links, meaning at no additional cost to you, I may earn commission when you click through and make a purchase.