Sauce karanga - Congolese Peanut Stew
Sauce karanga - Congolese Peanut Stew
This recipe is very close to my heart, as I grew up eating my grandam's poulet au karanga (aka chicken in peanut sauce). This was my favourite dish and when I went vegan it was one of the first recipes, I tried to veganise. I'm not going to lie I failed several times, until I perfected this recipe and bring it to my grandam's standards.
Vegan, gluten free, soy free | Serves 3-4 | MAIN
Ingredients:
2x 230g chickpeas (drained weight), drained and washed
2 medium size sweet potatoes or 1 big, peeled and cut into bite size cubes (around 300g)
1 medium size onion, peeled and finely diced
2 garlic cloves, peeled and finely diced
2 finger chilies or 1 scotch bonnet or pinch chili flakes (optional)
1 vegetable bouillon cube
1 teaspoon of tomato paste
1 teaspoon of curry powder
½ teaspoon of each paprika, oregano, cumin and garlic granules
1/2 teaspoon of each Dhow Nature Foods turmeric and Dhow Nature Foods ginger (10% discount code: DHOWLIKENATALI)
Pinch of salt and pepper
2-3 tablespoons of smooth peanut butter (sugar free)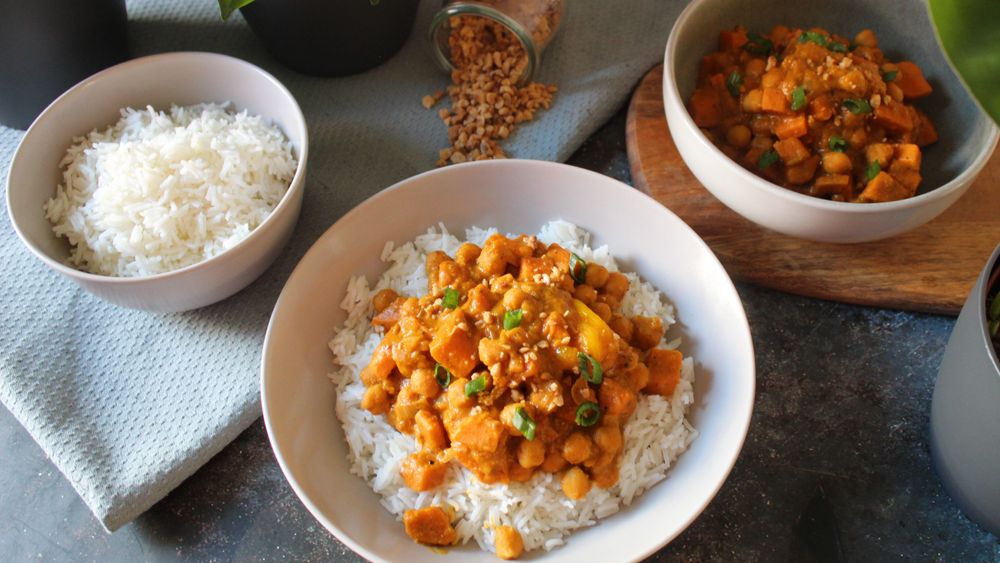 Steps:
In a large pot add a touch of oil on a medium high heat and add the onions and garlic and saute until soft.

After a couple of minutes add all the spices and saute (add splashes of water to deglaze the pot if needed).

Add the tomato paste and stir it through. After a minute add the sweet potatoes and saute to cover in spices and tomato paste.

Add the veggie cube and 500ml of boiling water, along with the peanut butter and the chickpeas. Stir well as you need to dissolve the peanut butter.

Add chilies or scotch bonnet if using. Bring to boil and turn the heat to low. Simmer for 20-25 minutes and stir occasionally.

You want the sauce to thicken up a bit and be creamy. If it's too watery add more peanut butter, if it's too thick, add a little bit of water.

Adjust seasoning to your liking and check if the sweet potatoes are cooked with a fork.
I prefer to serve it with white basmati rice, but you can have it with brown rice or quinoa. It lasts up to 5 days in the fridge, and you can also freeze it. If you are allergic to peanuts feel free to swap it with any other seed or nut butter of your liking (cashew nut or sunflower seed butter could work).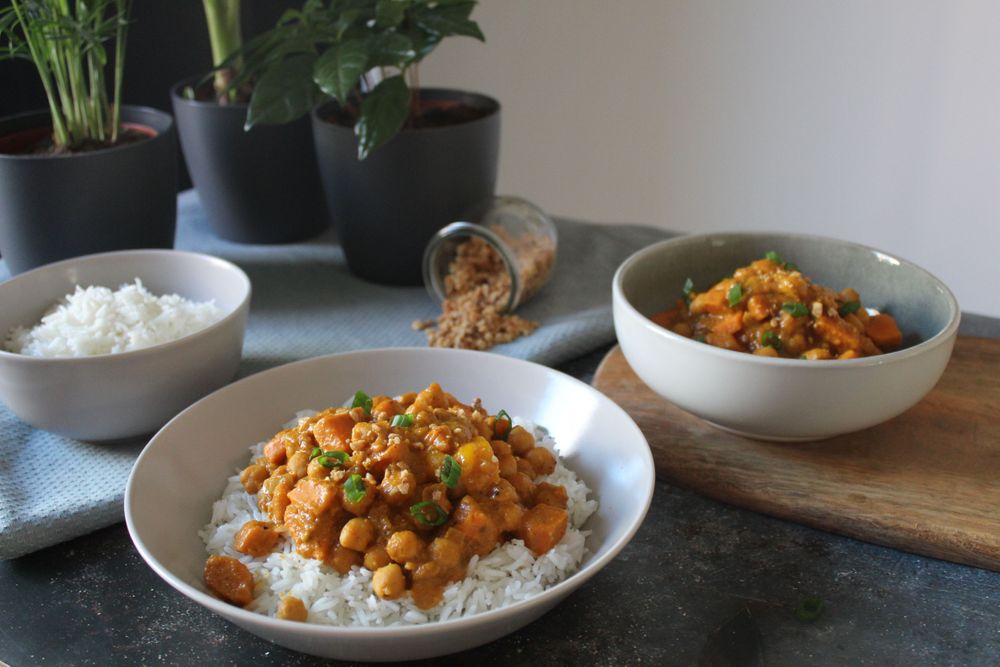 Happy cooking everyone!
Did you try this recipe?
Let us know how it went, comment below and share a picture on Instagram or Twitter with the hashtag #natliciousfood
*Disclosure
Feel free to support me on Patreon!
Some of the above links are affiliate links, meaning at no additional cost to you, I may earn commission when you click through and make a purchase.