Quinoa and sweet potato roll
Quinoa and sweet potato roll
Delicious quinoa and sweet potato roll, with only few simple ingredients.
Nut free, soy free | Serves 6 | MAIN
Ingredients:
250g sweet potato
135g quinoa
1 tablespoon of olive oil
Salt and pepper
1 teaspoon each oregano, garlic granules and paprika
1/2 teaspoon chili flakes
1 tablespoon of each tomato paste and soy sauce
1 spring onion, chopped
Handful of fresh coriander, chopped
To assemble:
375g roll puff pastry (I used 1 packed of ready rolled)
1/2 teaspoon of harissa paste
1 teaspoon of each tomato paste, maple syrup and olive oil
2 tablespoons of plant-based milk
1 teaspoon of maple syrup
1 tablespoon of sesame seeds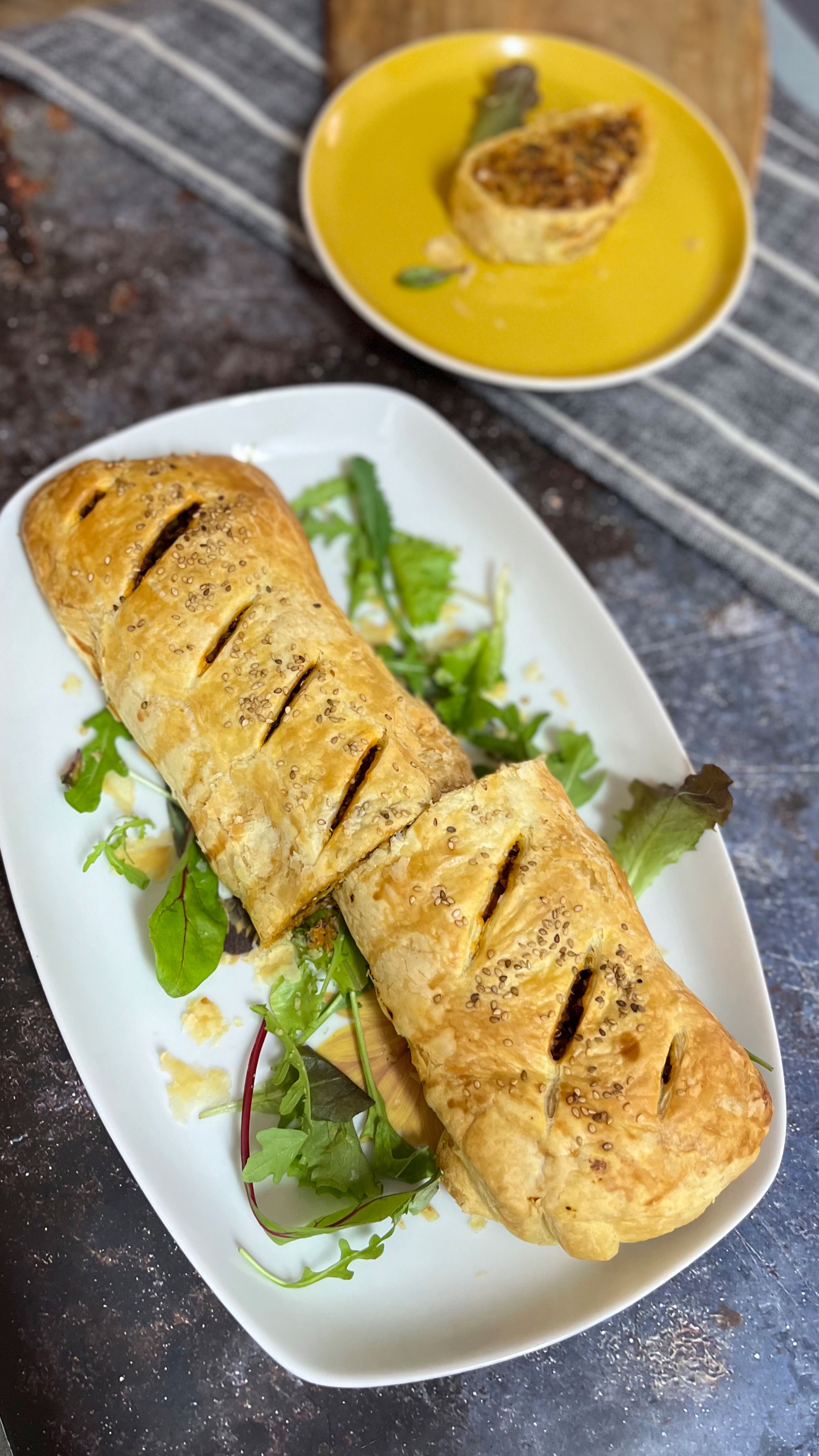 Steps:
1.Bake the sweet potatoes, in a preheated oven at 180°C for 45 minutes or until soft.
2.In the meantime, cook the quinoa according to the packaging instructions.
3.Once the sweet potato is cooked, remove from oven, cut in the middle and remove the flesh.
4.In a wide pan, add the sweet potato flesh and cooked quinoa, along with the olive and sauté/mix for a couple of minutes.
5.Add all the dry herbs and seasoning and mix to combine.
6.Add the tomato paste and soy sauce, mix and sauté for 1-2 minutes.
7.Add the spring onion and fresh herbs and mix well.
8.Let the mixture aside to cool down, before you can use it (all the above steps can be done up to 2 days in advance, just keep the filling in the fridge until needed).
9.In a small bowl, add the harissa and tomato paste, maple syrup and olive oil and mix to combine.
10.In a separate bowl, add the milk and maple syrup and mix to combine.
11.Unroll the puff pastry, spread the harissa paste, then add the mixture lengthwise and roll the sides over to cover. Seal the edges.
12.Brush the milk mixture on the roll and spread the sesame seeds.
13.Bake at 180°C, in a preheated oven for 40-45 minutes or until golden.
14.Let it cool down, before cutting. Serve it with roasted vegetables or a salad.
Happy cooking everyone!
Did you try this recipe?
Let us know how it went, comment below and share a picture on Instagram or Twitter with the hashtag #natliciousfood
*Disclosure
Feel free to support me on Patreon!
Some of the above links are affiliate links, meaning at no additional cost to you, I may earn commission when you click through and make a purchase.