Protein packed burrito
Delicious protein packed burrito with rice, beans, a mixture of peppers and red onion and a spicy avocado salsa!
Vegan, nut free, soy free | Serves 3 | MAIN
Ingredients:
Beans:
1 x 230g black beans (drained weight), drained and washed
1 tablespoon tomato paste
Salt and pepper
1/2 teaspoon of each garlic granules, cumin
Peppers:
1 tablespoon olive oil
1 red bell pepper, julienne
1 yellow bell pepper, julienne
1/2 red onion, julienne
1 garlic clove, crushed
Salt and pepper
1/2 teaspoon smoked paprika
Avocado salsa:
1 avocado, cut in small cubes
1 tomato, cut in small cubes
1 red chilli, deseeded and sliced
Juice of 1 lime
Salt and pepper
Pinch of garlic granules
Fresh coriander, chopped
To serve:
180g rice of choice
3 tortilla wraps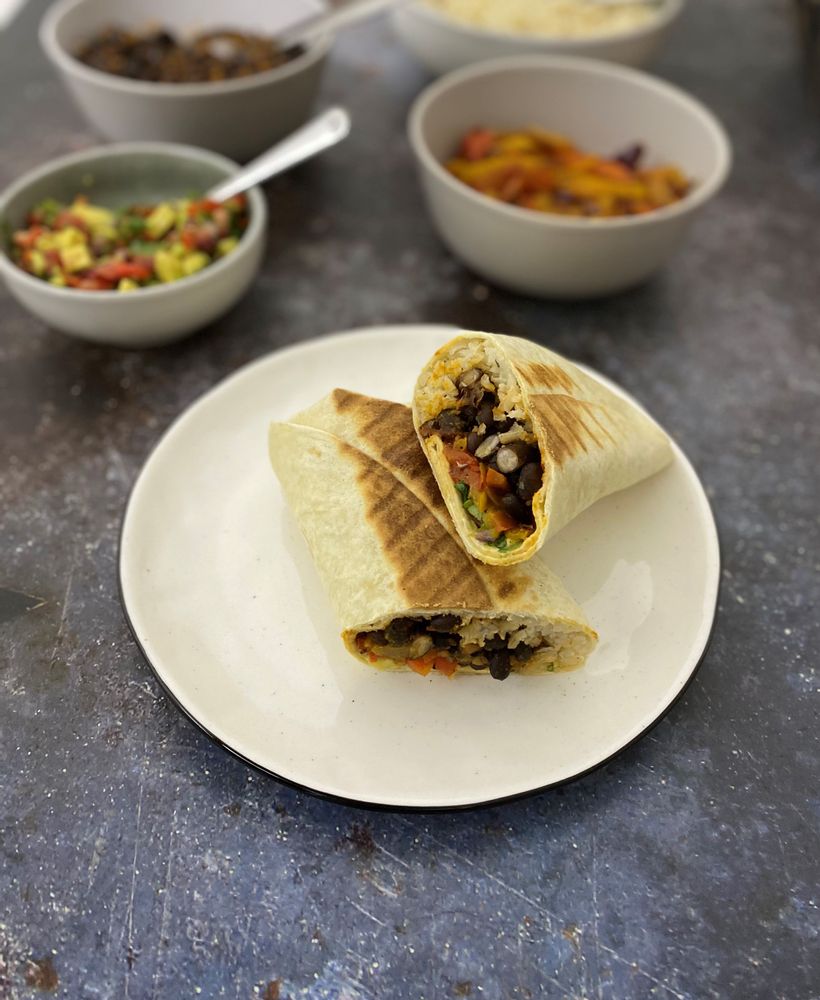 Steps:
1.Start by cooking the rice (according to the package instructions) as it takes the longest, especially if is brown.
2.In a saucepan, on a medium heat add all the ingredients for the beans and sauté for few minutes, with a couple of tablespoons of water. Cook for around-5-7 minutes.
3.On a preheated wide pan, on a high heat, add all the ingredients for the peppers and sauté stirring occasionally, they need approximately 10 minutes.
4.While the rest are cooking, prepare the avocado salsa by mixing all the ingredients in a bowl, set aside until you need it.
5.Once all the components are ready, heat the tortilla for few seconds, either on a pan or in the oven.
6.Start assembling by adding 3-4 tablespoons of rice on the tortilla, then, the same amount of beans, continue with the pepper mixture and then the avocado salsa.
7.Fold in the sides and roll the tortilla to cover the filling and continue rolling.
8.Add the burrito on a preheated skillet or pan with the edge looking down to seal it. Turn on the other side to get a nice golden colour.
Happy cooking everyone and enjoy!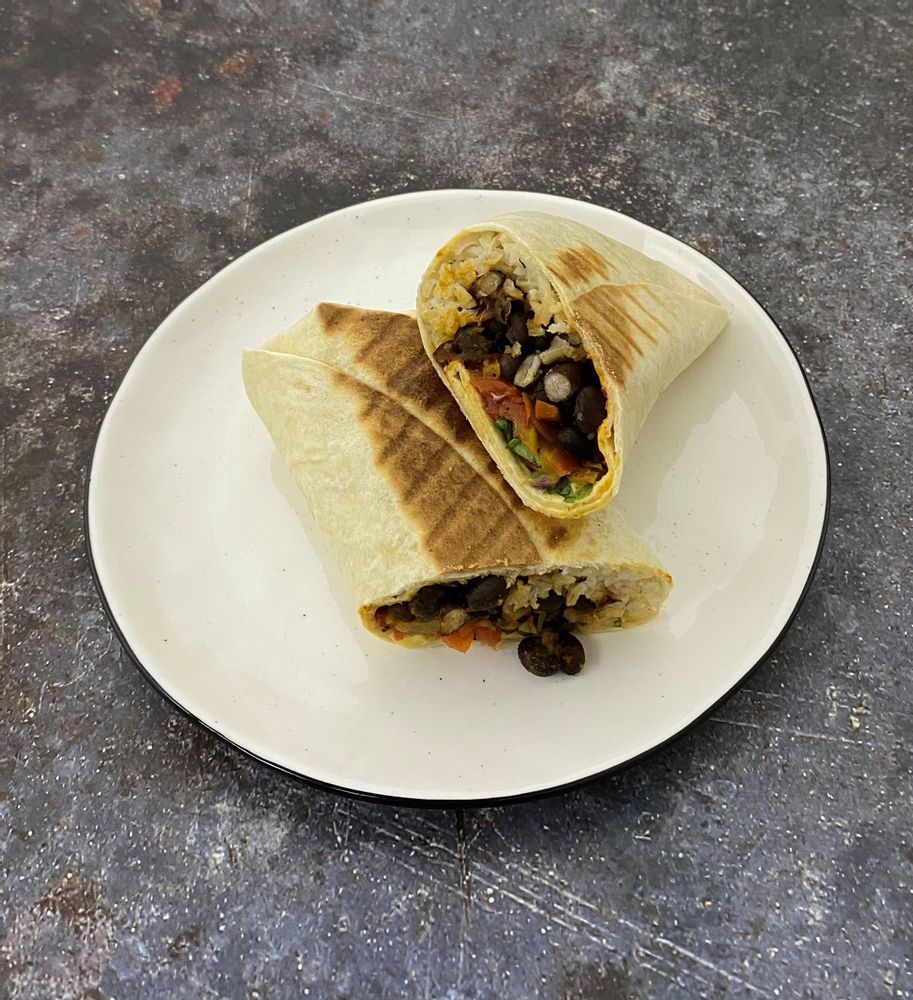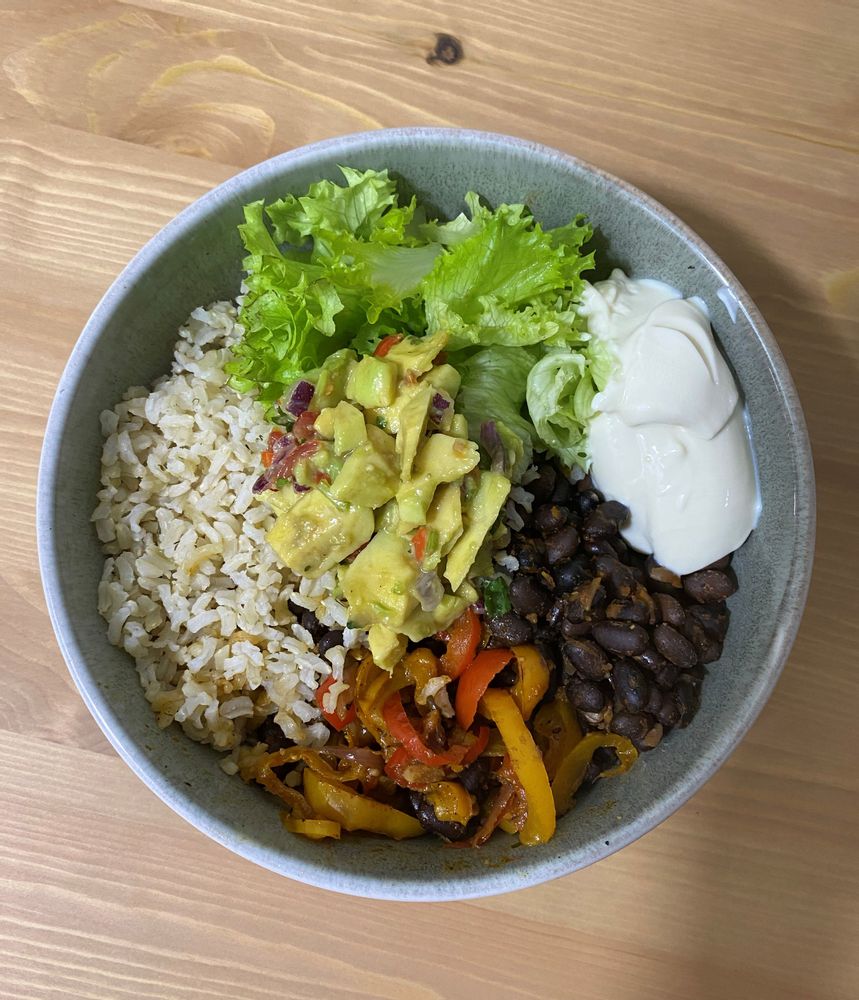 Did you try this recipe?
Let us know how it went, comment below and share a picture on Instagram or Twitter with the hashtag #natliciousfood
*Disclosure
Feel free to support me on Patreon!
Some of the above links are affiliate links, meaning at no additional cost to you, I may earn commission when you click through and make a purchase.