Pesto potato bake tray
Easy and delicious pesto potatoes bake tray. Ideal for the days that you can't be bother with all the washing that comes with cooking, but still want to eat homemade wholesome food.
Vegan, soy free, gluten free | Serves 2 | MAIN
Ingredients:
600g potatoes (I used baby potatoes, but any white potato will do)
1/2 onion, julienne
1 tablespoon of olive oil
Salt and pepper
1/2 teaspoon of oregano
1x 230g cannellini beans (drained weight), drained and washed
For the dressing:
2 tablespoons of green pesto (I used Tesco's free from)
3 tablespoons of olive oil
1 clove of garlic, crushed
Fresh thyme
Serve with:
2-3 tablespoons of plant-based yogurt (I used Alpro Greek style)
Fresh parsley
Steps:
1.Preheat your oven to 180°C.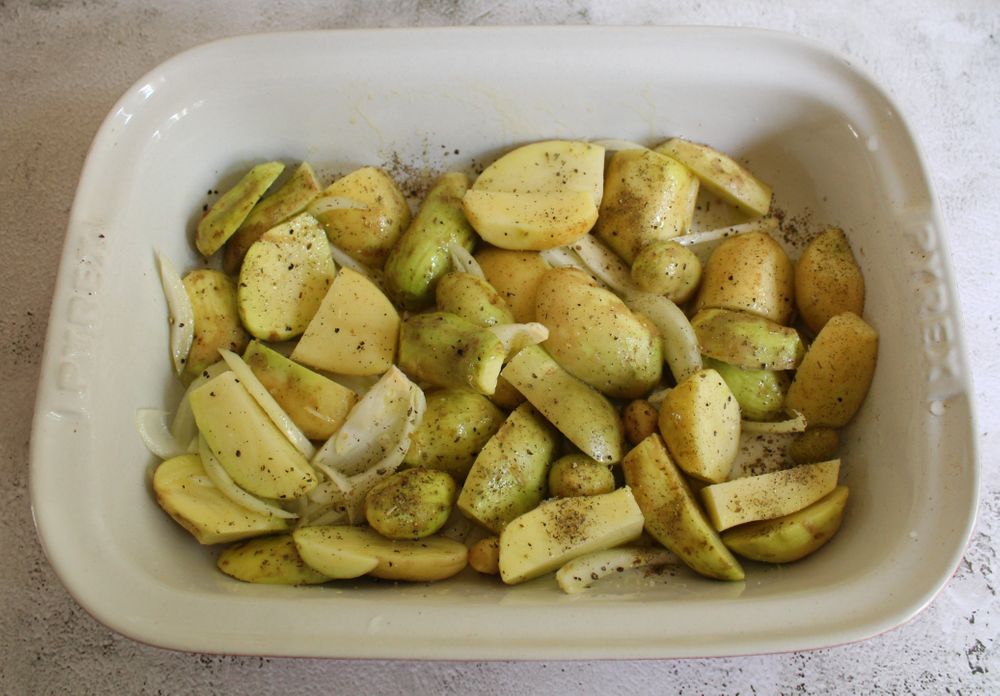 2.Thoroughly wash the potatoes and cut them in bite size pieces (try to keep the same size, so they cook at the same time).
3.Add in a baking tray (25x34cm) with the sliced onions, olive oil, plenty of salt, pepper and oregano. Stir everything well and bake for 45 minutes.
4.In the meantime, prepare the dressing by mixing all the ingredients well (except from the thyme).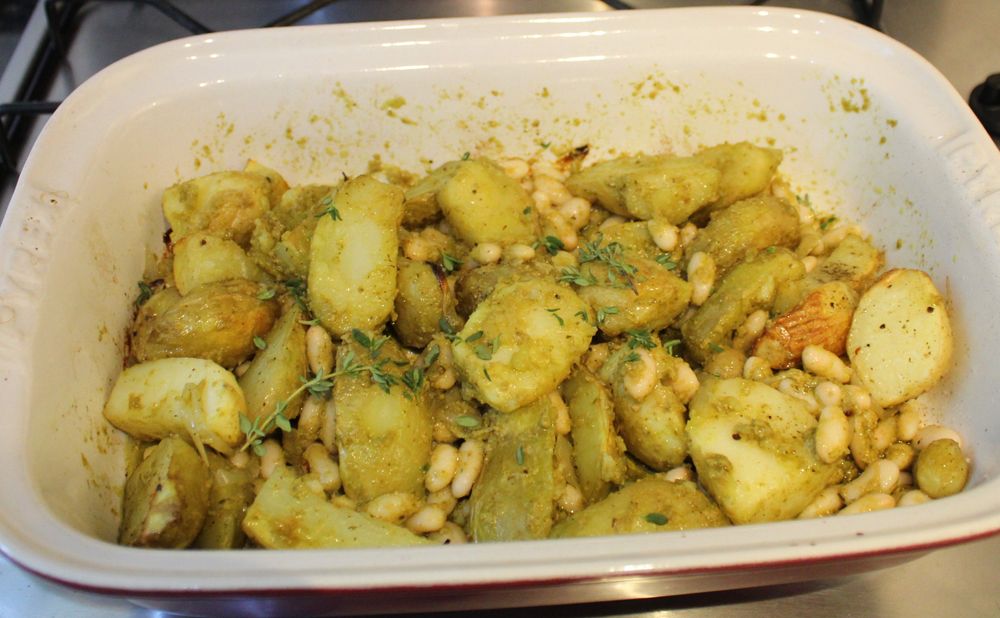 5.Once the 45 minutes have past, remove the tray from the oven, add the beans and dressing and stir to coat well.
6.Sprinkle the fresh thyme and bake for additional 15 minutes.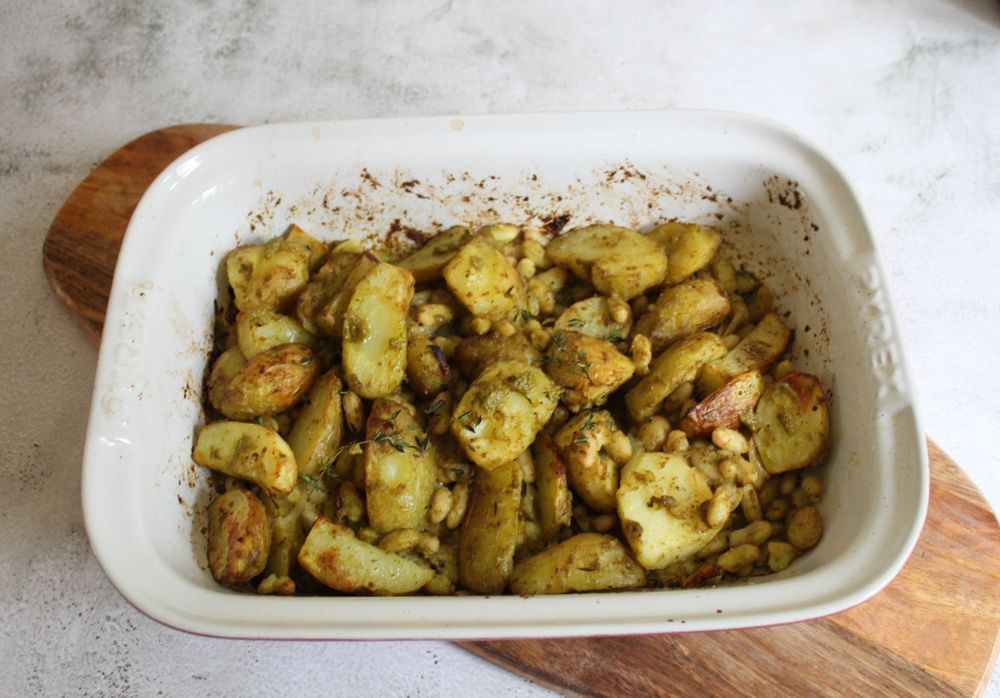 7.Serve with yogurt and fresh parsley.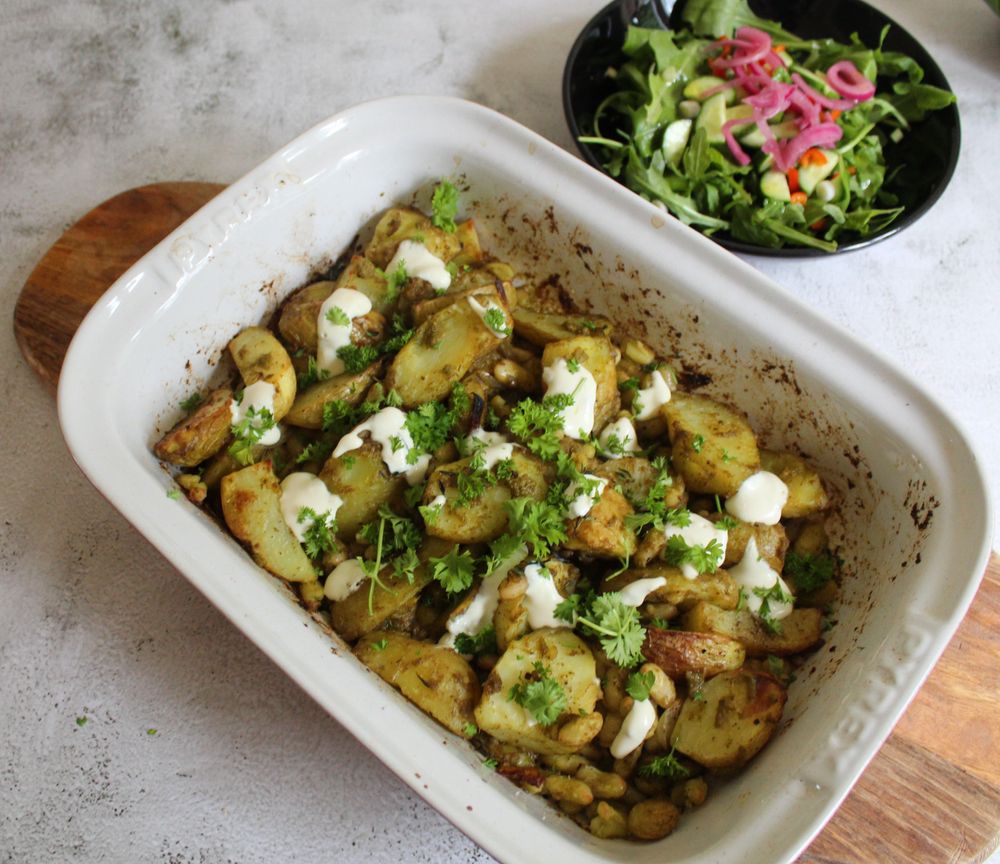 Happy cooking everyone!
Did you try this recipe?
Let us know how it went, comment below and share a picture on Instagram or Twitter with the hashtag #natliciousfood
*Disclosure
Feel free to support me on Patreon!
Some of the above links are affiliate links, meaning at no additional cost to you, I may earn commission when you click through and make a purchase.