Peanut butter bars
These peanut butter bars are ideal for a snack or a quick breakfast.
Vegan, gluten free, soy free | 12 squares | SNACK
Ingredients:
360g medjood dates, pitted
180g rolled oats
2 tablespoons of smooth peanut butter
Pinch of salt
180g dark chocolate
Pinch of rock salt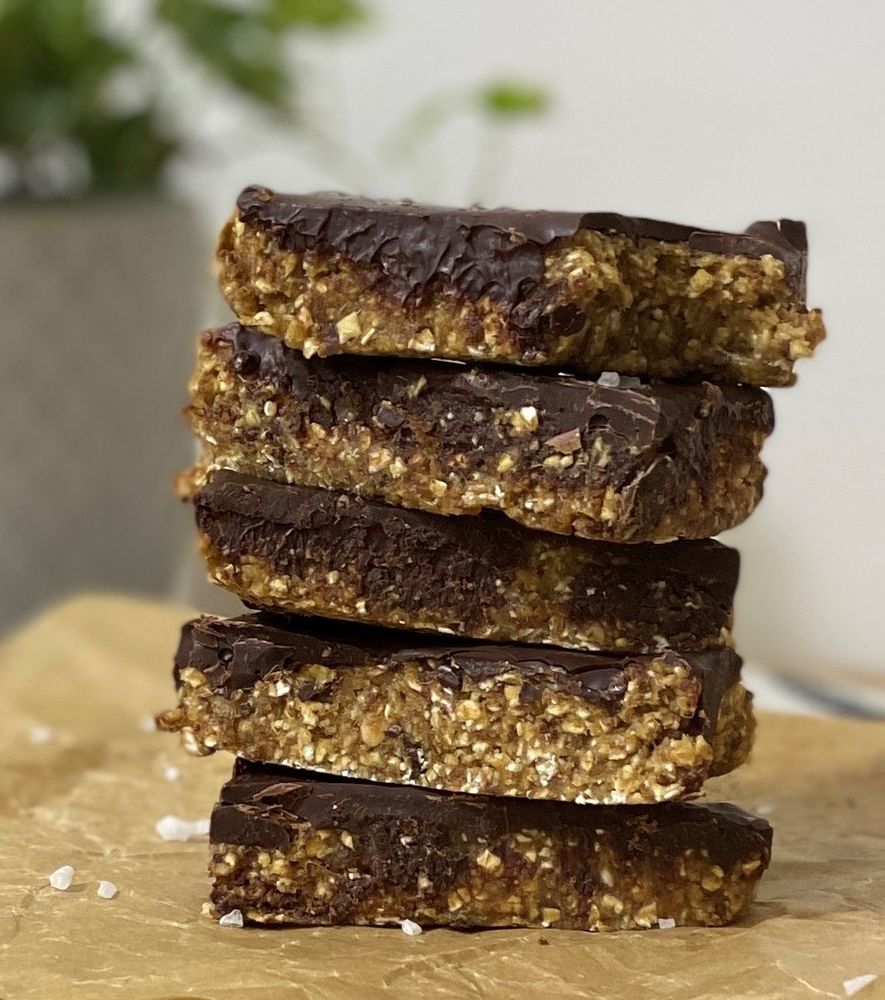 Steps:
1.Soak the pitted dates in boiling water for 10 minutes (only if your dates are too dry).
2.Rinse the water and blend in a food processor for a couple of minutes.
3.Add the oats and a pinch of salt and blend until everything is combined well.
4.Add the peanut butter and blend again.
5.Stop and scrape the edges of the food processor as you go along.
6.Line a (40x15cm) container or baking tray with parchment paper so that there is overhang on the sides, making it easier to lift out.
7.Transfer the mixture into the tray and smooth it down to an even layer (use the back of a spatula or the back of a glass).
8.Refrigerate for a couple of hours.
9.Crumble the chocolate into a bowl and place it over a pot with boiling water (the bowl shouldn't be touching the hot water!), creating a bain-marie. Wait for the chocolate to melt and remove from the heat.
10.Alternatively, melt the chocolate in a microwave. Add the chocolate in a bowl, cover with clean film and add in the microwave for 30 seconds at 800w. Remove, check if it has melted, if not add for additional 30 seconds. Be careful not to burn the chocolate.
11.Pour the melted chocolate over the bars and sprinkle some rock salt.
12.Cut into bars and place back in the fridge to set for at least an hour.
13.Keep in the fridge for a week or freeze them for up to two months.
Enjoy!
Did you try this recipe?
Let us know how it went, comment below and share a picture on Instagram or Twitter with the hashtag #natliciousfood
*Disclosure
Feel free to support me on Patreon!
Some of the above links are affiliate links, meaning at no additional cost to you, I may earn commission when you click through and make a purchase.