Oyster mushroom sandwich
Zingy and delicious sandwich with oyster mushrooms, served in a baked baguette and a scrumptious sauce!
Vegan, soy free, gluten free | Serves 2 | MAIN
Ingredients:
1 tablespoon olive oil
300g oyster mushrooms
Salt and pepper
-1/2 teaspoon of each oregano and paprika
1/4 teaspoon of each garlic granules and thyme
Juice of half lime
1 tablespoon agave (or maple) syrup
Sauce:
2 tablespoons plant-based remoulade
1 tablespoon sriracha
1 teaspoon agave (or maple) syrup
Serve with:
Bread of choice
Arugula
Spring onions
Pickles
Avocado slices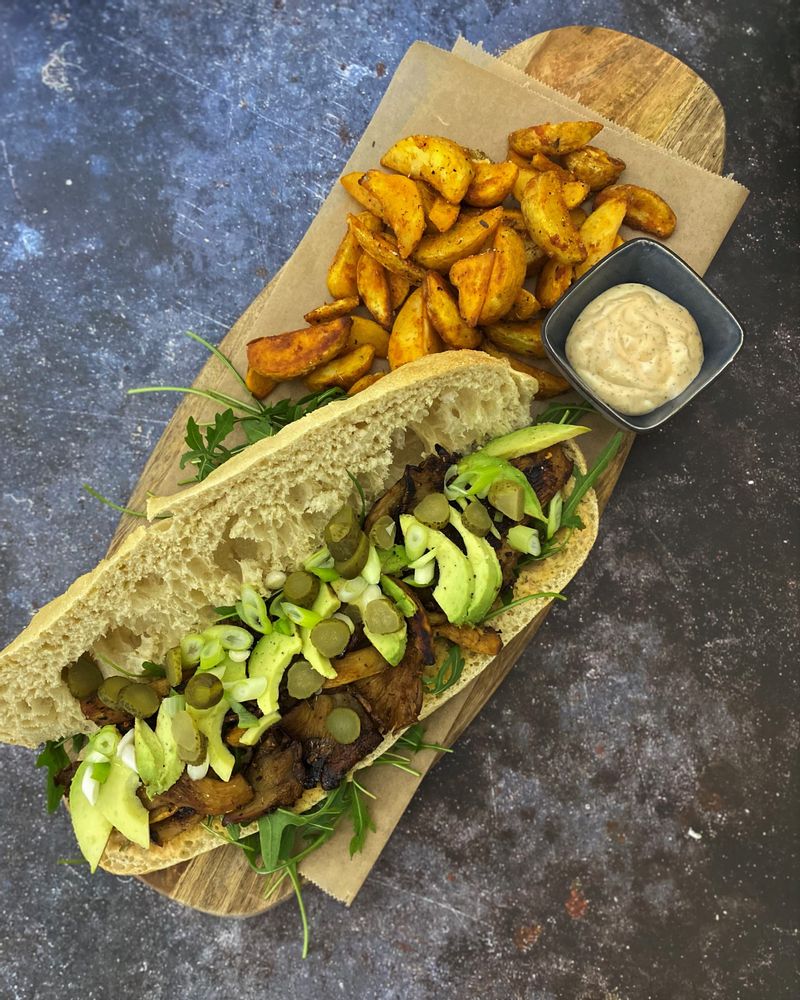 Steps:
1.In a hot (wide) pan, on a hight heat, add the oil followed by the mushrooms in one layer.
2.Use another pan/pot, smaller than the one you already have, and use the back side (must be clean) to press the mushrooms (see video below for reference). This will help them to release any extra water.
3.Once they are golden-brown, turn them and press them again for few minutes until all the water has been released and they geta nice colour.
4.Now season and then finish with the lime juice and syrup, while you stir.
5.Bake them in a preheated oven at 180°C for 5-8 minutes.
6.While the mushrooms are in the oven, make the sauce, by mixing the remoulade, sriracha and syrup.
7.Serve them hot in a bread on your choice along with all the serving ingredients and wedges.
Happy cooking everyone!
Did you try this recipe?
Let us know how it went, comment below and share a picture on Instagram or Twitter with the hashtag #natliciousfood
*Disclosure
Some of the above links are affiliate links, meaning at no additional cost to you, I may earn commission when you click through and make a purchase.