Moussaka
The famous Greek moussaka but vegan, it has few steps but it's totally worth making it!
Vegan, nut free, gluten free | Serves 6 | MAIN
*Swap flour to gluten free flour & use tamari instead of soy sauce
Ingredients:
Veggies:
600g potatoes, peeled and cut in 0.5cm coins
500g aubergine, cut in 0.5cm coins
500g courgette, cut in 0.5cm coins
3 tablespoons of olive oil
Salt and pepper
Fresh thyme
1 teaspoon of each dried oregano and garlic granules
Plant-based mince:
1 onion, cut in chunks
1 celery stick, cut in chunks
1 carrot, peeled and cut in chunks
1 clove of garlic
300g cremini mushrooms
2 tablespoons olive oil
265g brown lentils from a can (drained weight), drained and washed
1/2 teaspoon dried oregano
1/3 teaspoon of each cinnamon and garlic granules
Fresh thyme
Salt and pepper
1 tablespoon of each tomato paste and soy sauce
1 teaspoon of each white miso paste and balsamic glaze
125g tomato passata
Fresh parsley
Bechamel:
100g plant-based butter
100g flour
700ml plant-based milk
Pinch of nutmeg, cinnamon and black pepper
100g plant-based cheese, grated
To assemble:
50g plant-based parmesan, grated
Steps:
Veggies:
1.In a bowl add the potato coins, with a tablespoon of olive oil, salt, pepper, fresh thyme, and 1/3 of oregano and garlic granules.
2.Combine well, place on a baking tray on a single layer and bake in a preheated oven at 190°C for 30 minutes.
3.Do the above steps for the aubergine and courgette, except bake for 25 minutes.
Plant-based mince:
1.In a food processor, blitz the onion, celery, carrot and garlic into a fine mince. Place the mixture in a bowl.
2.In the same food processor, blitz the mushrooms into a fine mince (be careful not to over blitz them), and place the mixture into a separate bowl.
3.In wide pan, on a medium hight heat, add the olive oil and once the pan in hot, add the onion mixture with a pinch of salt. Cook this down for about 5 minutes, stirring occasionally.
4.After 5 minutes, add the mushroom mixture and cook for 10-15 minutes, until all the water from the mushrooms has been evaporated, stirring occasionally.
5.Add the lentils and herbs and stir to incorporate.
6.Add the tomato paste, soy sauce, balsamic glaze and miso paste and combine well.
7.Cook for 2 minutes before adding the tomato passata. Stir well and cook for 3 more minutes.
8.Taste and adjust the seasoning to your preference. Set aside, until needed.
Bechamel:
1.In a saucepan on a medium heat, add the butter, and once is almost melted add the flour.
2.Whisk to incorporate well and then start adding the milk in batches, whisking constantly.
3.Every time the milk in absorbed, add some more until you have used it all (this might take up to 10 times).
4.Finish by adding the cinnamon, nutmeg, black pepper and the cheese. Combine well.
5.Add 1/3 of the bechamel sauce into the mince and combine.
To assemble:
1.In a baking tray (25x34x8cm) add a layer of potatoes, followed by a layer of aubergines and then courgette.
2.Spread the mince on an even layer, followed by the bechamel sauce on top.
3.Finish by spreading the parmesan on top.
4.Bake on a preheated oven at 190°C for 35-40 or until golden.
5.Let it cool for 1-2 hours before you cut it and enjoy with a salad.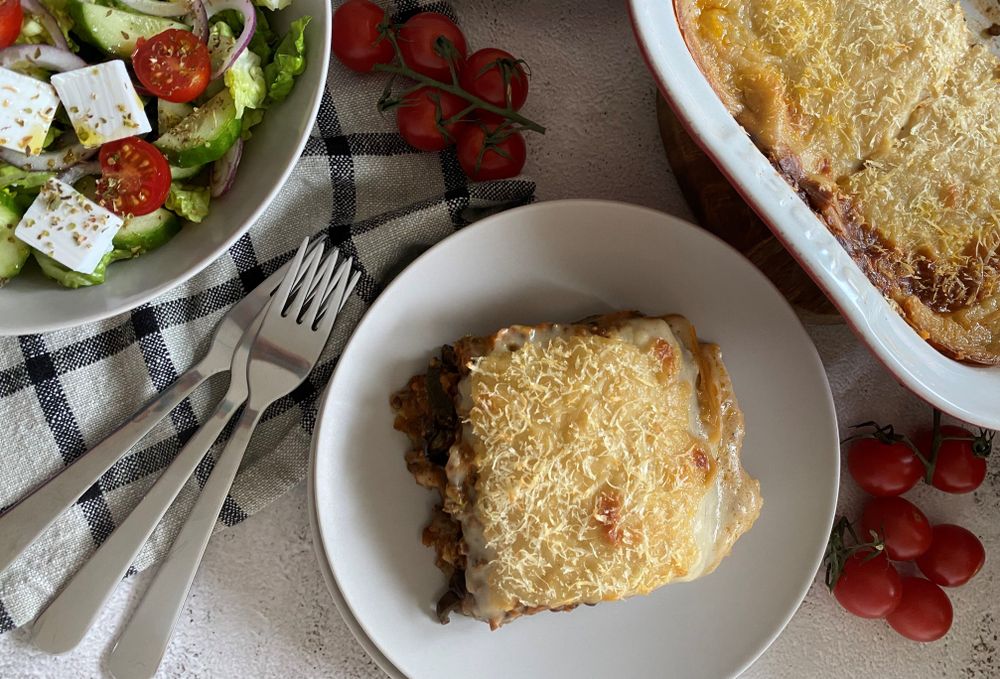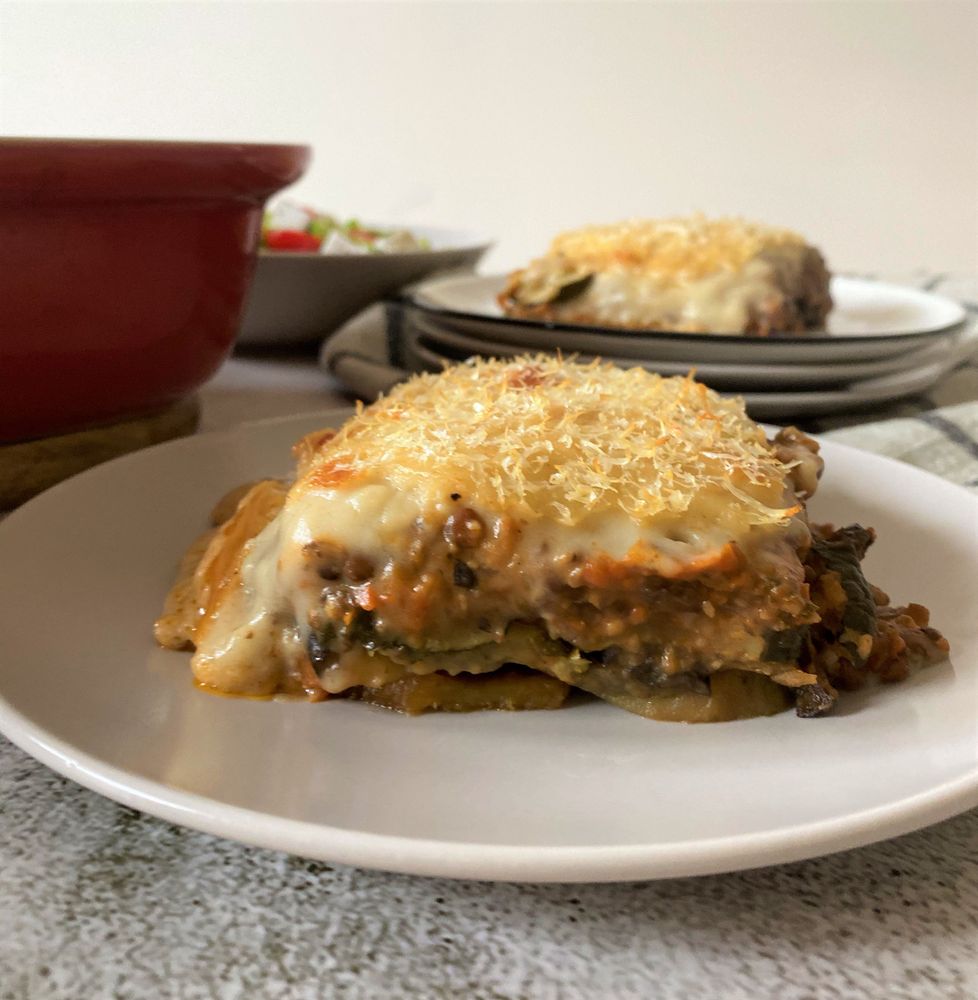 Happy cooking everyone!
Did you try this recipe?
Let us know how it went, comment below and share a picture on Instagram or Twitter with the hashtag #natliciousfood
*Disclosure
Some of the above links are affiliate links, meaning at no additional cost to you, I may earn commission when you click through and make a purchase.