Mash with caramelized onions
Mash with caramelized onions
The caramelised onions on top of this silky mashed potatoes are just a match made in heaven!
Vegan, nut free, soy free, gluten free | Serves 5 | SIDE
Ingredients:
2kg potatoes, washed
300g rock salt
Salt and pepper
3 onions, thinly sliced
1 tablespoon olive oil
1 tablespoon balsamic vinegar
1 tablespoon plant-based butter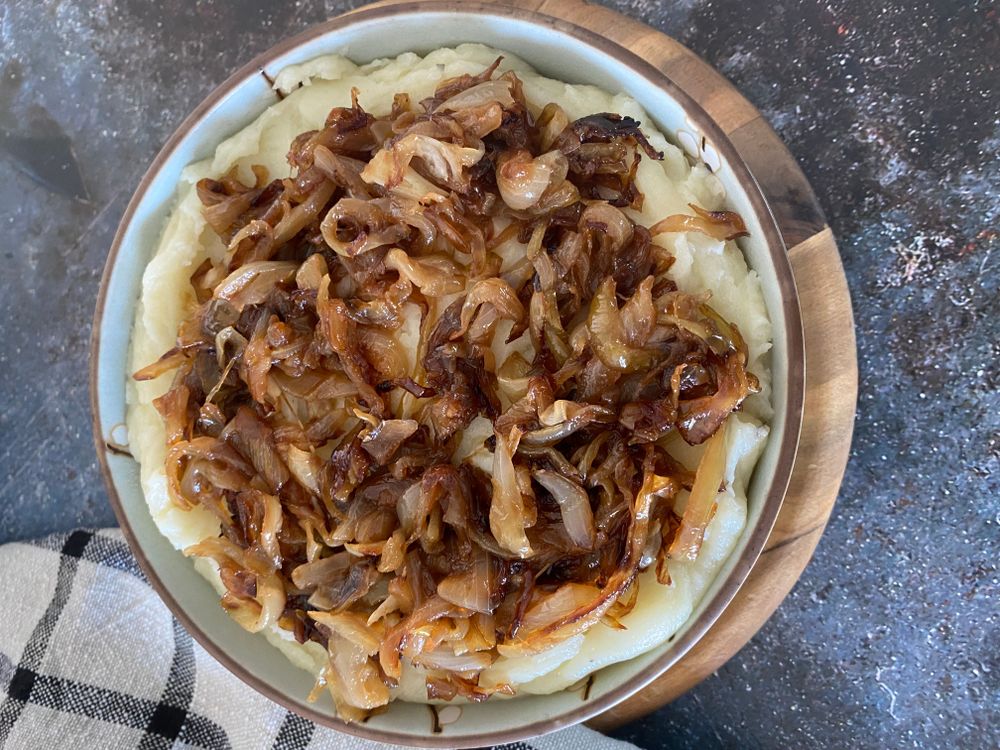 Steps:
1.Spread the salt in a baking tray.
2.Use a fork to make some holes on the potatoes and then place them on a single layer on top of the salt.
3.Bake them in a preheated oven at 180 degrees Celsius for 40-50 minutes.
4.While the potatoes are baking, add the olive oil in a pan on a medium heat, along with the onions.
5.Add a pinch of salt and pepper stir them every few minutes.
6.Cook them for 5-6 minutes and then finish with the balsamic vinegar.
7.Taste and adjust the seasoning to your preference. Keep aside until needed.
8.Once the potatoes are baked, but them in half and use a spoon to remove the flesh.
9.Mash the potato flesh with a masher, a fork or use a sieve to make the flesh smoother.
10.Add the potato mash in a pan with the butter, season well with salt and pepper and combine with a spatula well until all the butter has been absorbed.
11.Serve the potatoes in a wide bowl and add the caramelized onions on top.
Happy cooking everyone!
Did you try this recipe?
Let us know how it went, comment below and share a picture on Instagram or Twitter with the hashtag #natliciousfood
*Disclosure
Some of the above links are affiliate links, meaning at no additional cost to you, I may earn commission when you click through and make a purchase.