Hummus soup
Delicious and warming hummus soup, made with simple ingredients.
Vegan, nut free, soy free | Serves 3 | MAIN
Ingredients:
150g dried chickpeas
1 teaspoon baking soda
1 tablespoon of olive oil
1 onion, roughly chopped
2 cloves of garlic, minced
1 teaspoon coriander powder or seeds
Salt and pepper
1 veggie cube
1/2 teaspoon of each chili flakes and oregano
2 tablespoons tahini
Juice of 1 lemon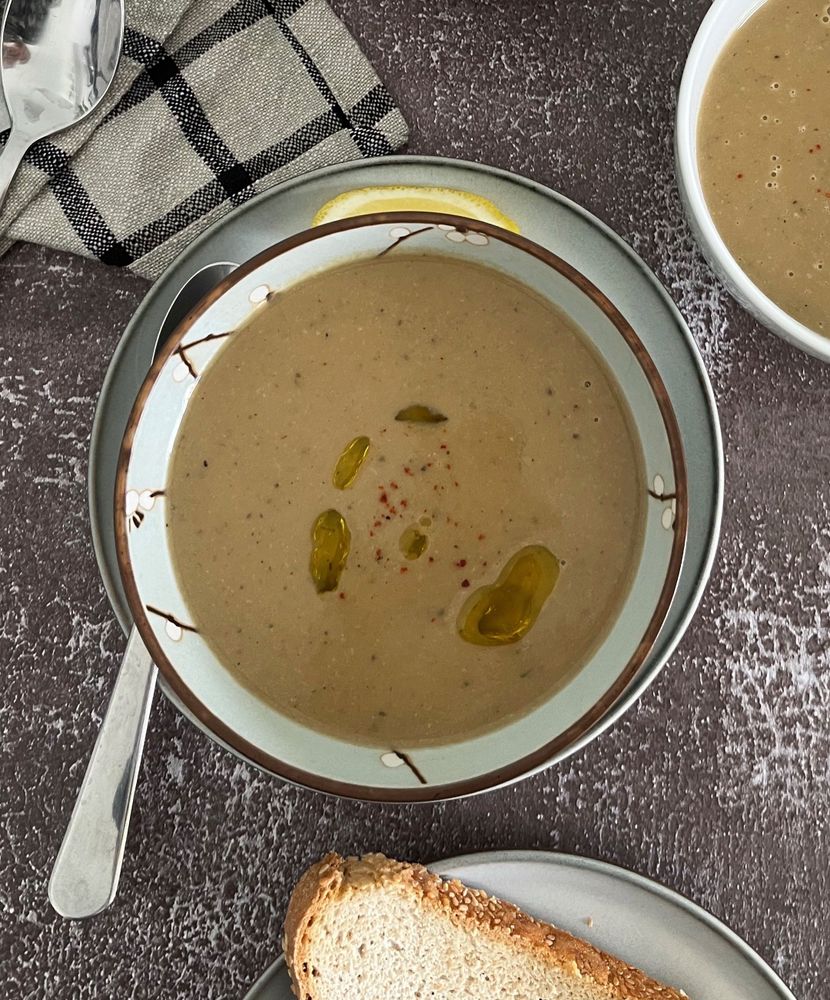 Steps:
1.Soak the chickpeas overnight in 500ml of water and the baking soda.
2.The following day, the chickpeas must be almost double in size.
3.In a pot, on a medium heat, add the olive oil and onions and sauté until translucent.
4.If you are using coriander seeds, use a mortar and pestle to crush them.
5.Add the coriander powder and minced garlic in the pot and sauté for few more minutes.
6.Add the chickpeas, along with the water, followed by 500ml extra water and a veggie cube.
7.Bring to boil, lower the heat, cover, and simmer for 30-40 minutes or until the chickpeas are soft.
8.Once the chickpeas are cooked, add the tahini, lemon juice and season.
9.Use a hand or standing blender to blend the soup.
10.Serve with olive oil, chili flakes and bread.
Happy cooking everyone!
Notes:
*The cooking time of the chickpeas might vary, depending on your chickpeas.
*If you prefer it creamier, you can add more tahini.
*You can blend half of the mixture and keep some chickpeas whole.
Did you try this recipe?
Let us know how it went, comment below and share a picture on Instagram or Twitter with the hashtag #natliciousfood
*Disclosure
Feel free to support me on Patreon!
Some of the above links are affiliate links, meaning at no additional cost to you, I may earn commission when you click through and make a purchase.