Healthy apple crumble
As we are going through apple season, I couldn't skip an apple recipe! So today I'm sharing, a healthy apple crumble, which is perfect for dessert, breakfast or snack!
Vegan, soy free, gluten free, refined sugar free | Serves 2 | DESSERT
Ingredients:
For the apples:
2 apples
20g plant-based butter/margarine
1/2teaspoon of cinnamon
30ml water
For the crumble:
3 tablespoons of crunchy peanut butter
2 tablespoons of maple syrup
3 tablespoons of oats
1 scoop of vanilla protein powder (I used amino animo)
Pinch of salt
1.2 teaspoon cinnamon
Serve with:
Plant based yogurt
Maple syrup
Cinnamon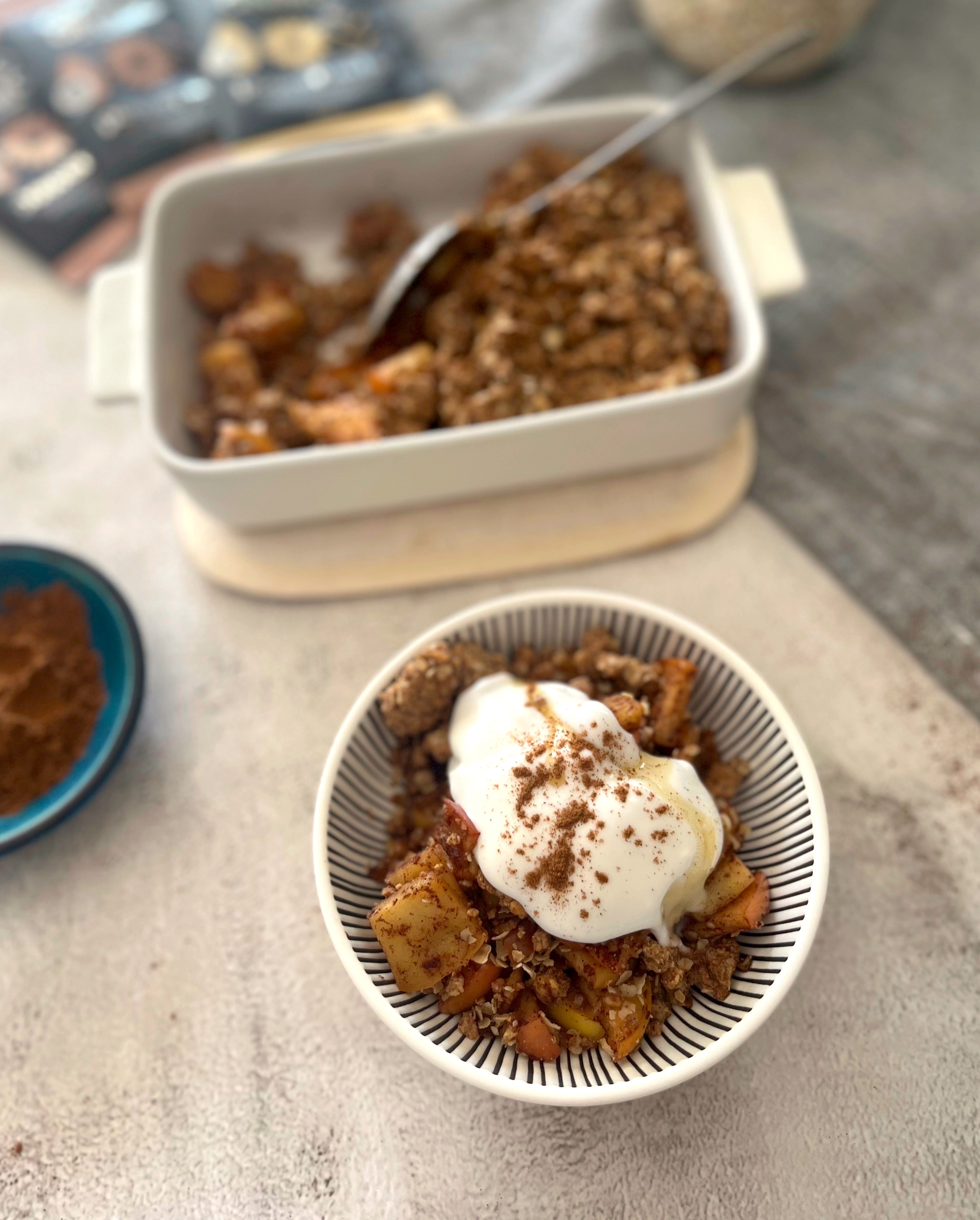 Steps:
1.Cut the apples in small pieces and place them in a pan on a medium heat with the butter.
2.Saute for approximately 10 minutes, stirring occasionally.
3.In the meantime, prepare your crumble. In a bowl, add the peanut butter and maple syrup, cover and place in the microwave for 1 minute.
4.Alternatively, add your bowl it over a pot with simmering water, creating a bain-marie (the bowl shouldn't be touching the hot water!). Wait for the mixture has melted and remove from the heat.
5.Remove the bowl over the bain-marie or microwave carefully (it's going to be hot!) and add the rest of the crumble ingredients. Mix well, I found that a fork worked better.
6.Back to the apples, add the cinnamon and water and cook until the water has been absorbed.
7.Place the apples in a small oven safe Pyrex, then sprinkle the crumble on top.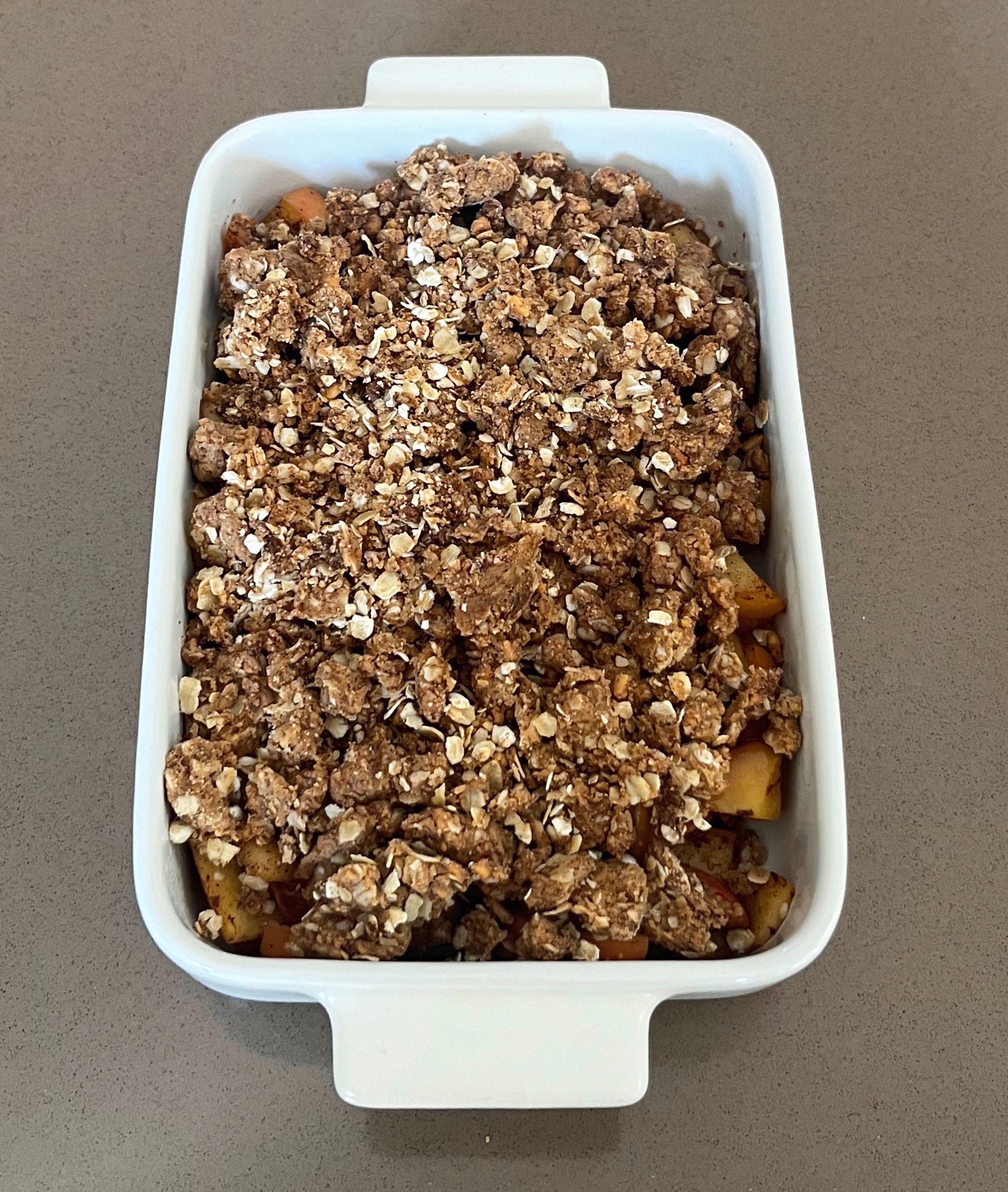 8.Bake in a preheated oven at 180°C for 10 minutes.
9.Serve with plant-based yogurt, maple syrup and a pinch of cinnamon.
Enjoy!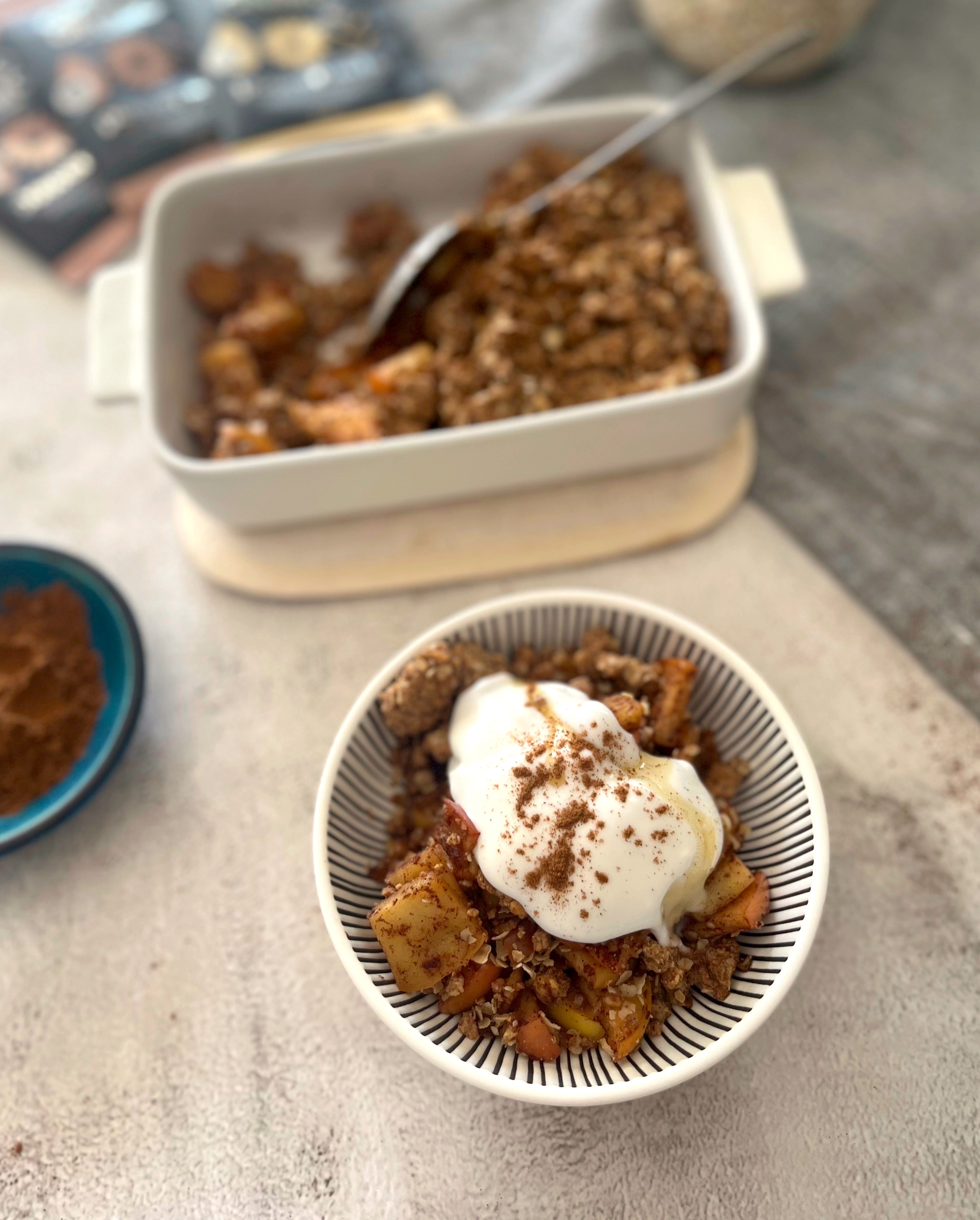 Notes:
I used pink lady apples, but you can use any apple you have/like.

I used crunchy peanut butter, but feel free to use smooth if you prefer.

You can substitute the maple syrup with any other sweetener of your preference.
Did you try this recipe?
Let us know how it went, comment below and share a picture on Instagram or Twitter with the hashtag #natliciousfood
*Disclosure
Feel free to support me on Patreon!
Some of the above links are affiliate links, meaning at no additional cost to you, I may earn commission when you click through and make a purchase.