Crown bread
Delicious garlicky crown bread with a hint of sweetness. Perfect for a cheese plater, a toast or on its own.
Vegan, nut free, soy free | Serves 10 | SIDE
Ingredients:
For the bread:
500g bread flour
3.5g fast action died yeast
10g salt
30ml Vassae Greek olive oil
280ml lukewarm water
For the pesto:
2 sun dried tomatoes
2 cloves of garlic
1 tablespoon of capers
Salt and pepper
1/2 teaspoon of oregano
2 tablespoons of sundried oil
To serve:
2 tablespoons of maple syrup (or another liquid sweetener)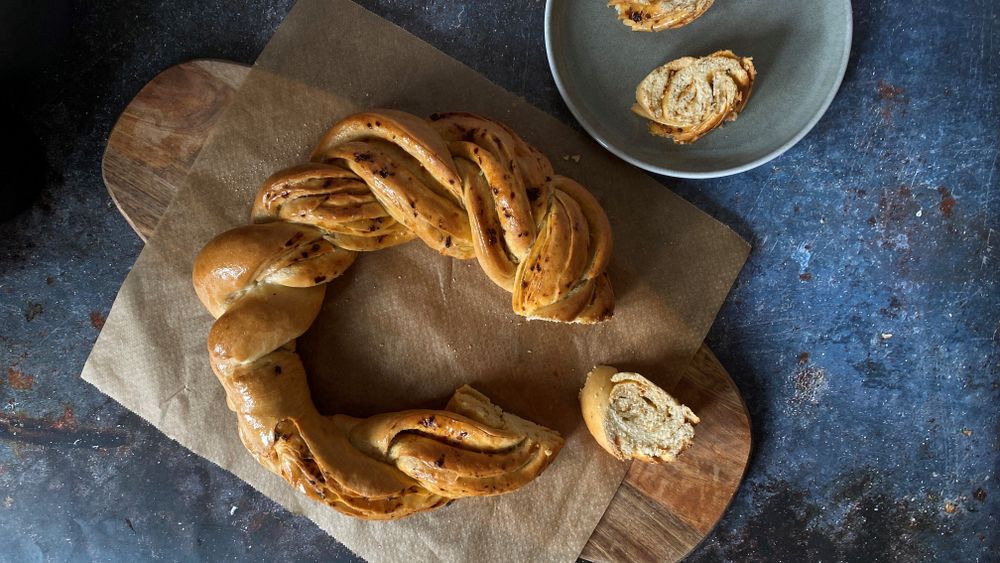 Steps:
1.For the bread, in a large bowl, add all the dry ingredients and mix well, then add the olive oil and then the water. Combine everything with a spoon and then continue with your hands.
2.Knead for a couple of minutes to bring everything together, then turn the dough on a clean surface and knead for 10 minutes approximately.
3.The dough must be soft and elastic.
4.Place it back into the bowl, that you have lightly oiled and cover with a damp towel to proof, until double in size (might be 1-2 hours).
5.While your dough is proofing, prepare the pesto. Add all the ingredients in a food processor or a mortar and pestle and blend until you get a nice paste.
6.Taste and adjust the seasoning to your preference.
7.By now the dough must have doubled in size, if not, let it proof for a little bit more.
8.Knock the air out of the proved dough with your fists.
9.Add the dough on a clean surface and use a rolling pin to roll the dough into a rectangle (30x45cm approximately).
10.Spread the sundried pesto on and roll up from the long side.
11.Cut the roll into two ropes that are connected on the top.
12.Then begin forming the braid by crossing the right rope over the left rope. Continue the same process until the braid is done.
13.Transfer the braid on a baking tray lined with parchment paper. Form it into a crown and pinch and tuck the two ends to stick together.
14.Cover it with clean film and let it proof for 45 minutes to an hour.
15.Preheat your oven to 180°C, 15 minutes before the bread finish proofing.
16.Remove the clean film and bake for 30-35 minutes until it gets a nice golden colour.
17.Brush the maple syrup while the bread is hot and let it cool for 30 minutes before cutting it.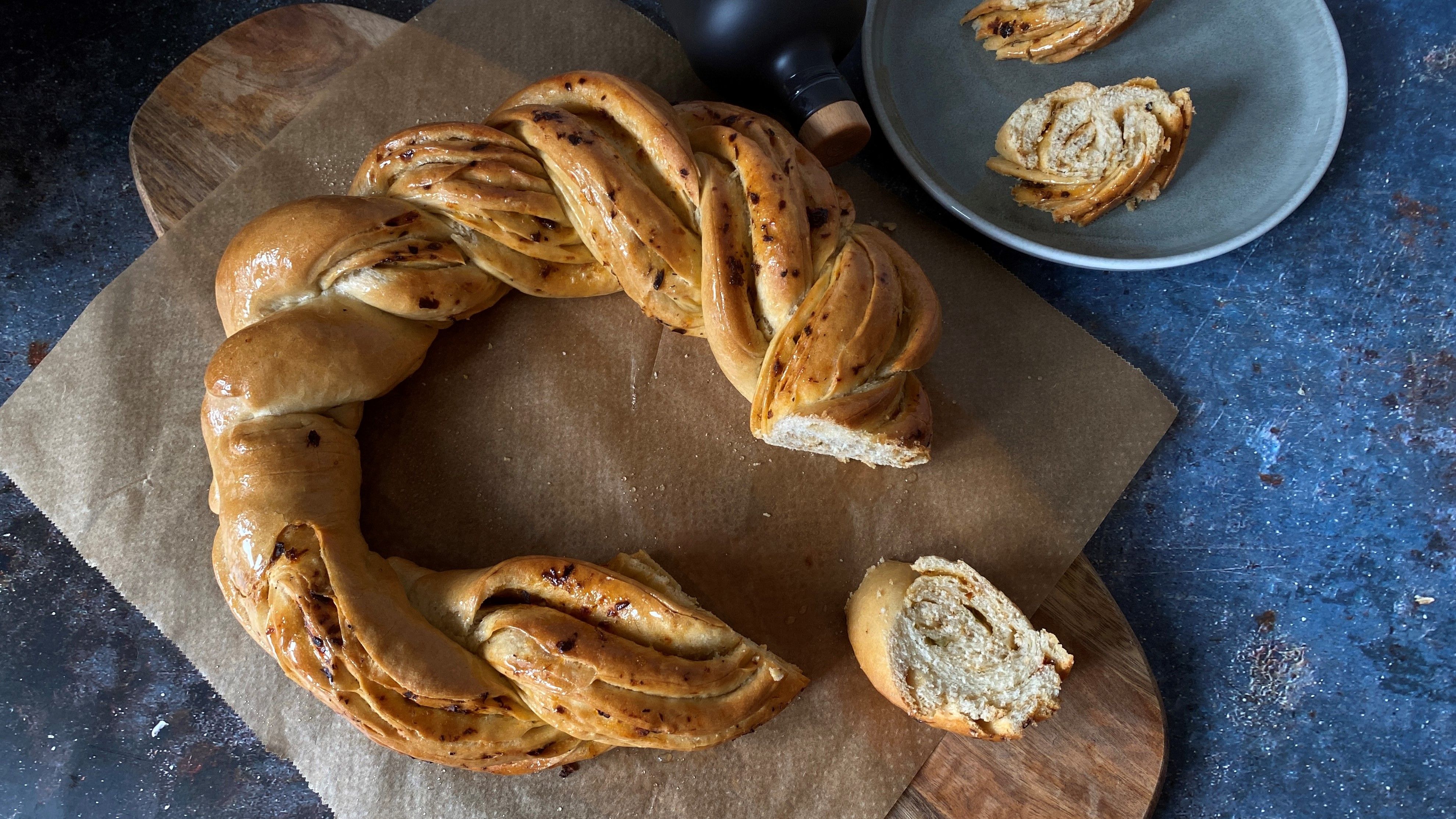 Happy cooking everyone!
Did you try this recipe?
Let us know how it went, comment below and share a picture on Instagram or Twitter with the hashtag #natliciousfood
*Disclosure
Feel free to support me on Patreon!
Some of the above links are affiliate links, meaning at no additional cost to you, I may earn commission when you click through and make a purchase.