Cauliflower mac and cheese
Cauliflower mac and cheese
With today's recipe we are combining two humble ingredients, pasta and cauliflower, and they come together with a creamy and high protein bechamel sauce that makes this dish a complete and nutrient meal!
Vegan, nut free, gluten free | Serves 4 | MAIN
Ingredients:
1 cauliflower
Salt and pepper
2 tablespoons olive oil
1/2 teaspoon of each garlic granules, turmeric and curry powder
300g spirali pasta
Bechamel sauce:
300g silken tofu
600ml soy milk
20g nutritional yeast
20g plant-based butter
1 tablespoon all-purpose flour
Salt and pepper
1/2 teaspoon of each garlic granules, oregano, nutmeg
70g plant-based cheese, shredded
Serve with: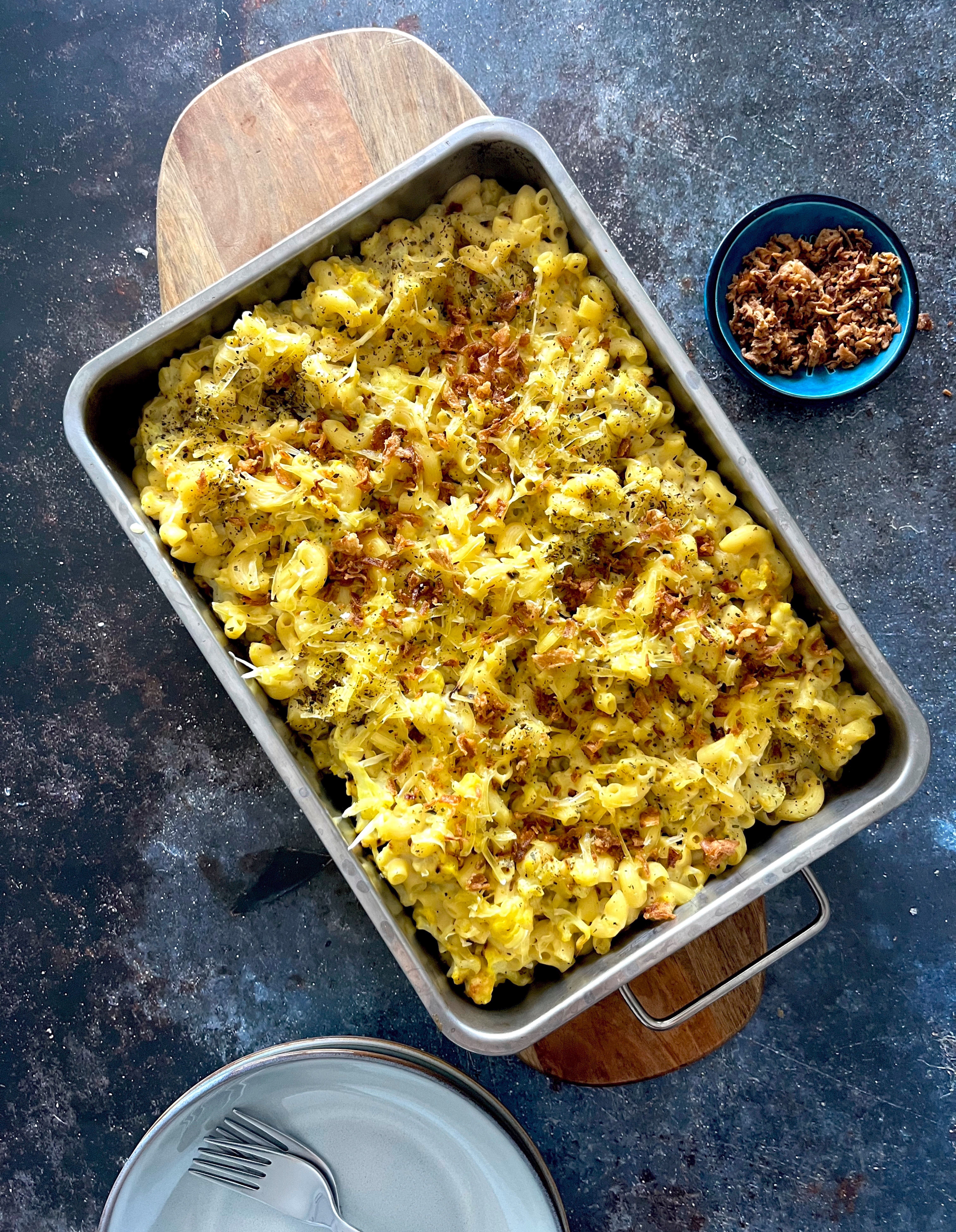 Steps:
1.Cut the cauliflower into small pieces, kind of similar size to your pasta shape.
2.Place on a baking tray, lined with parchment paper, drizzle the olive, season with the spices and bake in a preheated oven at 180°C for 20 minutes.
3.In the meantime, cook your pasta in salted water, for 2 minutes less than the package instructions (we will finish the cooking in the oven).
4.While the pasta and cauliflower are cooking, make the bechamel sauce.
5.In a food processor, add the silken tofu, 200ml of the soy milk and nutritional yeast and blend until smooth.
6.In a pot, on a medium heat, add the butter and once it has melted add the flour.
7.Whisk to combine and cook the flour. Then add the soy milk in batches whisking constantly.
8.Then continue with the tofu mixture. Use a silicon spatula to scrape the side of the pot as needed.
9.Season and add half of the cheese. Turn off the heat, as your bechamel must be creamy and ready by now.
10.The pasta and cauliflower must be ready too, so add the drained pasta and cooked cauliflower into the bechamel sauce.
11.Then add into a baking tray, sprinkle the rest of the shredded cheese on top and bake in a preheated oven at 180°C for 10 minutes.
12.Sprinkle some crispy fried onion on top and enjoy!
Notes:
Use gluten free pasta, if you want to make it the dish gluten free.
Did you try this recipe?
Let us know how it went, comment below and share a picture on Instagram or Twitter with the hashtag #natliciousfood
*Disclosure
Feel free to support me on Patreon!
Some of the above links are affiliate links, meaning at no additional cost to you, I may earn commission when you click through and make a purchase.