Batzina
Batzina is a crustless zucchini Greek pie, that traditionally contains eggs, yogurt and cheese. Today, I'm presenting you my vegan version, that if I may say, is absolutely delicious, crunchy on the outside and fluffy in the middle!
Vegan, nut free, soy free, gluten free, sugar free | Serves 4 | SIDE
Use gluten free flour.
Ingredients:
Wet:
850g zucchini (courgette)
2 spring onions
10 fresh mint leaves
1/4 a bunch of dill, fresh or frozen
Salt and pepper
1 teaspoon of each dried mint and oregano
230g plant-based yogurt
200g plant-based fetta
125g olive oil
Dry:
200g plain flour
1 teaspoon baking powder
To assemble:
2-3 tablespoons olive oil
2 tablespoons sesame seeds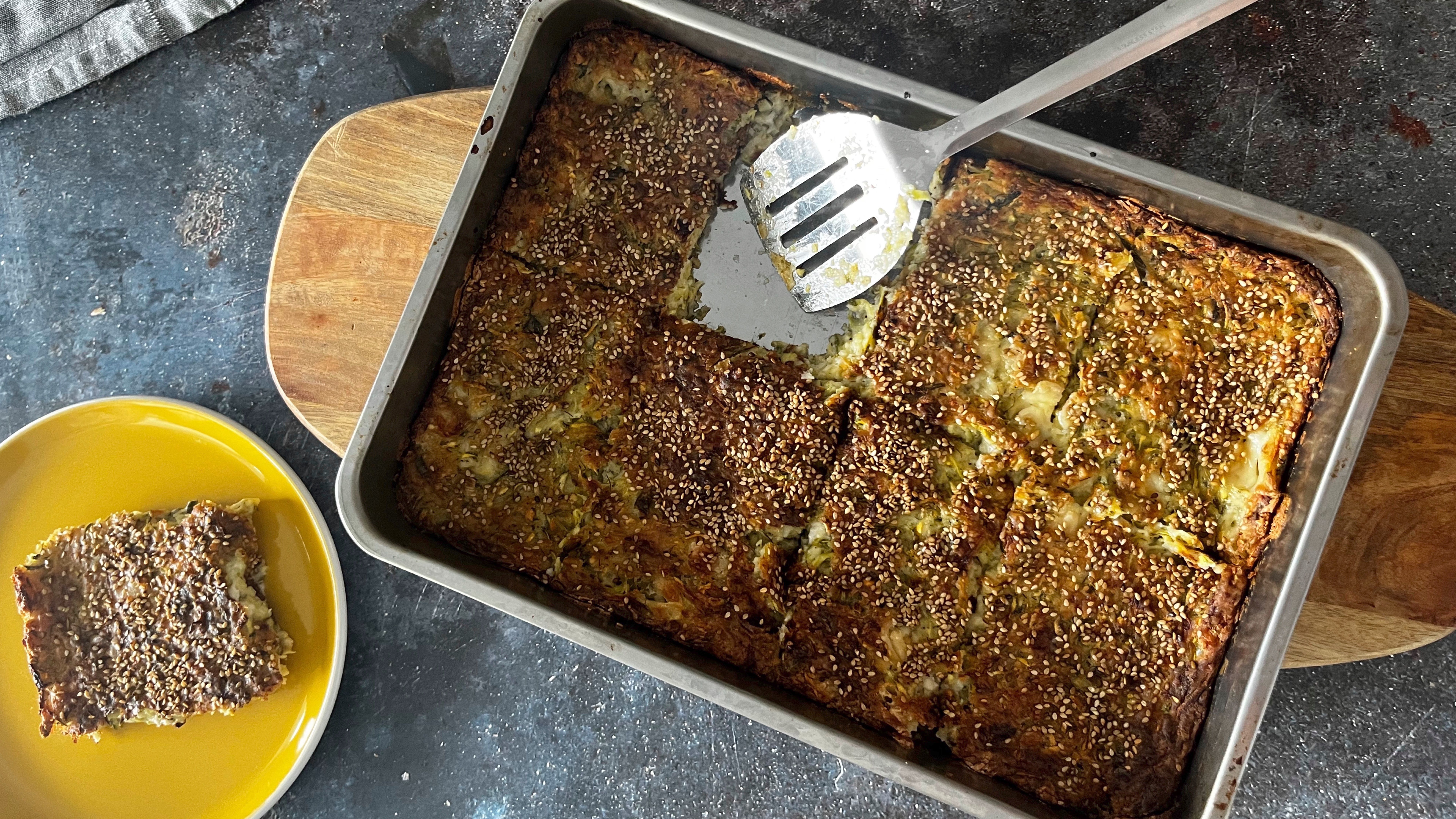 Steps:
1.Cut the sides of the zucchini and then grate them.
2.Put the grated zucchini on a sieve on top of a bowl with a generous pinch of salt and press down with the back of a fork to release its water.
3.Let it aside until you prep the rest of the ingredients.
4.Chop the spring onions, mint leaves and dill.
5.After 10-15 minutes the courgette must have released most of its liquid. Press again, before you get rid of the liquid and add the shredded courgette into the bowl.
6.Continue with the remaining of the wet ingredients and combine well.
7.At this point taste and adjust the seasoning to your preference.
8.Mix the dry ingredients together, before you add them to the well mixture and combine.
9.Add half of the olive oil in the bottom of your baking tray (I'm using a 20x30cm) and spread it in the bottom and the sides, then add the mixture on even single layer.
10.Drizzle the remaining olive oil on top and sprinkle the sesame seeds.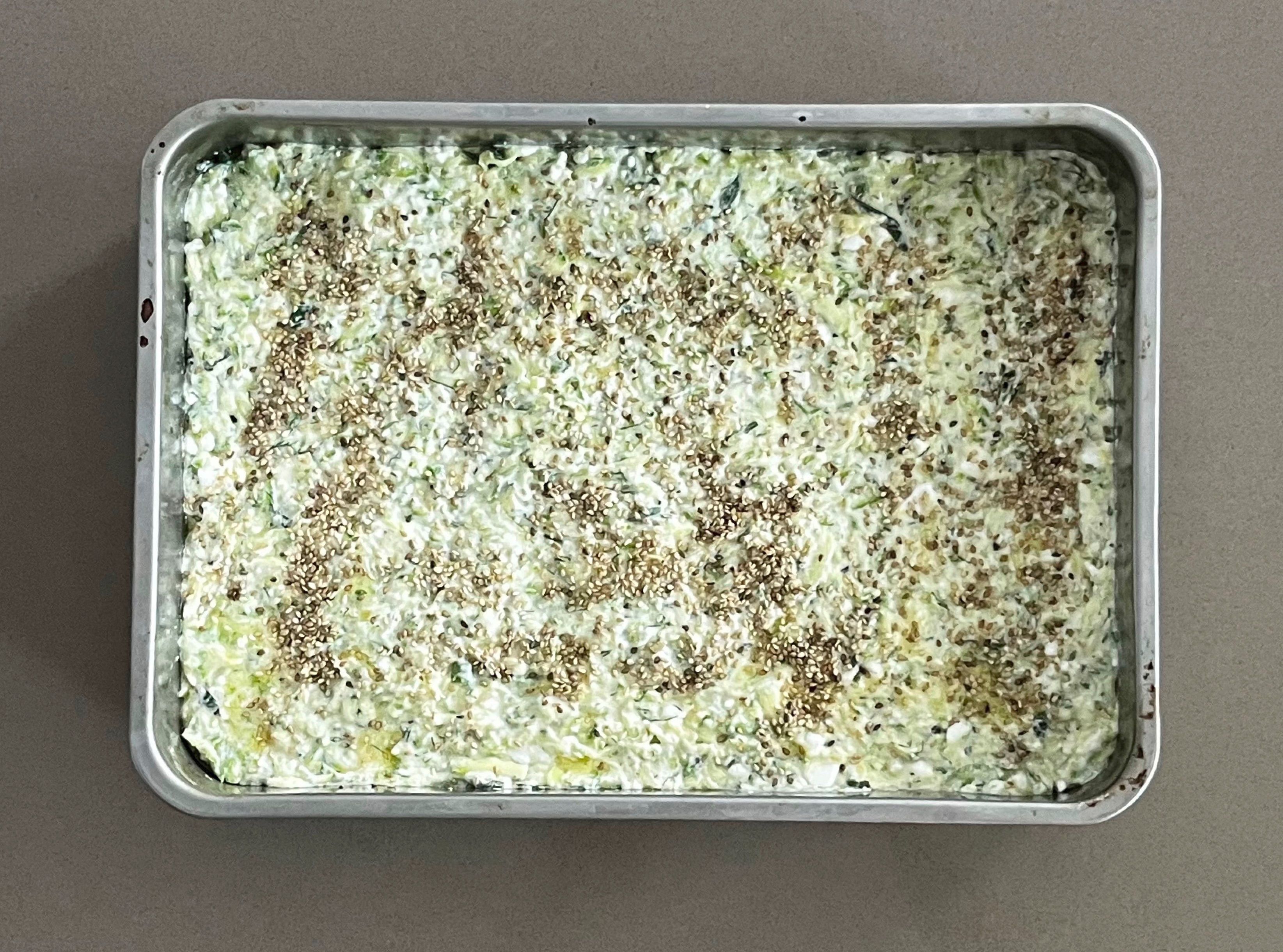 11.Bake in a preheated oven at 180°C for 1 hour, and let it cool down at least for 30 minutes before you cut it.
Enjoy!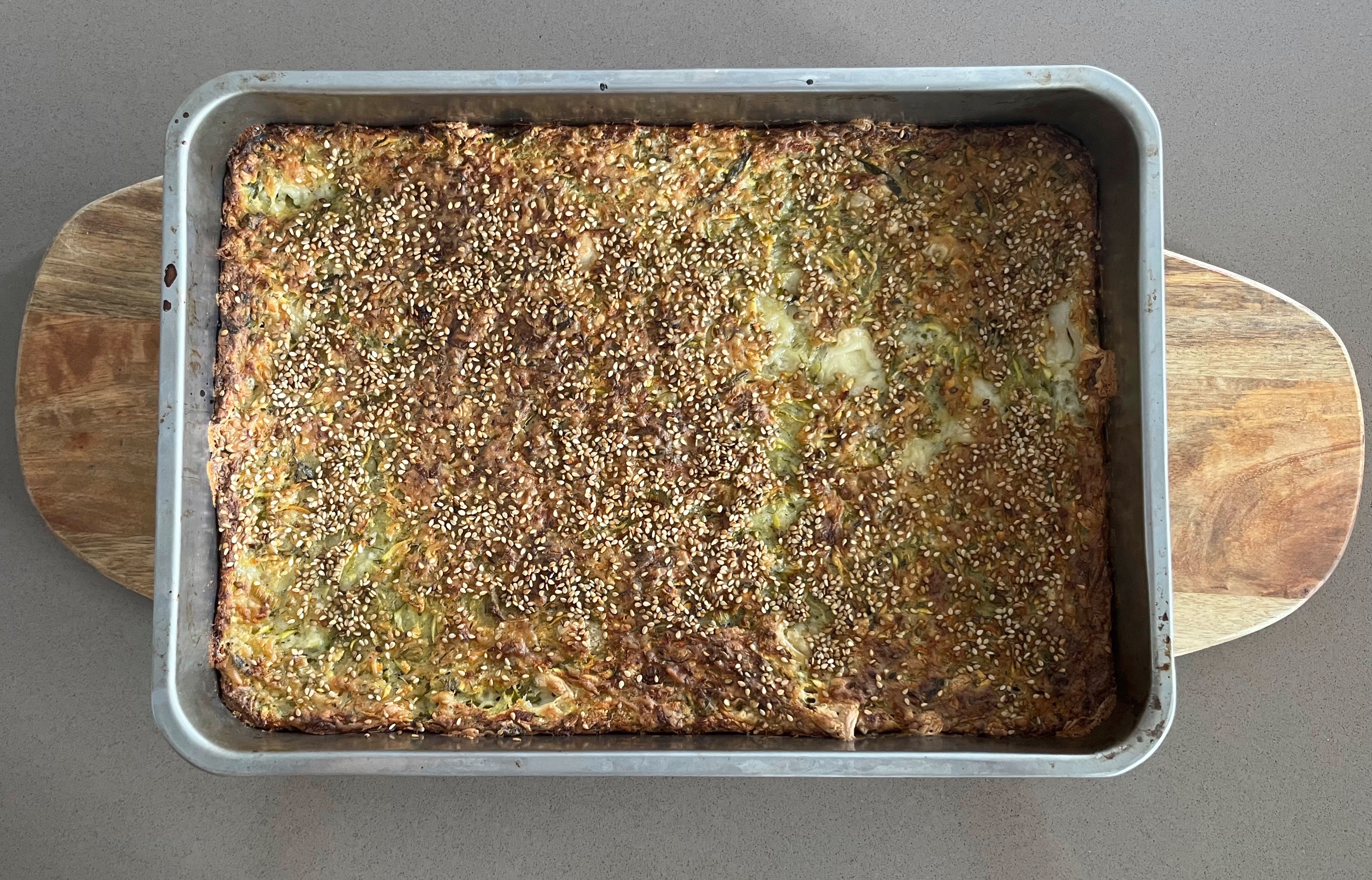 Notes:
Serve with a salad to have it as a complete meal or enjoy it as a breakfast or snack.
Store it the fridge for up to 4 days.
You can enjoy it cold or at room temperature as well, or reheat it in the oven for 10 minutes at 180°C.
Did you try this recipe?
Let us know how it went, comment below and share a picture on Instagram or Twitter with the hashtag #natliciousfood
*Disclosure
Some of the above links are affiliate links, meaning at no additional cost to you, I may earn commission when you click through and make a purchase.