Bulgur and harissa stuffed peppers
Bulgur and harissa stuffed peppers
This 30-minute meal is super easy, packed with flavour and it can make a great mid-week meal or be part of your festive table.
Vegan, soy free | Serves 2 | MAIN
Ingredients:
50g walnuts
2 tablespoons of olive oil
2 bell peppers
Salt and pepper
1 spring onion, chopped
1 courgette, cut into small cubes
1 clove of garlic, grated or chopped
1 carrot, grated
1 teaspoon tomato paste
1/2 teaspoon harissa paste
1/2 teaspoon of each oregano, paprika and garlic granules
125g bulgur
A handful of fresh coriander, chopped
1 tablespoon of hummus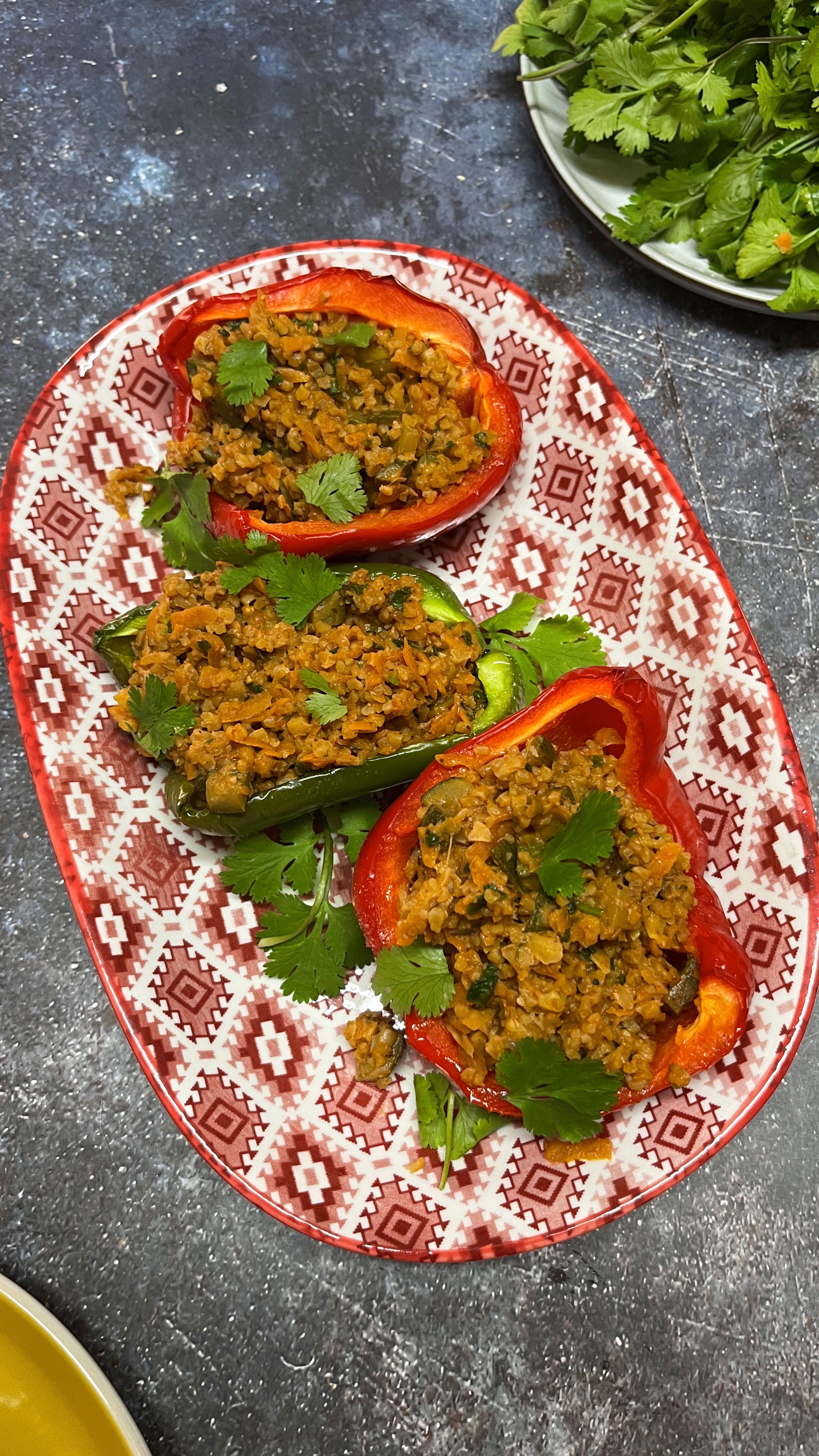 Steps:
1.Add the walnuts in an oven proof dish and roast in a preheated oven at 180°C for 3-4 minutes.
2.Once they are ready, chop them and let them aside to use later.
3.Cut the bell peppers in the middle, remove carefully the seeds and place them in the same tray you used before.
4.Drizzle half of the olive oil and add a pinch of salt.
5.Bake for 20-25 minutes.
6.In a pot, on a medium heat, add the rest of the olive oil, along with the spring onions, courgette, garlic and a pinch of salt.
7.Saute for 2-3 minutes, stirring occasionally before you add the grated carrot.
8.Saute for 3-4 more minutes, before you add the tomato and harissa paste and seasonings.
9.Stir to coat and cook for 1-2 minutes, then add the bulgur, 300ml of boiling water, stir, lower the heat and cover.
10.Cover and cook for 10-12 minutes.
11.Once it's cooked (the water must be fully absorbed), turn off the heat, add the chopped walnuts and coriander and stir.
12.Finish with the hummus, stir and coat and taste to adjust the seasoning if needed.
13.The bell peppers must be ready by now. Add the stuffing in and serve.
Enjoy!
Notes:
*Serve with some extra hummus and salad.
Did you try this recipe?
Let us know how it went, comment below and share a picture on Instagram or Twitter with the hashtag #natliciousfood
*Disclosure
Feel free to support me on Patreon!
Some of the above links are affiliate links, meaning at no additional cost to you, I may earn commission when you click through and make a purchase.