Turmeric and ginger lentils
Turmeric and ginger lentils
Few weeks ago, I tried the lentil bowl from The Cookhouse, a restaurant in my hometown Limassol (a must if you are ever here), and I couldn't stop thinking about it for days, so I decided to recreate it! I hope you like it as much as I did.
Vegan, nut free, soy free, gluten free | Serves 2 | MAIN
Ingredients:
150g lentils
2 bay leaves
1 carrot
1/2 leek
4 cloves of garlic
1 small piece of ginger
2 tablespoons of short grain rice
1 veggie cube
100ml olive oil
1 teaspoon of turmeric
1/2 teaspoon of each curry powder, oregano
1/4 teaspoon of each thyme, cumin and ginger powder
Salt and pepper
A handful of fresh spinach, roughly chopped
1/2 lemon, zest and juice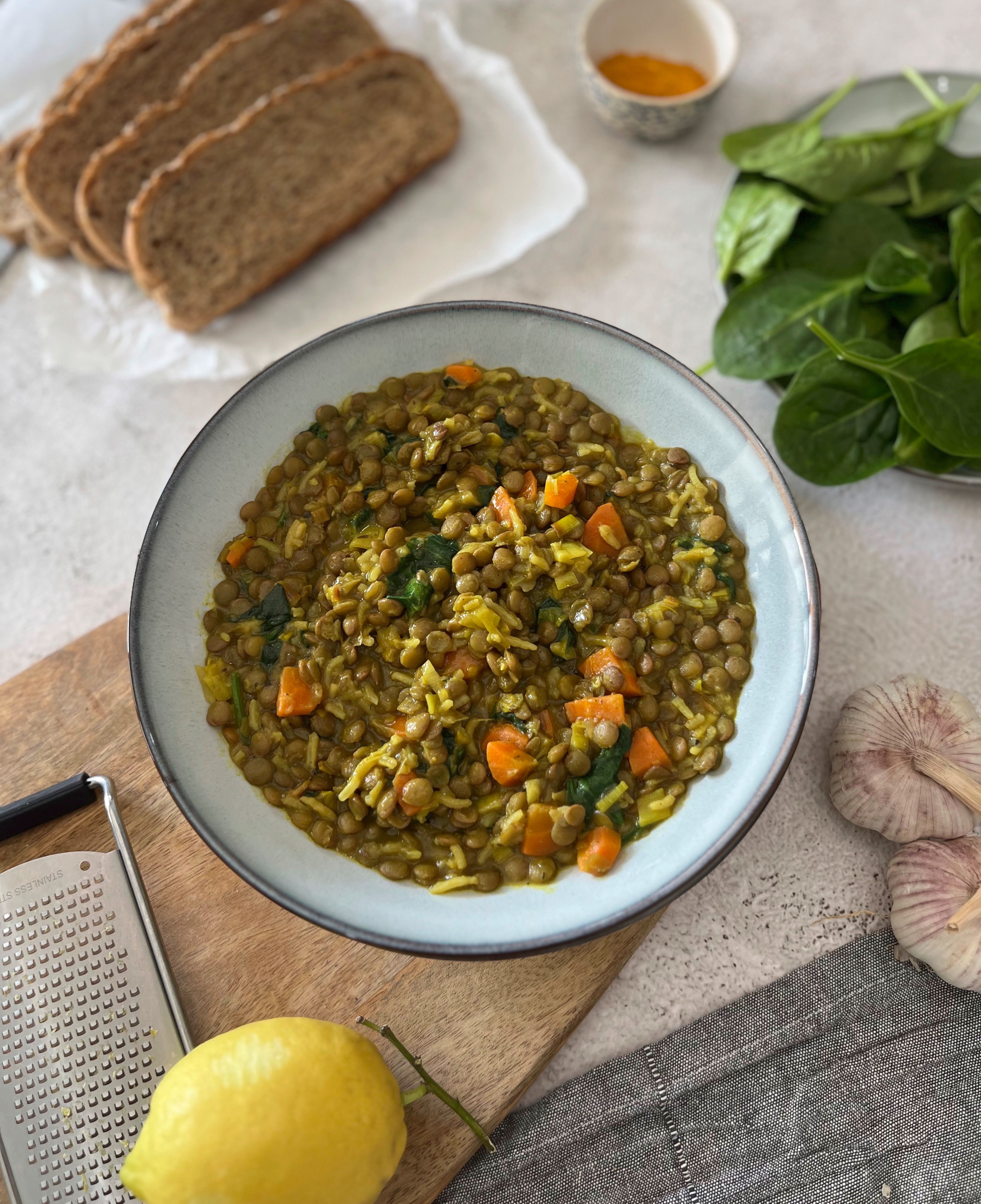 Steps:
1.Soak the lentils the night before.
2.The next day, drain and rinse the lentils and add them in a medium size pot.
3.Cover with 2L of water, the bay leaves and boil on a medium heat for 30-40 minutes.
4.Then prepare your veggies, peel the carrot and cut it in small pieces.
5.Cut the leek in half and then slice it thinly.
7.I like to grate my ginger and garlic, but feel free to cut it if you prefer.
6.Remove any foam on top of the lentils while they are boiling and stir them occasionally.
7.When the lentils are almost cooked, (check by squeezing few of them with your fingers, be careful, they are hot!) add the rice and veggie cube.
8.At this point, your lentils must have some water, if not add a little bit more boiling water to help the rice cook.
9.In a separate, smaller pot, add the olive oil, carrot and leek along with all the spices, a generous pinch of salt and pepper and sauté on a medium to low heat, for around 8 minutes.
10.Make sure to stir both the lentils and the veggies.
11.After 7-8 minutes approximately, the carrot and leek mixture must have softened. Add it to your lentils and stir to combine.
12.Give it a couple more minutes on the stove, and check the seasoning in the meantime.
13.Turn off the heat and add the chopped spinach.
14.Finish with lemon zest and lemon juice.
Enjoy with a fresh salad, black olives (I prefer Cypriot or Kalamata ones) and bread.
Happy cooking everyone!
Notes:
*Make sure to wash your leek well as it tends to have soil between the layers and remove the outer hard leaves.
*If your ginger is frozen it makes it easier to grate it!
Did you try this recipe?
Let us know how it went, comment below and share a picture on Instagram or Twitter with the hashtag #natliciousfood
*Disclosure
Feel free to support me on Patreon!
Some of the above links are affiliate links, meaning at no additional cost to you, I may earn commission when you click through and make a purchase.