Tsureki
Tsureki is a sweet yeasted bread, that is traditionally served in Easter time, but you can also find it all year around! Traditionally is made using eggs, milk and butter, but no dairy were used for my vegan version. Once you start prepping the dough, your house will smell wonderfully for days from the spices used here!
Vegan, nut free, soy free | 2 pieces | DESSERT
Ingredients:
11g instant dried yeast (1 sachet)
220g sugar
800g tsureki flour (or strong bread flour)
150ml orange juice
150ml vegetable oil
150ml soy milk
Zest from 1 orange
1 teaspoon vanilla bean paste
1/3 teaspoon of each ground mahleb (mahlepi) and ground mastic
Glaze:
3 tablespoons of soy milk
1 tablespoon of maple syrup
Decorate:
50g almond flakes
4 tablespoons of chocolate and tahini spread (optional)
80g dark chocolate (optional)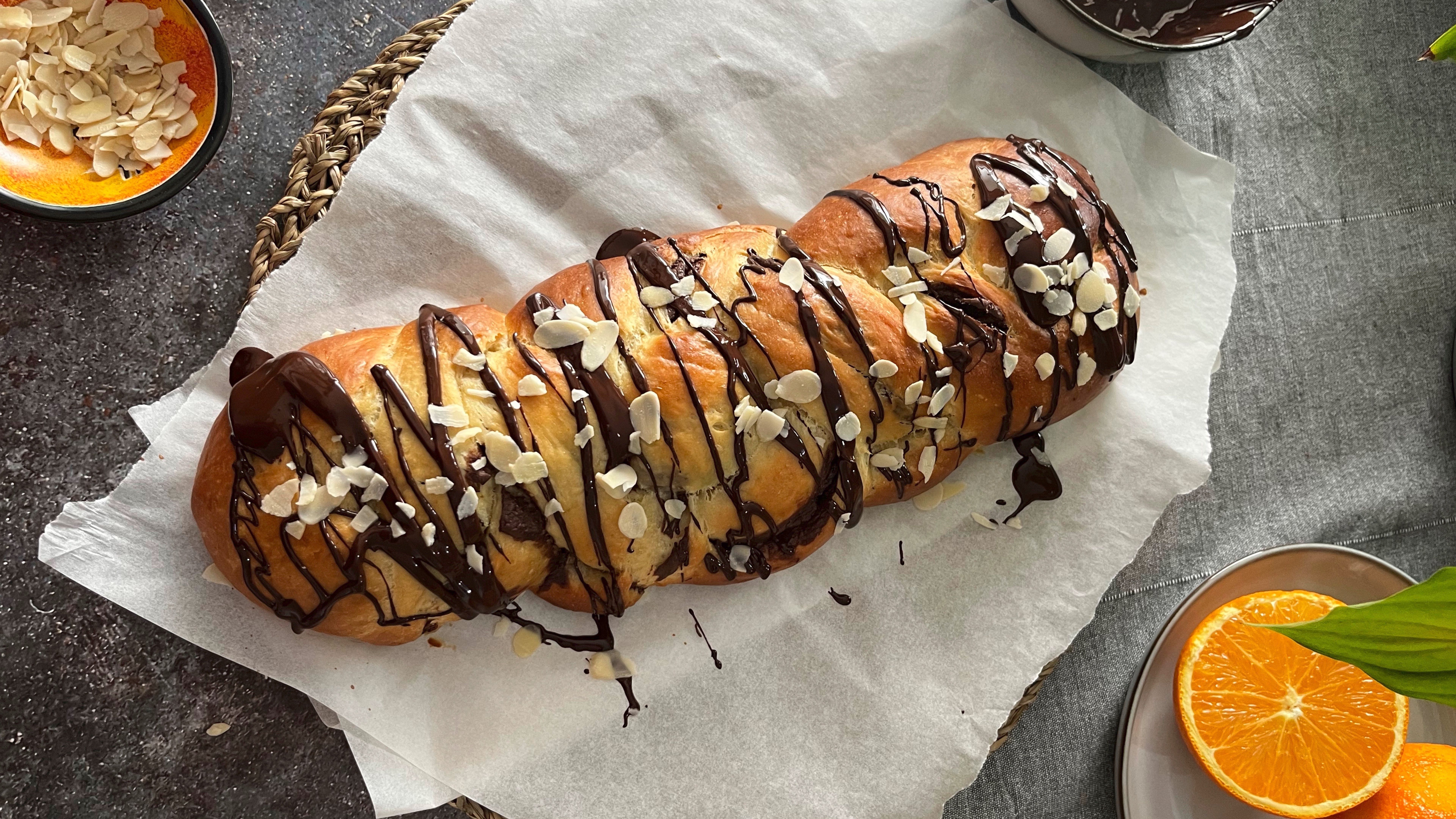 Steps:
1.In the bowl of your standing mixer, add 150ml of lukewarm water, the yeast, 1 tablespoon of sugar and 2 tablespoons of flour.
2.Whisk well and let aside for 10 minutes for the yeast to awaken up.
3.After 10 minutes, you will see that the mixture is a bit bubbly.
4.Continue by adding all the remaining ingredients in the bowl, and mix using the bread hook on a low to medium for 10-15 minutes.
5.Move the dough in a lightly oiled large bowl, cover with clean film and let it rest and rise for 1-1,5hour.
6.Remove the clean film, punch the dough with your fists to knock the air out and form a ball.
7.Divide the dough in two, put one piece back to the bowl and cover it and start working on the other one.
8.Cut the dough in half and then divide each piece in two, to end up with 4 equal pieces.
9.Take each piece and create a long stripe, if the dough is too sticky, add some oil in your hands.
10.Put the stripes next to each other vertically with some space in between.
11.Attach the beginning of the stripes and start braiding by moving stripe 4 to position 2, stripe 1 to position 3 and stripe 2 to position 3. Continue until the end.
12.Then secure the ends underneath and place carefully in a baking tray lined with parchment paper.
13.Cover with a kitchen towel and let it rise for 30minutes.
14.Continue with the other dough, divide into 4 and do the same process.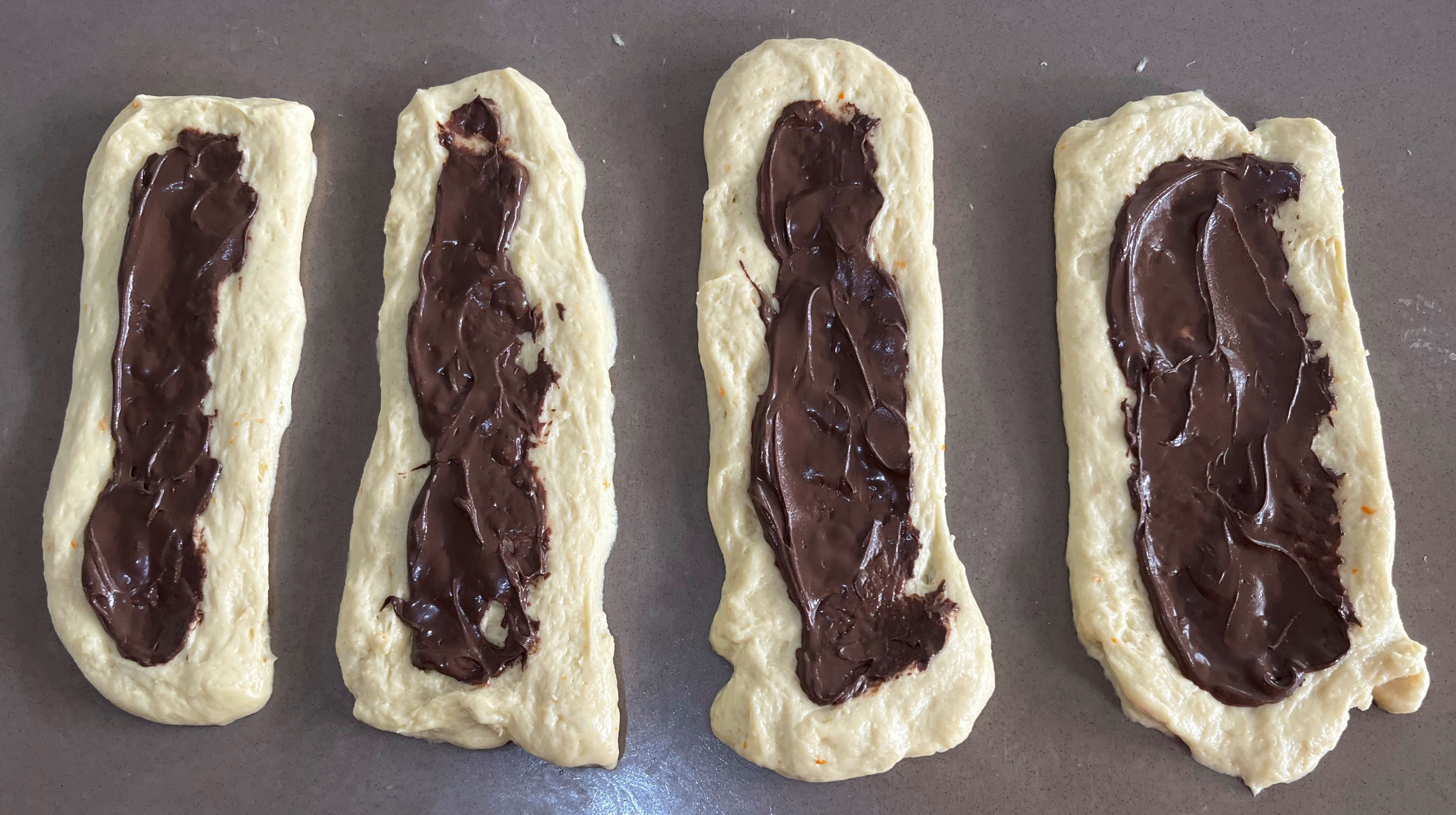 15.I added a chocolate and tahini spread in the second one, but this is optional.
16.If you want to fill the stripes, then make then a bit wider, add 2 teaspoons of the spread, then wrap one side to the other to cover and roll then to form better the stripes.
17.Braid as previously and let it to rise for 30minutes.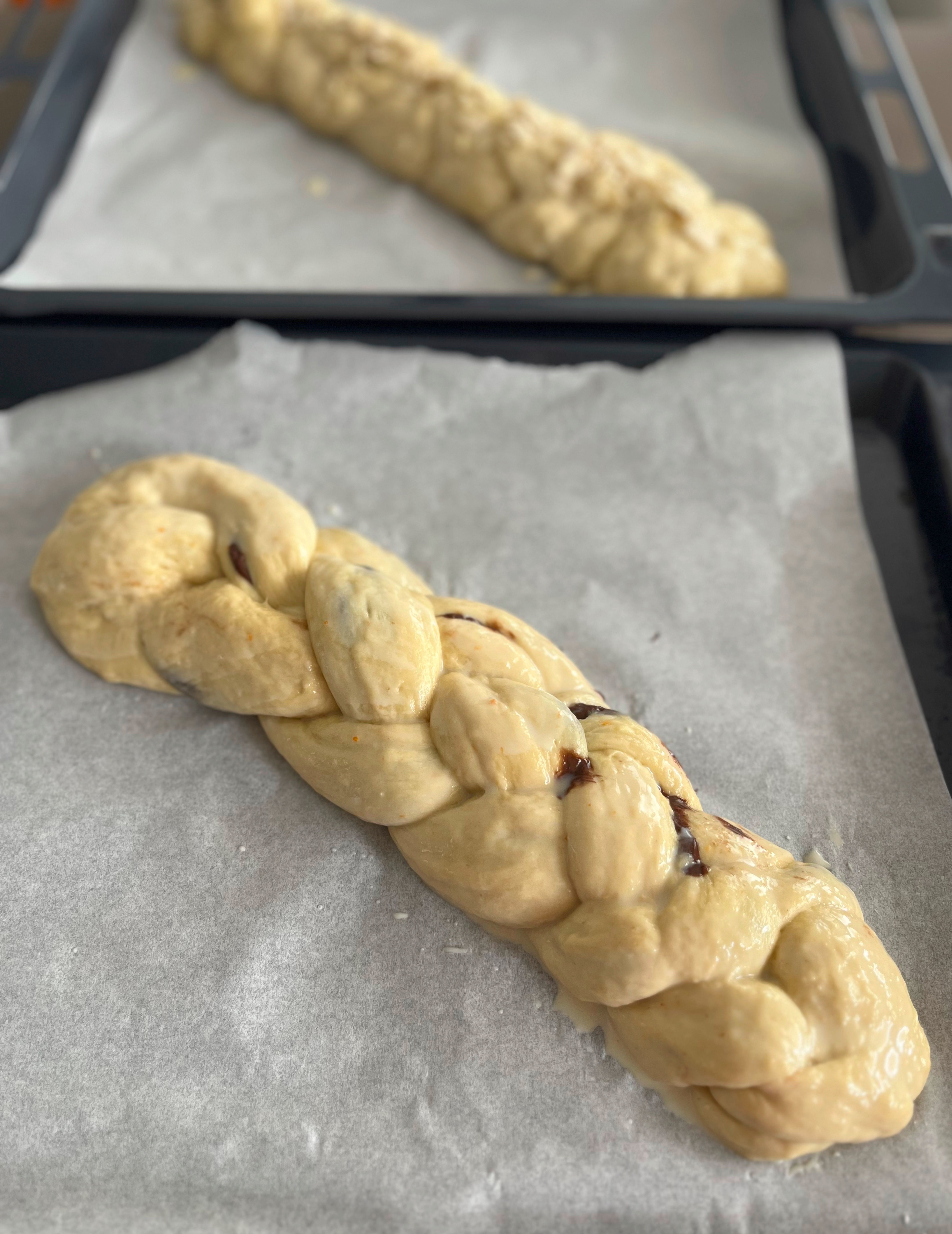 18.Bake in a preheated oven at 160°C for 30-35 minutes.
19.Once baked, remove from the oven and let it aside to cool down.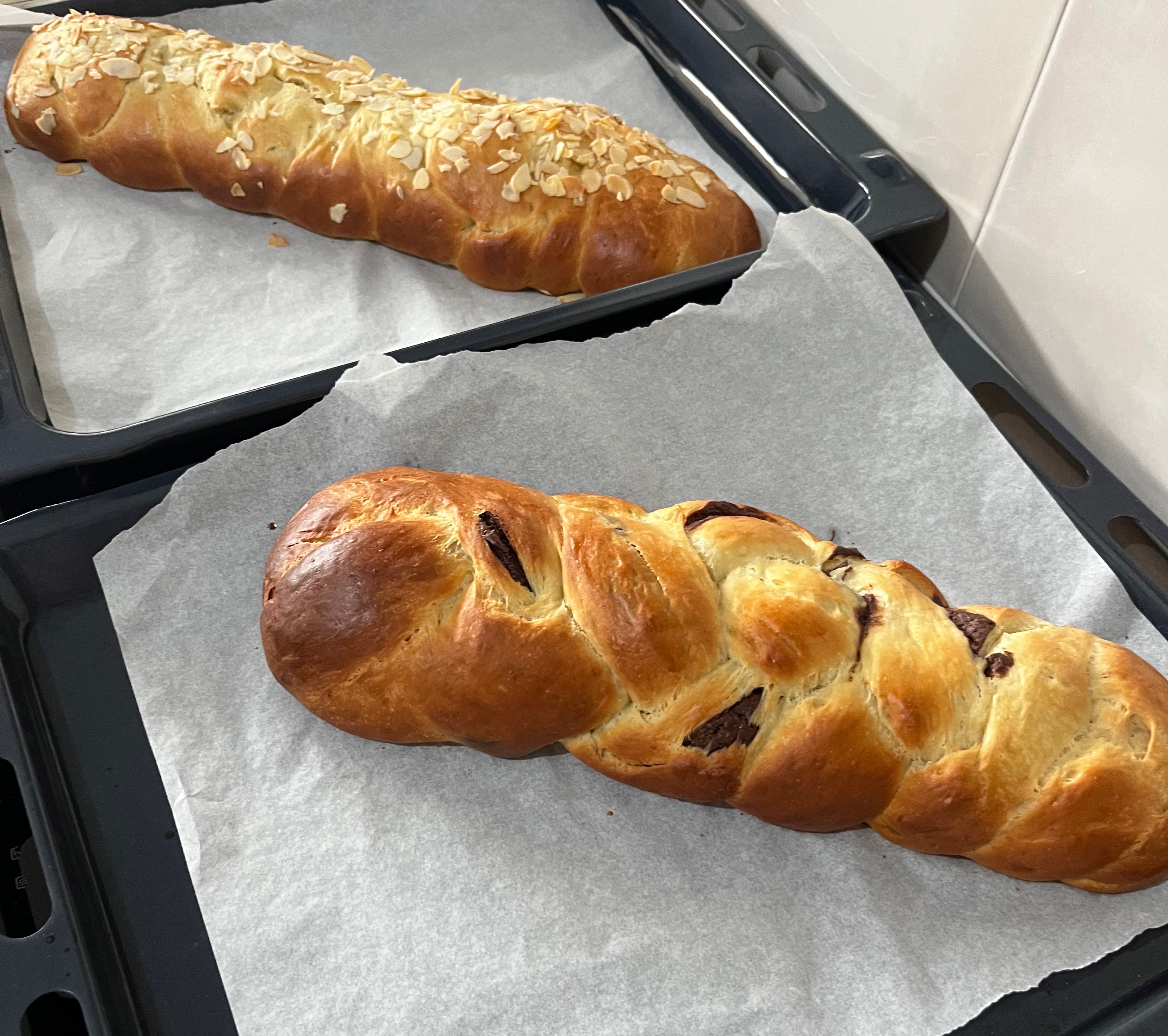 20.If you are using chocolate, crumble the chocolate in a bowl, cover with clean film and microwave for 30 seconds at 800w. Remove, check if it has melted, if not add for additional 30 seconds. Be careful not to burn the chocolate.
21.Drizzle the chocolate over the chocolate tsureki using a fork and sprinkle some almond flakes.
Enjoy!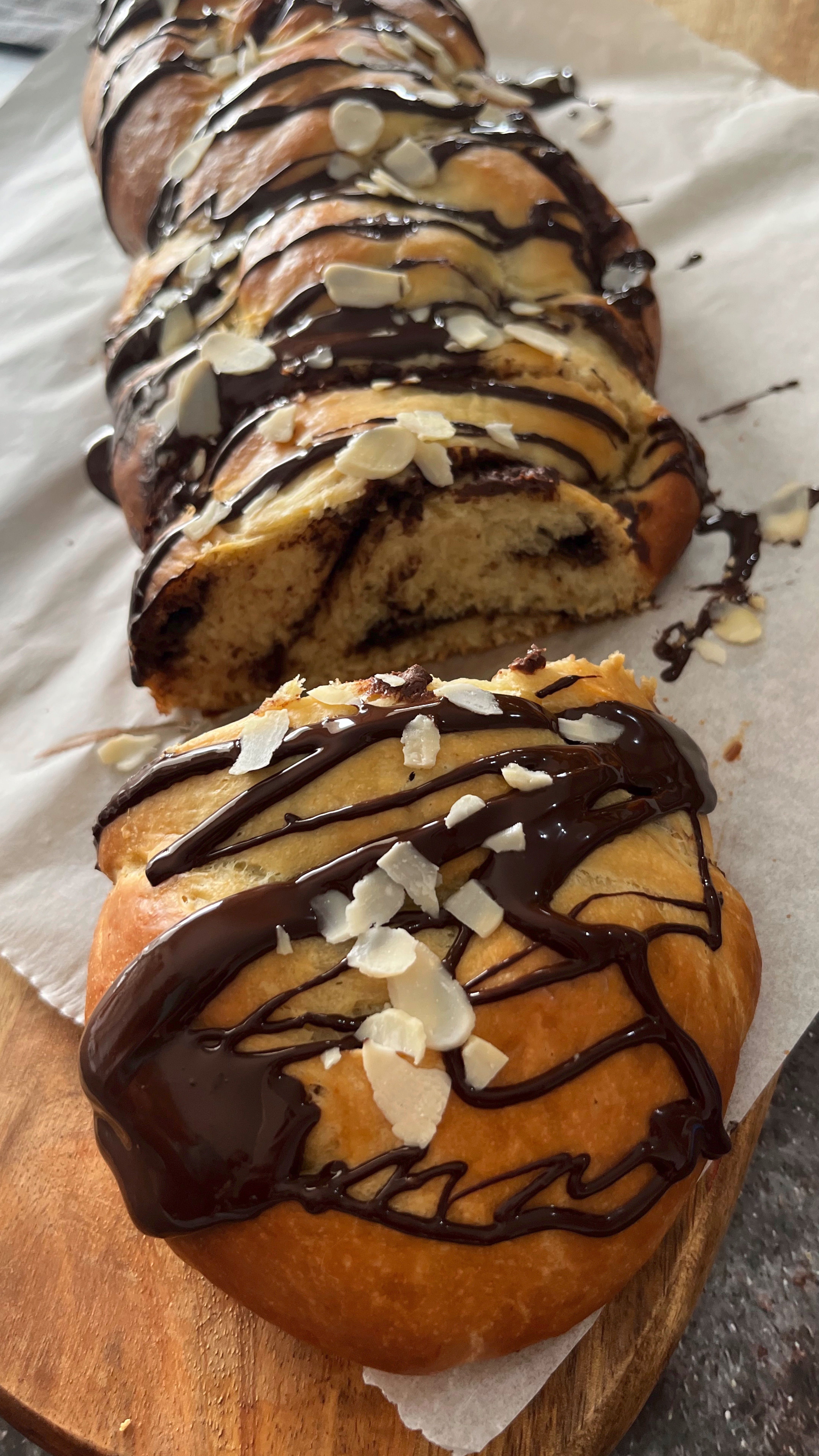 Notes:
*If you don't have a standing mixer, you can still do the recipe, but you will need to knead the dough by hand.
*To keep them fresh wrap them in clean film.
Did you try this recipe?
Let us know how it went, comment below and share a picture on Instagram or Twitter with the hashtag #natliciousfood
*Disclosure
Feel free to support me on Patreon!
Some of the above links are affiliate links, meaning at no additional cost to you, I may earn commission when you click through and make a purchase.