Tofu
Here's an easy and quick way to prepare tofu!
Vegan, nut free, gluten free | Serves 2 | SIDE
Ingredients:
185g smoke firm tofu
3 tablespoons olive oil
2 tablespoons soy sauce
1 teaspoon maple syrup
Salt and pepper
1/2 teaspoon dried oregano
1/3 teaspoon garlic granules and cayenne pepper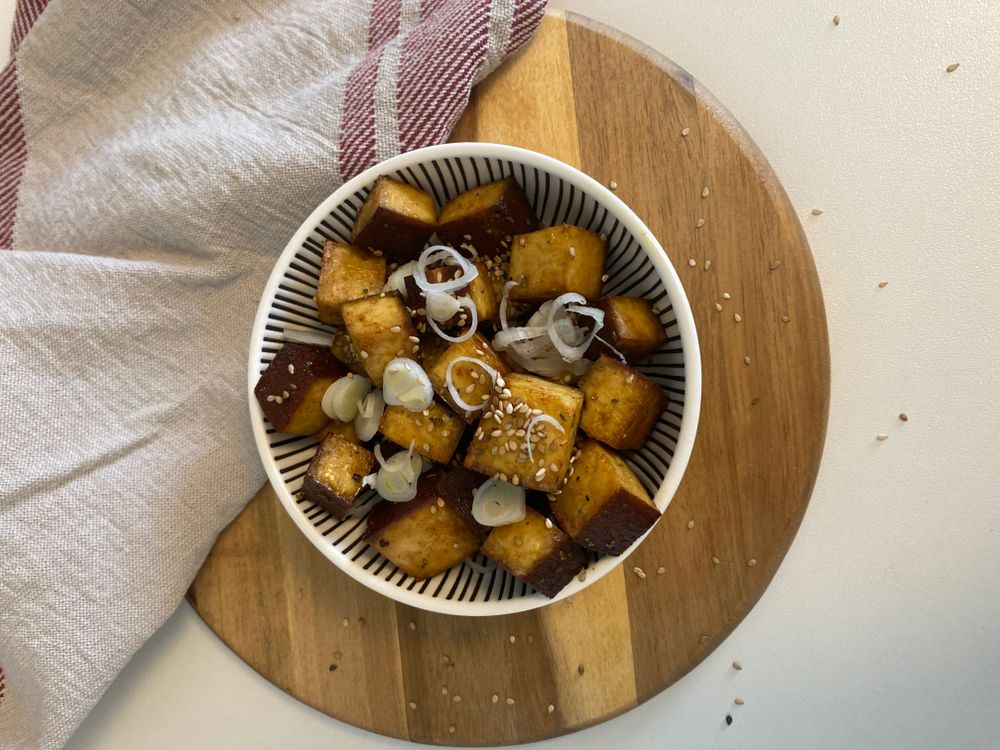 Steps:
1.Cut the tofu is medium cubes.
2.Add all the ingredients (except from the tofu) in a bowl and combine.
3.Add the tofu and mix it into the marinate.
4.Marinade it from 30 minutes or up to 2 days in the fridge.
5.Put the tofu pieces in the air-fryer for 7 minutes at 180 degrees Celsius.
6.Serve with sesame seeds and spring onions.
Notes:
*Instead of using an air-fryer, you could bake the tofu in a preheated oven at 180 degrees Celsius for 20 minutes.
Happy cooking everyone!
Did you try this recipe?
Let us know how it went, comment below and share a picture on Instagram or Twitter with the hashtag #natliciousfood
*Disclosure
Some of the above links are affiliate links, meaning at no additional cost to you, I may earn commission when you click through and make a purchase.