Strawberry sandwich biscuits
Strawberry sandwich biscuits
Delicious strawberry sandwich biscuits that only need a handful of ingredients to make!
Vegan, nut free, soy free | 15 biscuits | DESSERT
Ingredients:
80g sugar
70ml vegetable oil
70ml orange juice
280g all-purpose flour
1 teaspoon baking powder
pinch of salt
Serve with:
icing sugar
strawberry jam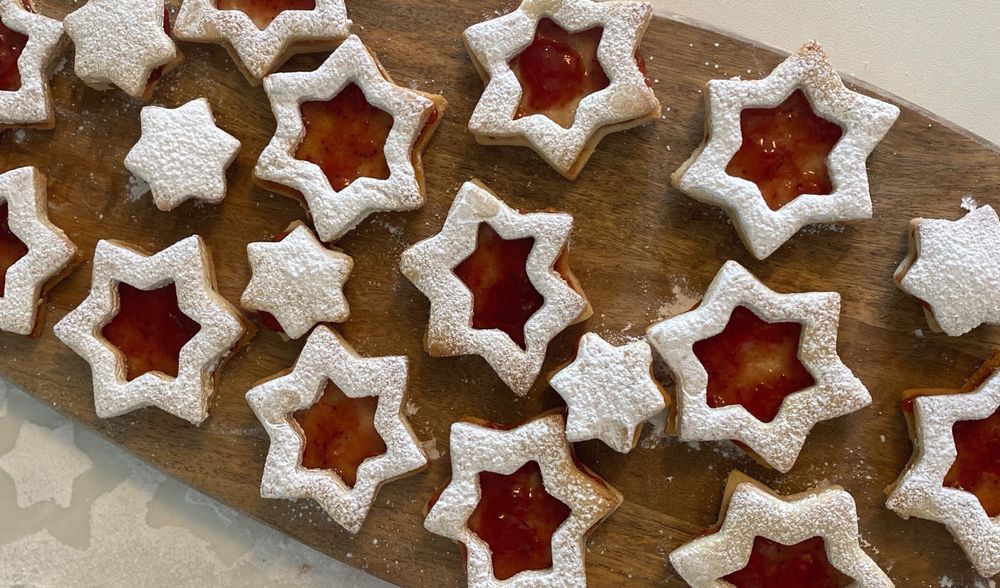 Steps:
1.In a large mixing bowl, add the sugar, oil and orange juice.
2.Whisk well to dissolve the sugar.
3.Combine the baking powder and salt into the flour and add them into the wet ingredients.
4.Use a whisk to combine them and then continue kneading with your hands.
5.Form the dough into a ball and wrap it in a clean film.
6.Place it in the fridge for 10 minutes.
7.Remove from the clean film and roll the dough with a rolling pin.
8.I found it easier to divide the dough and then roll, but it's not necessary.
9.Use a cookie cutter of your choice to shape the biscuits.
10.I'm using 2 different sizes so that the jam is visible, but you can do one size.
11.Place them on a tray lined with parchment paper.
12.Bake them in a preheated oven at 180 degrees Celsius for 10 minutes or until golden.
13.Let them cool down before you sprinkle the icing sugar.
14.Add some strawberry jam on one biscuit and then cover it with another one.
15.Continue until you have used all the biscuits.
Notes:
*Keep them in an air-tied container for up to 7 days.
Enjoy!
Did you try this recipe?
Let us know how it went, comment below and share a picture on Instagram or Twitter with the hashtag #natliciousfood
*Disclosure
Feel free to support me on Patreon!
Some of the above links are affiliate links, meaning at no additional cost to you, I may earn commission when you click through and make a purchase.