Lentil and broccoli salad
Lentil and broccoli salad
This lentil and broccoli salad celebrates iron intake! Did you know that when you combine lentils with vitamin C, you increase the iron intake up to 4 times? So, today's recipe is iron focused but don't be fooled, it's also packed with flavour!
Vegan, nut free, soy free, gluten free | Serves 3 | SALAD
Ingredients:
160g brown lentils
1 bay leaf
1 veggie stock cube
1 medium size broccoli
Salt and pepper
1 tablespoon of olive oil
2 spring onions, chopped
Dressing:
1 orange, juice and zest
2 cloves of garlic, crushed
1 teaspoon Dijon mustard
60ml olive oil
2 tablespoons apple cider vinegar
1 tablespoon maple syrup
1/2 teaspoon of each garlic granules and oregano
2 tablespoons of chopped dill (fresh, frozen or dried)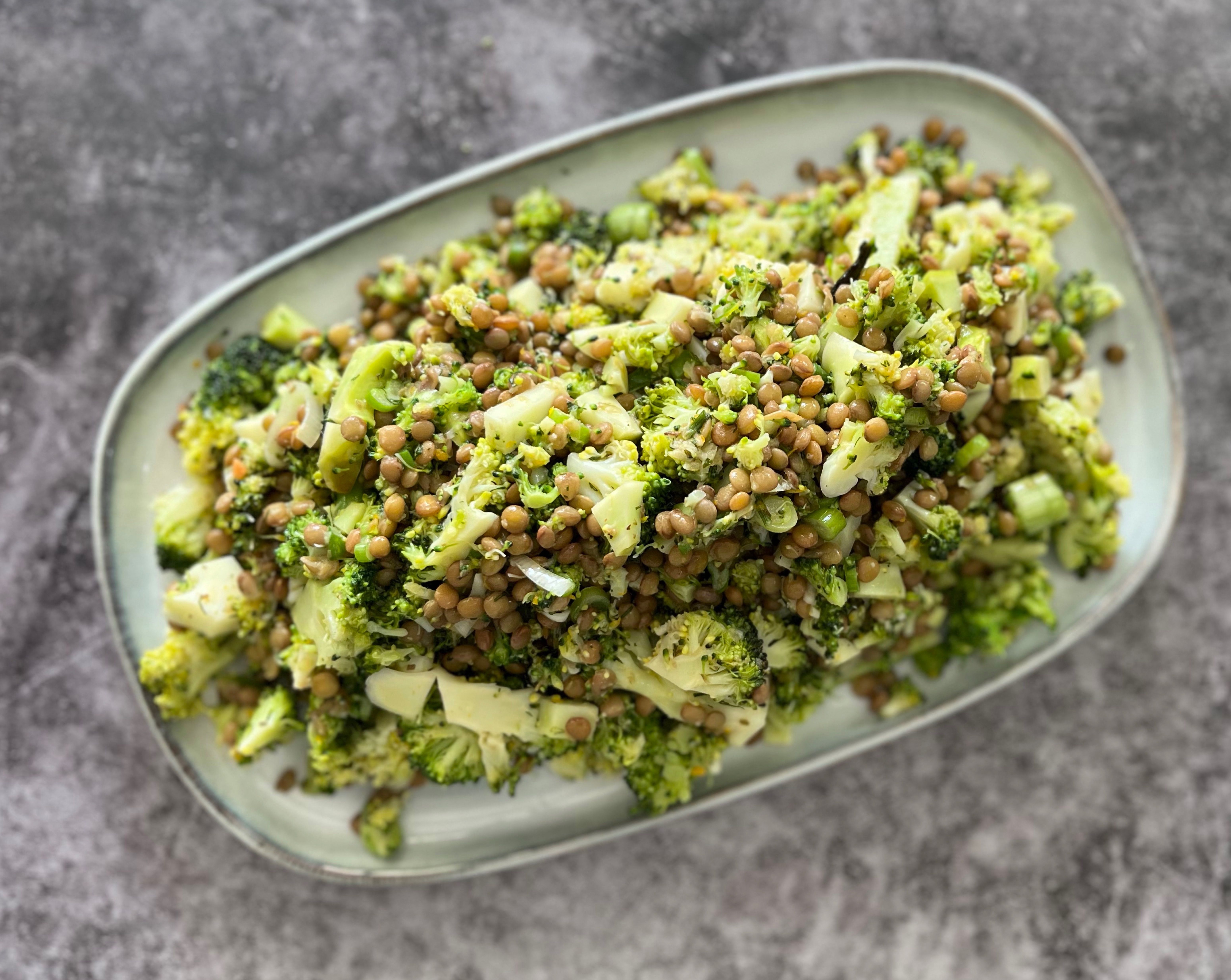 Steps:
1.Soak the lentils overnight ideally or for at least a couple of hours.
2.Drain and rinse the lentils and add them in a pot.
3.Add plenty of water, the bay leaf and stock cube.
4.Bring to boil, lower the heat, semi-cover and cook and 30 minutes or until the lentils are cooked.
5.In a large pot with salted boiling water, boil your broccoli for 3 minutes.
6.Then remove and add it on a baking tray, along with the olive oil and seasoning.
7.Bake for 15 minutes in a preheated oven at 180°C.
8.Prepare the dressing by combining all the dressing ingredients.
9.Once the broccoli is baked, remove from the oven and cut in small pieces.
10.Once the lentils are cooked, remove the bay leaf and drain. Set aside from few minutes to cool down.
11.In a large mixing bowl, add the cooked lentils and chopped broccoli, along with the spring onions and dressing.
12.Mix to combine and serve.
Enjoy!
Notes:
*By soaking the lentils, helps with better iron absorption, better digestion plus it reduces the cooking time!
*Instead of boiling your own lentils, you can speed up the process by using canned lentils, just remember to drain and rinse them.
Did you try this recipe?
Let us know how it went, comment below and share a picture on Instagram or Twitter with the hashtag #natliciousfood
*Disclosure
Feel free to support me on Patreon!
Some of the above links are affiliate links, meaning at no additional cost to you, I may earn commission when you click through and make a purchase.