Harissa tofu sandwich
If you like a bit of spice and you are looking for easy yet delicious quick meals, this harissa tofu is a game changer!
Vegan, nut free, gluten free | Serves 4 | MAIN
Ingredients:
200g firm tofu, I used biona organic tofu
1 white, chopped
2 cloves of garlic, minced
2 tablespoons of olive oil
Salt and pepper
Pinch of oregano
1 teaspoon of each tomato and harissa paste
Serve with:
Bread of choice
Avocado
Arugula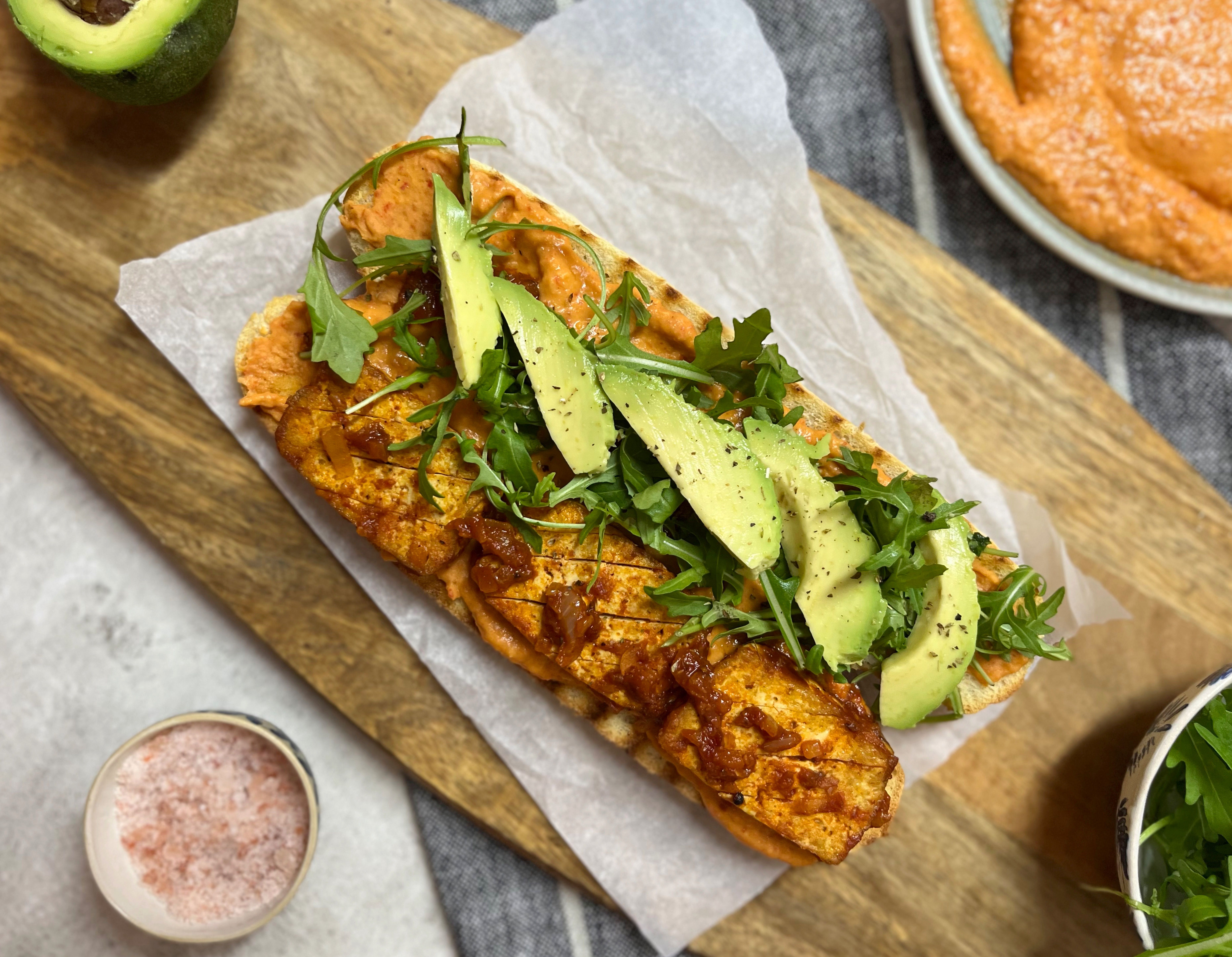 Steps:
1.Pat dry the tofu with a kitchen towel/paper to remove any excess water and cut into 2cm thick slices.
2.Add half of the olive oil in a pan and add the tofu slices in one layer.
3.Cook on both sides until golden and season with salt and pepper.
4.Once they are ready, remove from the pan and set aside.
5.Use the same pan to sauté the chopped onion with the remaining olive oil and a pinch of salt.
6.Saute stirring occasionally until they get a nice golden colour.
7.Continue with the minced garlic cloves and sauté for a minute before you add the tomato and harissa paste.
8.Make sure to give a couple of minutes to the tomato and harissa paste to cook, before you add 60ml of water.
9.Bring to boil, then lower the heat to simmer and add the tofu slices.
10.Cook for 8-10 minutes, turning halfway through and stirring the sauce occasionally.
11.I toasted my baguette, added the roasted red pepper dip, followed by the tofu slices, along with some of the sauce.
12.I finished with some fresh arugula and avocado slices.
Enjoy!
Did you try this recipe?
Let us know how it went, comment below and share a picture on Instagram or Twitter with the hashtag #natliciousfood
*Disclosure
Some of the above links are affiliate links, meaning at no additional cost to you, I may earn commission when you click through and make a purchase.