Fennel and mandarine salad
Fennel and mandarine salad
Mandarine season is upon us and I couldn't be happier about it. So, I made this fennel and mandarine salad that is a perfect mid-week meal, but is fancy enough to make it to your festive table.
Vegan, soy free, gluten free | Serves 2 | SALADS
Ingredients:
100g quinoa
30g almonds -1 fennel
1 spring onion
1 handful of fresh coriander
1 handful of mixed salad leaves
1-2 mandarines
Dressing:
2 tablespoons of olive oil
1/2 teaspoon of each maple syrup and Dijon mustard
Juice of 1-2 mandarines
Pinch of salt, oregano and garlic granules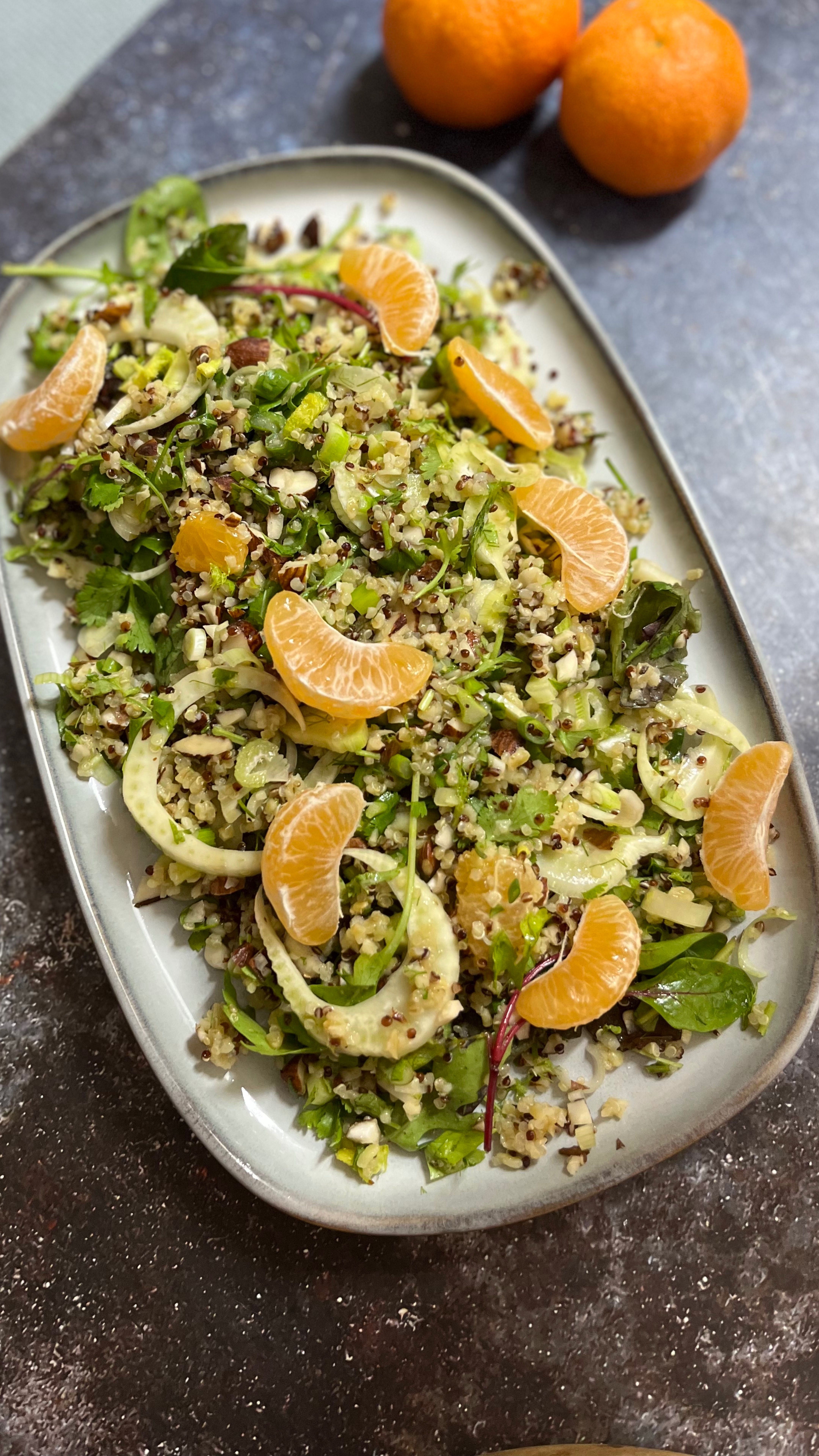 Steps:
1.Cook the quinoa according to the package instructions and let it aside to cool down.
2.Add the almonds in a baking tray and toast them in a preheated oven at 180°C for 3-5 minutes and let it aside to cool down.
3.Cook the fennel in thin slices and chop the spring onion and coriander.
4.Once the almonds are ready, chop them too.
5.For the dressing add all the ingredients in a jar or bowl and combine well.
6.Peel the mandarines and remove any seeds.
7.Asseble the salad and mixing all the components.
Enjoy!
Notes:
*Quinoa can be prepared the day before.
*Serves up to 5 people as a side.
Did you try this recipe?
Let us know how it went, comment below and share a picture on Instagram or Twitter with the hashtag #natliciousfood
*Disclosure
Feel free to support me on Patreon!
Some of the above links are affiliate links, meaning at no additional cost to you, I may earn commission when you click through and make a purchase.