Easy apple pie
This apple pie is quick to make, yet unbelievably delicious. The combination of filo pastry, caramelised apples and vanilla ice-cream work well together, so make sure to try it.
Vegan, soy free | Serves 4-6 | DESSERT
Ingredients:
4 apples (I used 2 granny smith & 2 honey crisp)
3 tablespoons of vegan butter
1/2 teaspoon of cinnamon
2 tablespoons of light brown soft sugar
1 tablespoon of brandy
30g walnuts
3 tablespoons of apple sauce
6 filo pastry sheets
1 teaspoon of powdered sugar
Vanilla ice-cream to serve (I used Swedish glace)
Steps:
Preheat your oven to 180°C.

Peel the apples and cut in 4 pieces, remove the seeds and cut into thin slices.

In a pan, on a medium heat, melt 1 tablespoon of butter, then add the apples and cook for 3-5 minutes.

Add the sugar and cinnamon and stir around.

After a couple of minutes, the sugar with the butter will create a caramel like sauce.

Add the brandy and keep the heat on for another minute. Remove from the heat, add the walnuts and combine. Let aside to cool down.

Melt the remaining butter and use a food brush to add the melted butter on a round 24cm diameter baking dish.

Then add one by one the filo pastry sheets (leave the edges overlapping the dish) and in-between each layer sprinkle butter all over without touching the pastry sheet. Continue until you have used all the sheets.

Spread the apple sauce over the pastry and then add the apple mixture (it must be cool to use it). Fold in the edges if the filo pastry and brush the remaining butter.
If the apple sauce you are using doesn't have added sugar, add 1-2 tablespoons extra sugar.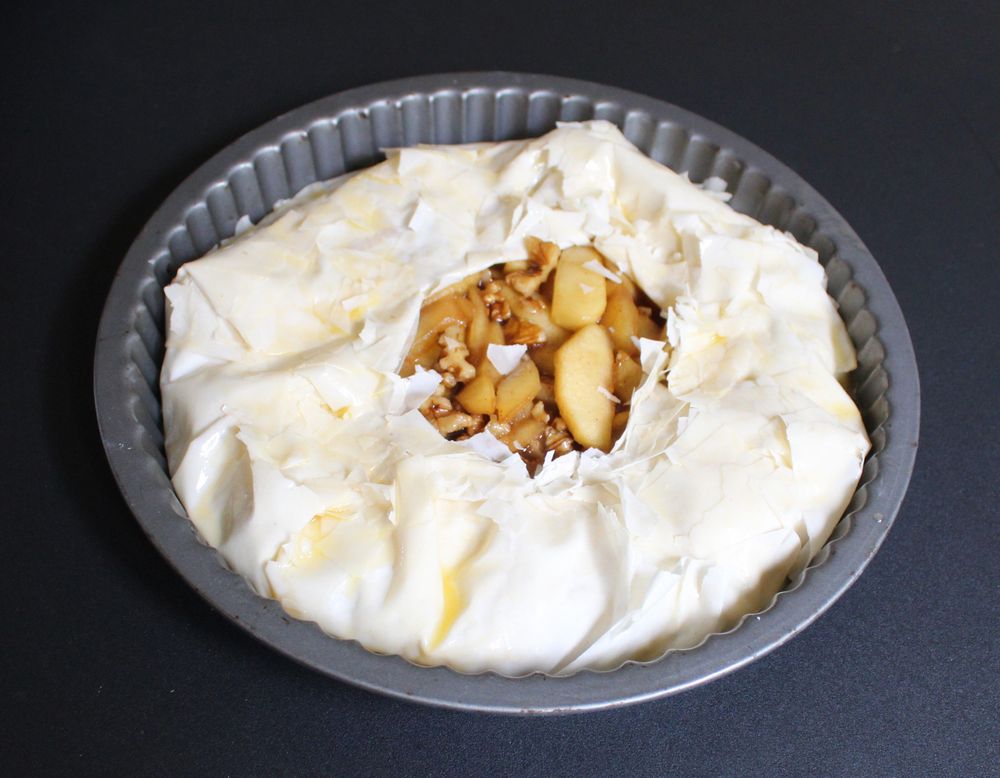 Bake for 30 minutes or until the pastry is golden.

Let it cool, before you sprinkle the powdered sugar.

Serve with vanilla ice-cream!
Enjoy!