Butter bean stew
Did you know that butter beans (aka lima beans) are full of protein, fibre, iron and B vitamins? This recipe is ideal for meal prepping and batch cooking as it freezes well, and it tastes even better after a day or two.
Vegan, soy free, nut free, gluten free | Serves 4 | MAIN
Ingredients:
2 tablespoons of olive oil
1 onion, chopped
1 garlic, crushed or finely sliced
2 carrots, cut in small cubes
1 celery stick, cut in small pieces
1 leek, finely sliced
1/2 teaspoon of each sugar, paprika, oregano, chilli flakes (optional), basil, garlic granules
1 tablespoon of tomato paste
1 vegetable bouillon cube
3 x 230g butter beans (drained weight), drained and washed
1 bay leaf
1 can of plum tomatoes (400g)
Handful of fresh thyme and dill
Salt and pepper to taste
Steps:
In a large pot, on a medium heat, sauté the onions, garlic, carrots, celery and leeks with the oil, until translucent. This will take 7-8 minutes, stir occasionally.

Add the sugar and sauté for a minute to caramelize the veggies.

Continue with the veggie cube, tomato paste and dried herbs. Sauté for a minute before you add the butter beans, bay leaf and plum tomatoes.

Break the tomatoes with a wooden spoon and add 400ml of boiling water.

Bring to boil and simmer covered for 30 minutes, stirring occasionally.

Check the seasoning and add the fresh herbs.
Serve with kalamata olives, onions and bread of choice (I used garlic bread). You can keep it in the fridge for up to 5 days and you can also freeze it.
Happy cooking everyone!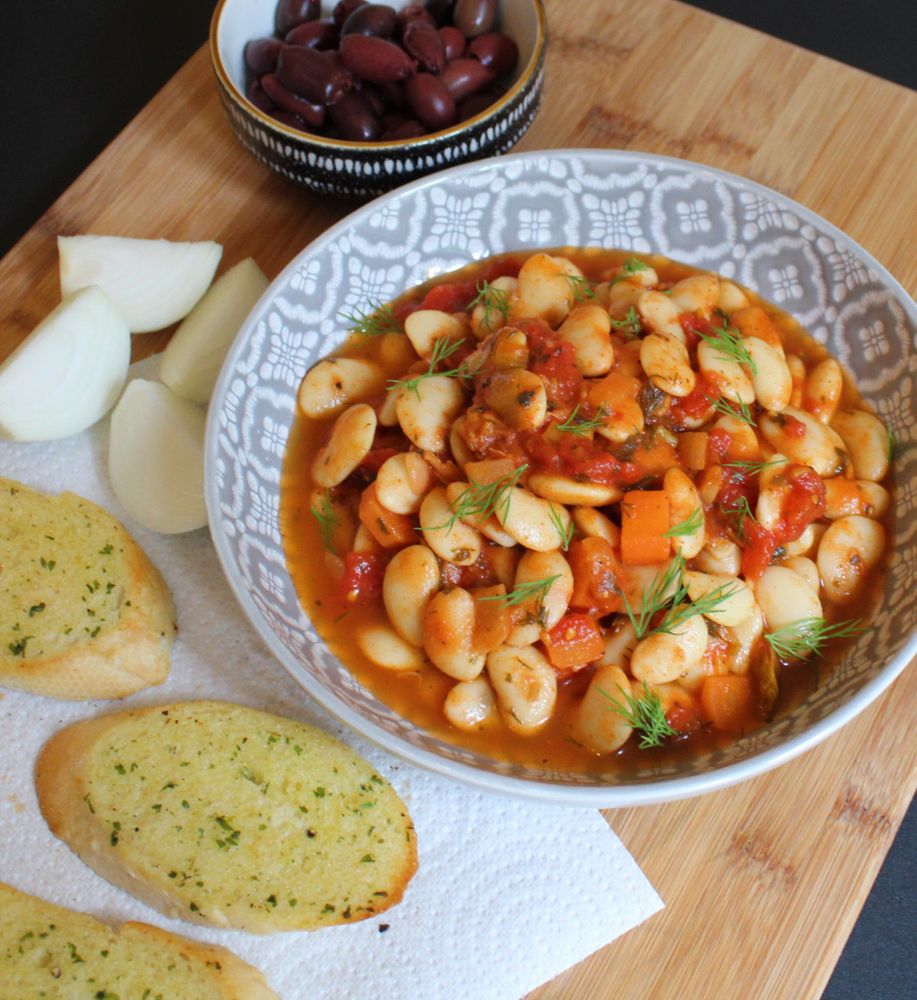 Did you try this recipe?
Let us know how it went, comment below and share a picture on Instagram or Twitter with the hashtag #natliciousfood
*Disclosure
Feel free to support me on Patreon!
Some of the above links are affiliate links, meaning at no additional cost to you, I may earn commission when you click through and make a purchase.