Yellow cauliflower
This cauliflower recipe, takes literally 5 minutes to prep and it makes a great side dish or a perfect addition to a salad!
Vegan, nut free, soy free, gluten free | Serves 4 | SIDE
Ingredients:
400g cauliflower
2 tablespoons olive oil
1/4 teaspoon of Dhow Nature Foods turmeric (10% discount code: DHOWLIKENATALI)
1/4 curry powder
Pinch of cumin
Salt and pepper
1/3 teaspoon garlic granules
Juice of half lemon
Fresh coriander, chopped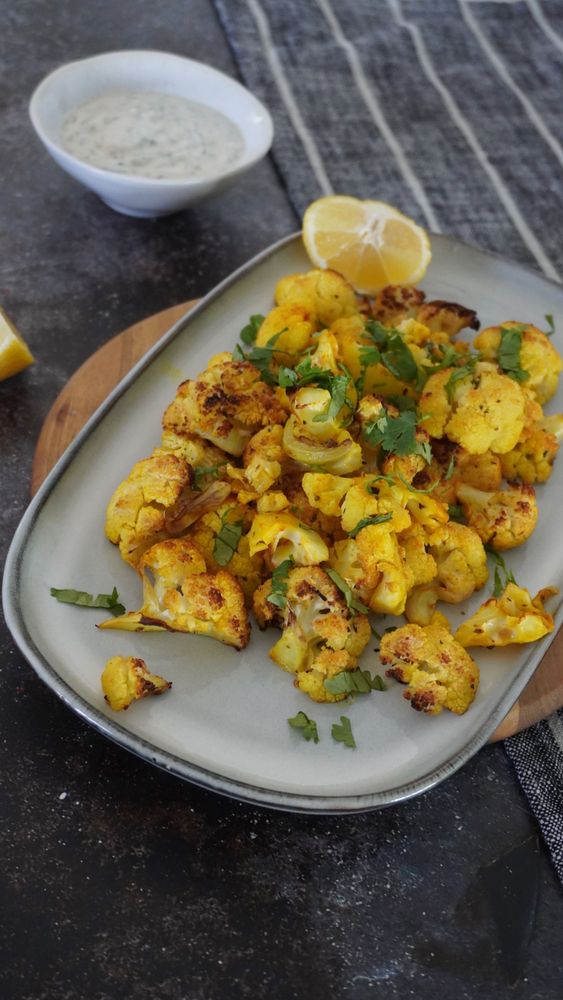 Steps:
1.Cut the cauliflower in bite size florets.
2.Wash it and add it into a large mixing bowl.
3.Add the olive oil and season with all the spices.
4.Mix well and bake in a preheated oven at 180°C for 30 minutes or until is golden, turning halfway through.
5.Serve with fresh coriander.
Notes:
*Serve with a yogurt-tahini sauce.
*Best enjoyed fresh.
Happy cooking everyone!
Did you try this recipe?
Let us know how it went, comment below and share a picture on Instagram or Twitter with the hashtag #natliciousfood
*Disclosure
Feel free to support me on Patreon!
Some of the above links are affiliate links, meaning at no additional cost to you, I may earn commission when you click through and make a purchase.