Vegan Shakshuka
Not your traditional shakshuka but believe me this one won't disappoint! It's quick to make with a little bit of spice, hidden vegetables and packed with protein!
Vegan, nut fee, gluten free | Serves 2 | MAIN
Ingredients:
Sauce:
2 tablespoons olive oil
1 shallot, sliced
2 cloves of garlic, crushed
1 red chilli, sliced
1 carrot, cut in small pieces
Salt and pepper
1/2 teaspoon of each paprika, cumin and oregano
1 tablespoon tomato paste
1 teaspoon balsamic glaze
400g peeled tomatoes
3-4 sundried tomatoes, sliced
Fresh parsley, chopped
50g vegan fetta, cut in small pieces
For the tofu:
200g silken tofu
Salt and pepper
1/2 teaspoon garlic granules
1 teaspoon soy sauce
Serve with:
Spring onion
Toasted bread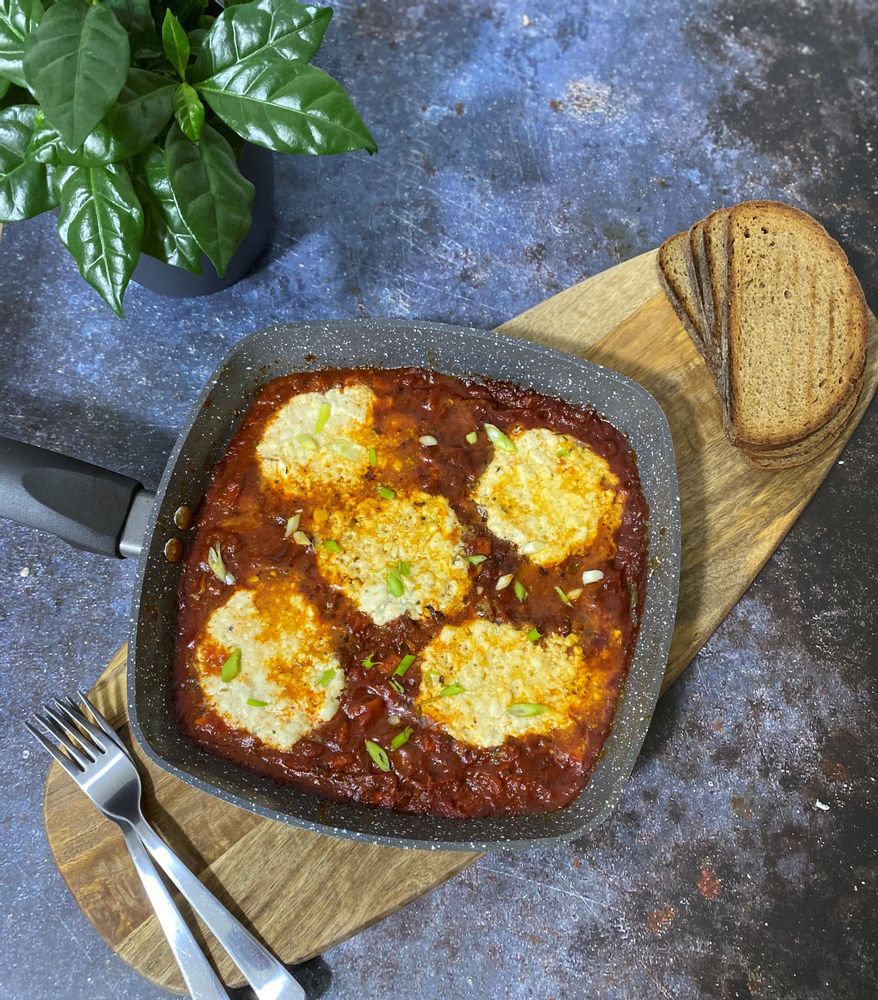 Steps:
1.In a pan, on a medium heat, sauté the shallots, garlic, chilli and carrots with the olive oil for few minutes.
2.Season, then add the tomato paste and balsamic glaze and sauté for few more minutes before adding the peeled tomatoes, sundried tomatoes and 50ml of boiling water.
3.While the sauce is bubbling away, in a bowl combine all the ingredients for the tofu and mix well.
4.Cook the sauce for 8-10 minutes.
5.Add the parsley and taste to adjust the seasoning.
6.Add 2-3 tablespoons of the tofu mixture in the tomato sauce (as shown in the picture and sprinkle the feta on top.
7.Cover and cook for another 5 minutes.
8.Sprinkle some spring onions and parsley and enjoy with toasted bread.
Happy cooking everyone!
Did you try this recipe?
Let us know how it went, comment below and share a picture on Instagram or Twitter with the hashtag #natliciousfood
*Disclosure
Some of the above links are affiliate links, meaning at no additional cost to you, I may earn commission when you click through and make a purchase.