Tofu sandwich
When I switched to a plant-based diet, one of the first problems I ran into was what to put in my sandwiches, but eventually I mastered it!
Vegan, nut free | Serves 2 | MAIN
Ingredients:
200g firm tofu
4 slices of bread of choice (I used a multigrain one)
2 teaspoons of caramelised onions
2 teaspoons of vegan mayonnaise
1/2 cucumber, cut in slices
1/2 red or orange bell pepper (or 2 small sweet peppers)
Few leaves of lettuce of choice (I used a mixed leaf salad)
Pickled red onions (optional)
Marinade:
1 tablespoon of olive oil
1 tablespoon of reduced salt soy sauce
1 tablespoon of maple syrup (or other sweetener of choice)
1/2 teaspoon of oregano
1/2 teaspoon of paprika
1/2 teaspoon of chilli flakes
Salt and pepper to taste
Steps:
1.Mix the marinade ingredients in a jar and shake to combine well. This can be prepared up to a day before and kept in the fridge, but you can use it immediately as well.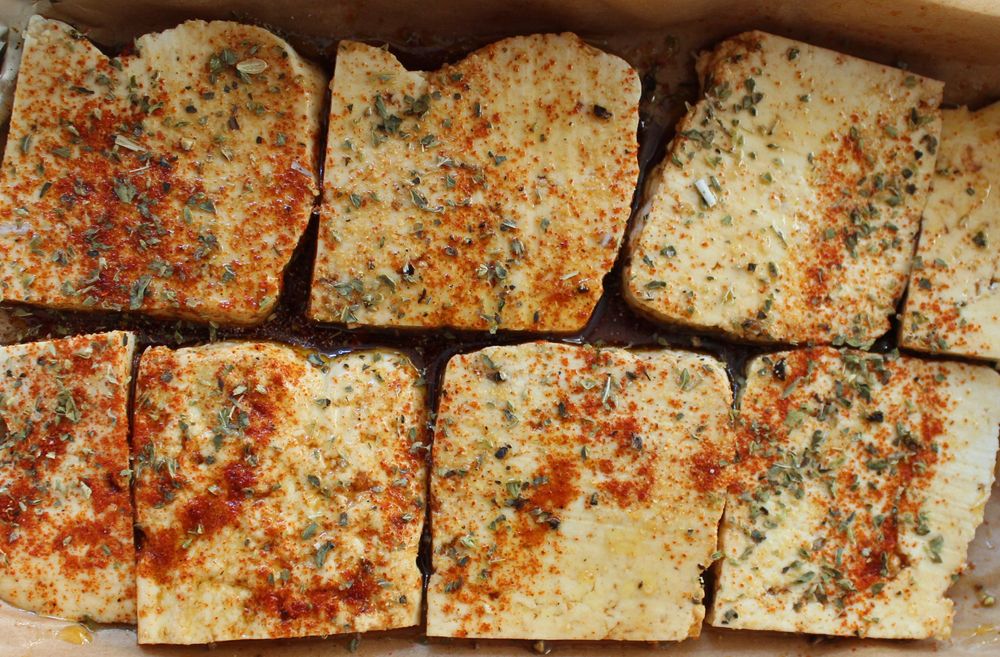 2.Preheat your oven to 180°C and on a baking tray line a parchment paper.
3.Cut the tofu into thin (1cm thick) slices, place on the tray and add the marinate mix. Cover the tofu with the marinate and bake for 20 minutes, turn halfway through. Alternatively, you can also fry the tofu in a non-stick pan for 3-4 minutes on each side.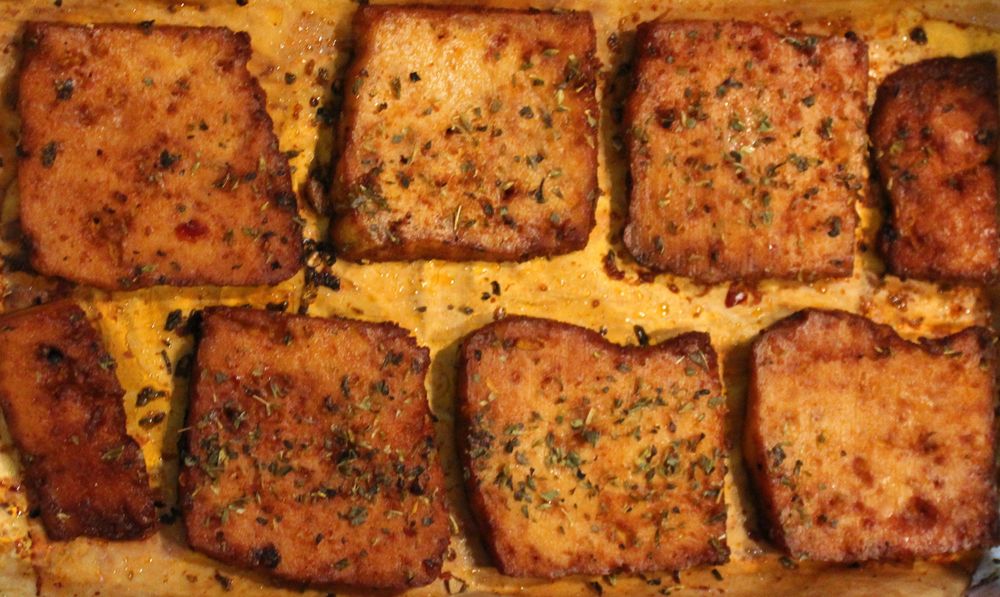 4.Toast the bread and start spreading the condiments on it. I like to start by adding the mayo on one slice and the caramelised inion on the other. Then top up with the rest of the ingredients.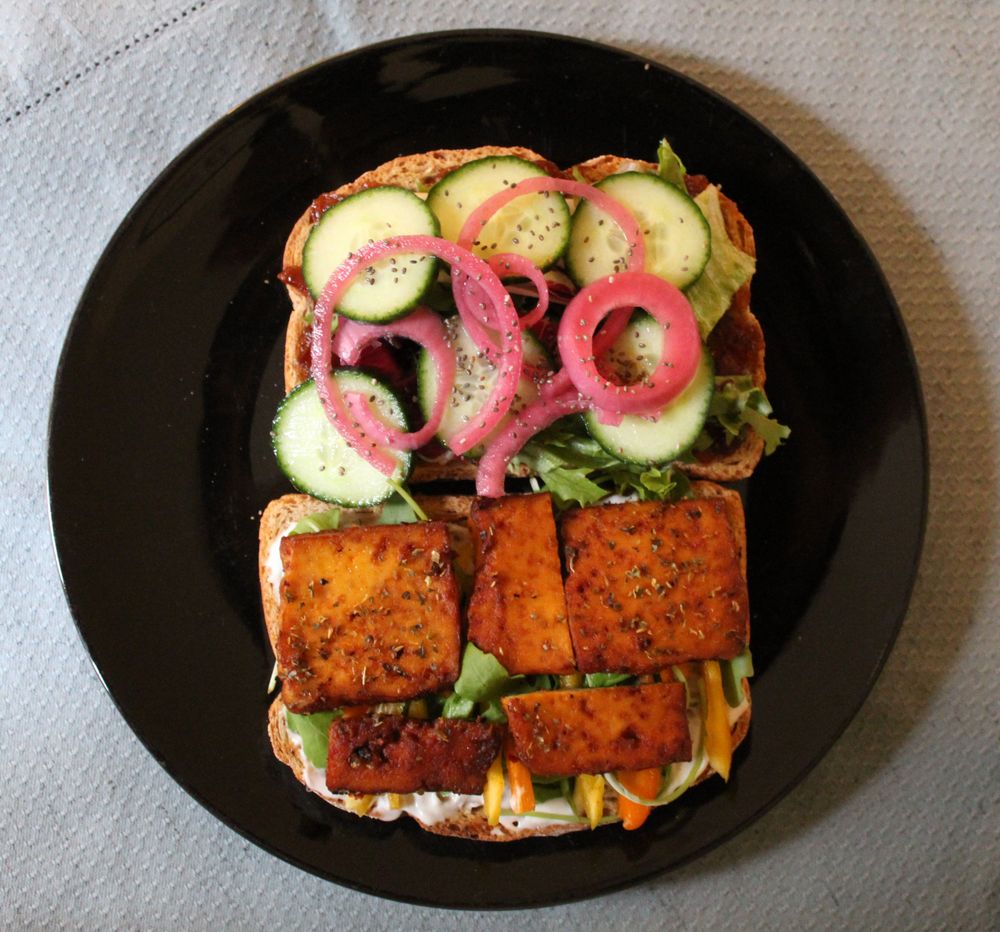 This recipe is easily adjustable to your liking, feel free to adjust the toppings and spreads.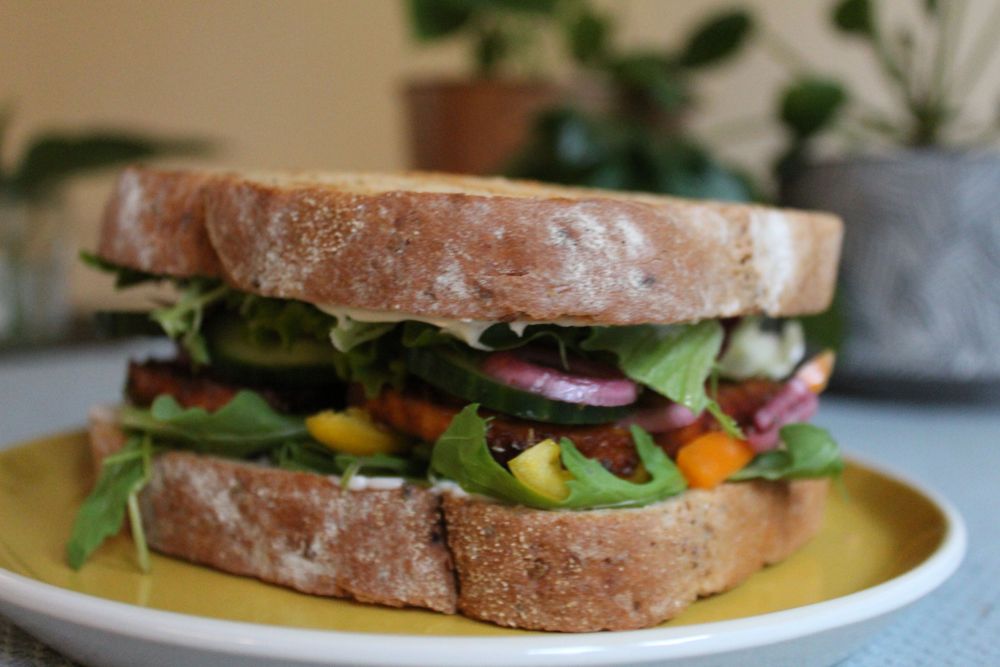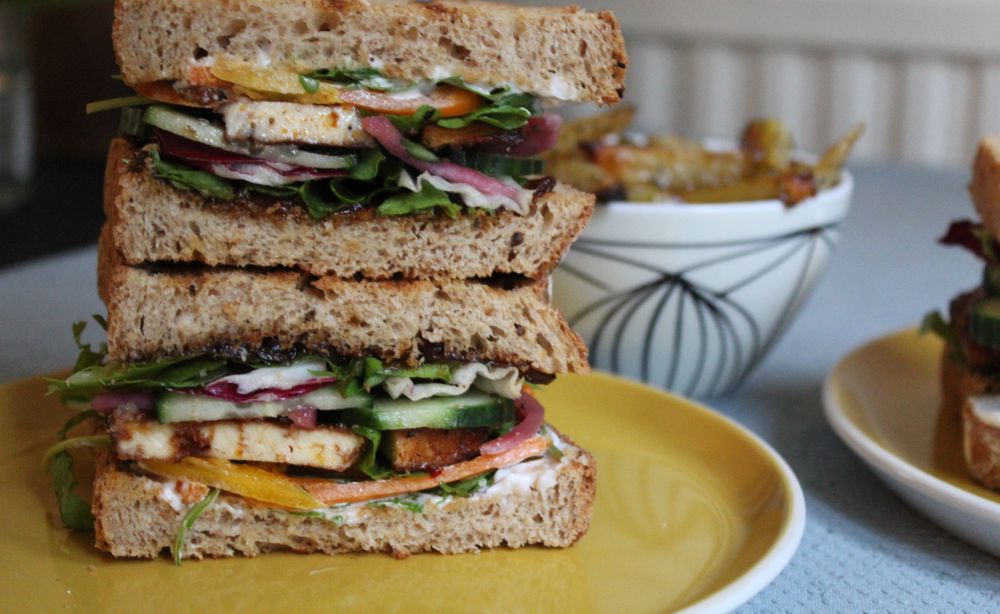 Happy cooking everyone!
If your tofu is not pressed, here's a technique to press it:
Did you try this recipe?
Let us know how it went, comment below and share a picture on Instagram or Twitter with the hashtag #natliciousfood
*Disclosure
Feel free to support me on Patreon!
Some of the above links are affiliate links, meaning at no additional cost to you, I may earn commission when you click through and make a purchase.