Tofu edamame salad
This tofu and edamame salad is all you need, is fresh with a crunch from the walnuts and sweet from the sultanas, high in protein and ready in no time!
Vegan | Serves 1 | SALAD
Ingredients:
Tofu:
125g firm tofu
Salt & pepper
Pinch of dried oregano, paprika & garlic granules
1 tablespoon olive oil
1 tablespoon soy sauce
1 tablespoon maple syrup
Dressing:
1 tablespoon olive oil
1 tablespoon balsamic vinegar
1/2 teaspoon Dijon mustard
Salt & pepper
Pinch of dried oregano
Salad:
A handful of salad greens (lettuce, arugula, spinach, lollo rosso)
30g edamame beans, from a can
30g cooked bulgur
20g sultanas
30g walnuts
1/2 spring onion
Fresh dill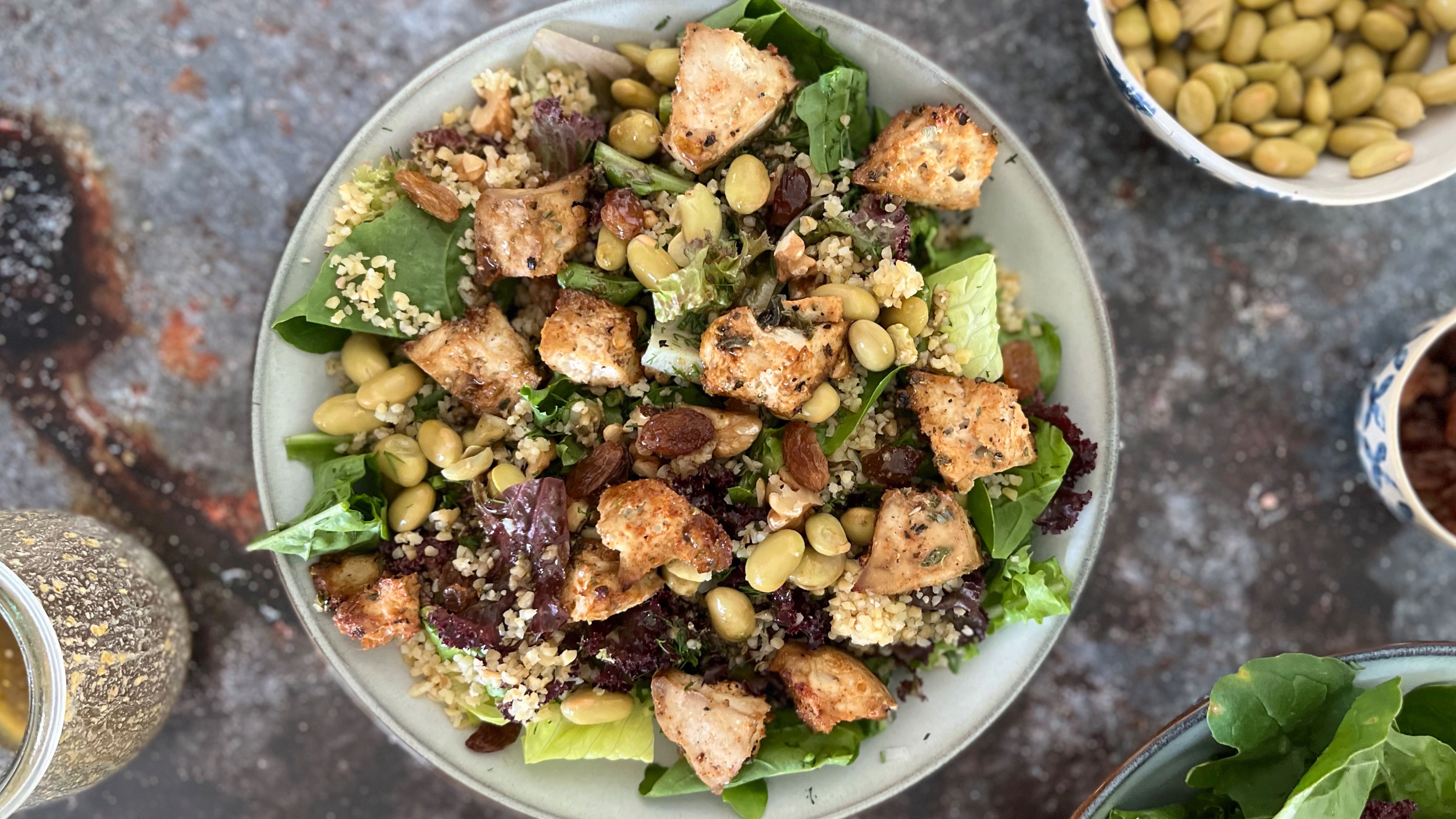 Steps:
1.Cut the tofu in bite size pieces and place it in a baking tray lined with parchment paper.
2.Add all the tofu ingredients and mix well to combine.
3.Bake in a preheated oven at 180°C for 15 minutes.
4.While the tofu is baking, prep the salad and dressing.
5.Add all the dressing ingredients in a jar and mix to combine.
6.Roughly chop the salad leaves and add them in a bowl.
7.Roughly chop the walnuts, spring onions and dill and add them in the bowl.
8.Continue with the bulgur, edamame beans and sultanas.
9.Add the baked tofu pieces on top and finish by drizzling the dressing.
10.Toss well and enjoy!
Notes:
*You can make it gluten free by replacing the bulgur with quinoa and the soy sauce with tamari.
*It makes a great meal prep meal, as you can prepare the bulgur/quinoa, dressing and tofu earlier and assemble when you are ready to enjoy!
*If you are not sure how to cook bulgur, check steps 1&2 here
Happy cooking everyone!
Did you try this recipe?
Let us know how it went, comment below and share a picture on Instagram or Twitter with the hashtag #natliciousfood
*Disclosure
Feel free to support me on Patreon!
Some of the above links are affiliate links, meaning at no additional cost to you, I may earn commission when you click through and make a purchase.