Tofu and peanut butter Buddha bowl
Tofu and peanut butter Buddha bowl
Delicious Buddha bowl, with smoked tofu, oven baked sweet potato and a creamy peanut butter sauce.
Vegan, gluten free | Serves 2 | MAIN
Ingredients:
Tofu:
280g smoked tofu, cut in 4 pieces (I'm using Tofooco)
1 tablespoon of each olive oil and soy sauce
1/2 teaspoon of each oregano and garlic granules
Salt and pepper
Sweet potatoes:
2 medium sweet potatoes, cut in halfmoons
1/2 teaspoon of each garlic granules, paprika, chili flakes (optional) and oregano
Salt and pepper
Rice and peas:
1 tablespoon of olive oil
200g of brown rice
50g of frozen garden peas
Pinch of salt
Peanut sauce:
1 tablespoon of smooth peanut butter
3 tablespoons of lukewarm water
Serve with: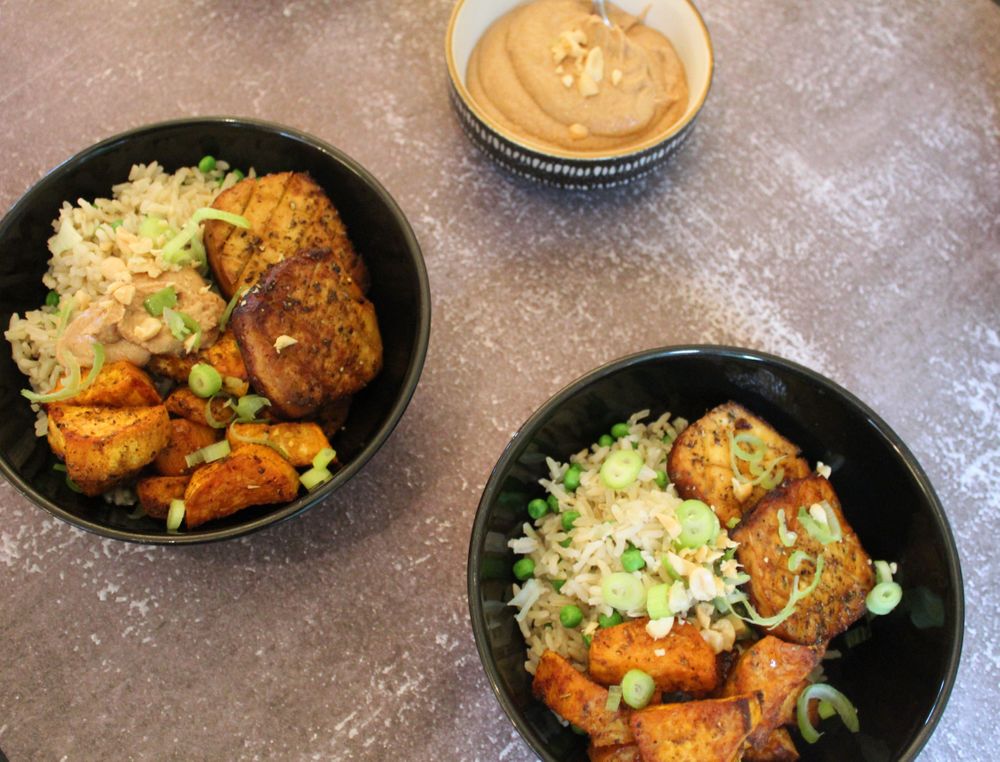 Steps:
1.Preheat your oven to 180°C and line a baking tray with some parchment paper.
2.Add the smoked tofu in half of the tray, along with the olive oil, soy sauce and the spices and coat in all sides.
3.In the same tray add the sweet potatoes, along with the spices and coat well.
4.Bake for 40 minutes, turning halfway through.
5.In a small pot, on a medium heat, add the olive oil, rice and pinch of salt.
6.Stir to coat the rice in the olive oil and add 400ml of boiling water, stir, bring to boil and lower the heat. Cover and cook for 18-20 minutes.
7.After 16 minutes add the garden peas in the rice with a pinch of salt. They only need a couple of minutes to cook.
8.While the rice is cooking prepare the peanut sauce by mixing all the ingredients. If you want it thicker add more peanut butter, if you prefer it runnier add more water.
9.Once everything is cooked, plate and enjoy!
Happy cooking everyone!

If your tofu is not pressed, here's a technique to press it:
Did you try this recipe?
Let us know how it went, comment below and share a picture on Instagram or Twitter with the hashtag #natliciousfood
*Disclosure
Some of the above links are affiliate links, meaning at no additional cost to you, I may earn commission when you click through and make a purchase.