Tahini pasta salad
This salad makes a perfect lunch or dinner, is easy to make, yet so satisfying! It will also make a great addition to your summer barbeques!
Vegan, nut free, gluten free | Serves 2 | MAIN
*Use gluten free pasta
Ingredients:
Pasta:
200g wholewheat fusilli pasta
1 tablespoon of olive oil
Salt
2 tablespoons of sweet corn
3 sun-dried tomatoes, chopped
1 tablespoon of capers
A handful of red cabbage, chopped
1 spring onion, chopped
A handful of fresh coriander, chopped
Tofu:
200g firm tofu
1 tablespoon olive oil
Salt and pepper
Pinch of oregano and garlic granules
1 tablespoon of smoked liquid
Tahini-yogurt sauce:
3 tablespoons plant-based yogurt (I used koko Greek style)
1 teaspoon tahini
1 teaspoon juice of a caper jar
1/2 teaspoon Dijon mustard
1 small clove of garlic
Juice of half lemon
Salt and pepper
Pinch of chili flakes and dried oregano
Fresh dill, handful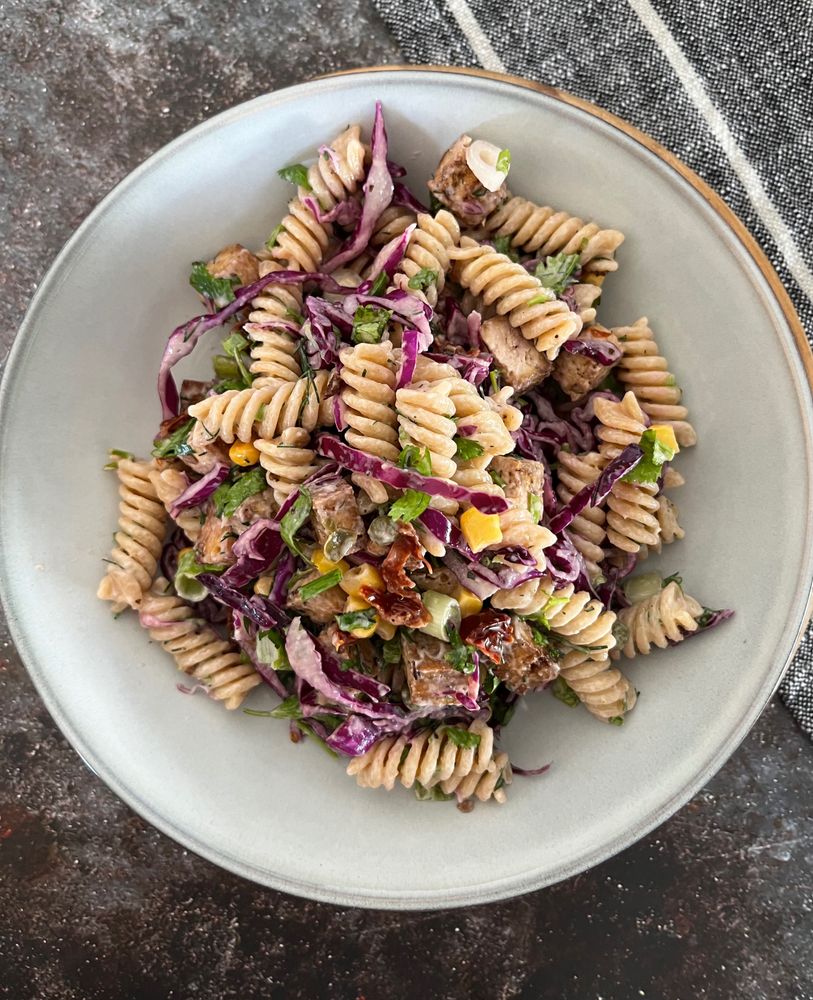 Steps:
1.Cut the tofu in bit size cubes and add all the tofu ingredients.
2.Combine well and bake in a preheated oven at 180°C for 20 minutes, turning half way through.
3.While the tofu is baking, cook your pasta according to the package instructions.
4.Continue by prepping all your veggies.
5.In a small bowl add all the ingredients for the sauce and combine well. Taste and adjust the seasoning to your preference if needed.
6.Once the pasta is cooked, drain it and add some olive oil to avoid them from sticking with each other.
7.Once the tofu is cooked, mix everything in a large bowl.
Happy cooking everyone!
Did you try this recipe?
Let us know how it went, comment below and share a picture on Instagram or Twitter with the hashtag #natliciousfood
*Disclosure
Some of the above links are affiliate links, meaning at no additional cost to you, I may earn commission when you click through and make a purchase.