Sweet potato steaks
Harissa sweet potato steaks on a bed of turmeric rice!
Vegan, soy free | Serves 2 | MAIN
Ingredients:
Sweet potato:
1 large sweet potato (or 2 medium)
1/2 teaspoon harissa paste
2 tablespoons olive oil
1 tablespoon maple syrup
1/2 teaspoon dried oregano
Salt and pepper
Turmeric rice:
1 tablespoon of olive oil
200g long-grain rice (or basmati)
Pinch of salt
1 teaspoon of Dhow Nature Foods turmeric (10% discount code: DHOWLIKENATALI)
Serve with:
1 spring onion, sliced
Handful of chopped pistachios
Handful of dried raisins
Fresh coriander
Plant based yogurt (I used Alpro Greek style)
Steps:
1.Preheat the oven at 180°C.
2.Peel the potatoes and cut them lengthwise, 1cm thick and use a knife to make crisscross lines on both sides.

3.Mix the remaining ingredients for the sweet potato and coat the sweet potatoes with this marinate.
4.You can do the above steps a day ahead, just keep the potatoes in the fridge.
5.In a hot (gridle) pan add a splash of olive oil on a medium heat and add the sweet potatoes on a single layer. Cook for a couple of minutes on each side.
6.Add the sweet potatoes on a baking tray and place in the oven for 20 minutes, turning halfway through.
7.While the sweet potatoes are cooking, prepare the rice by adding the olive oil in a small pot, on a medium heat along with the rice, salt and turmeric.
8.Stir to coat the rice in the olive oil and add 400ml of boiling water, stir, bring to boil, and lower the heat. Cover and cook for 10 minutes.
9.After 10 minutes, all the water must be evaporated, and the rice should have been cooked.
10.Let the rice cool down, before you add the spring onions, pistachios, raisins, and coriander.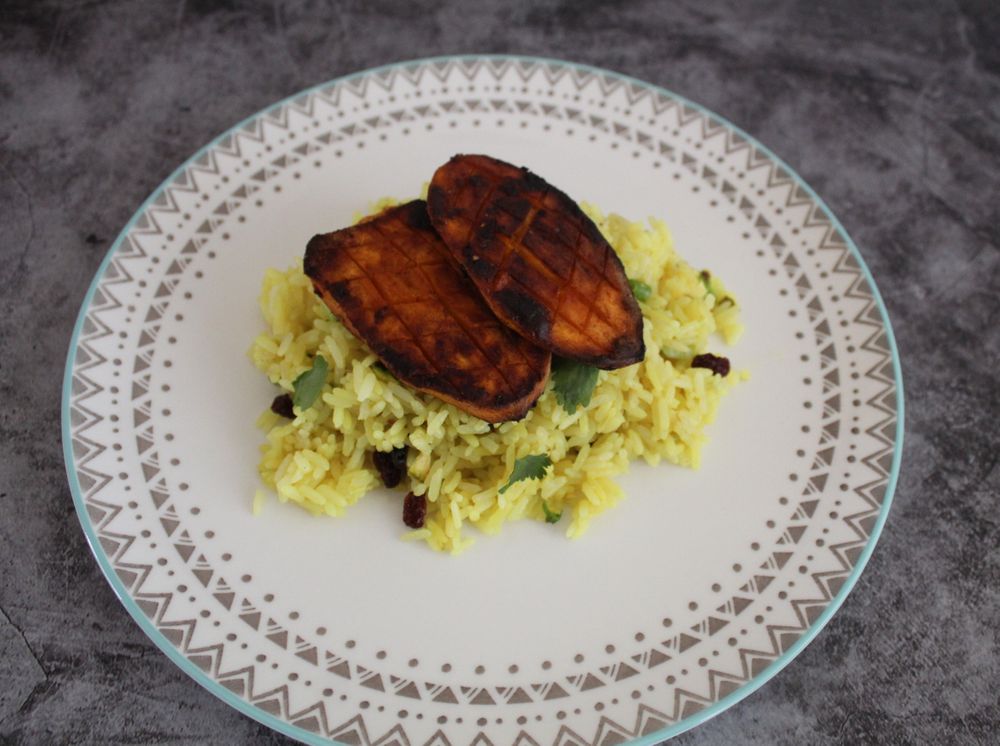 11.Once the sweet potatoes are cooked, serve with plant-based yogurt and enjoy!
Happy cooking everyone!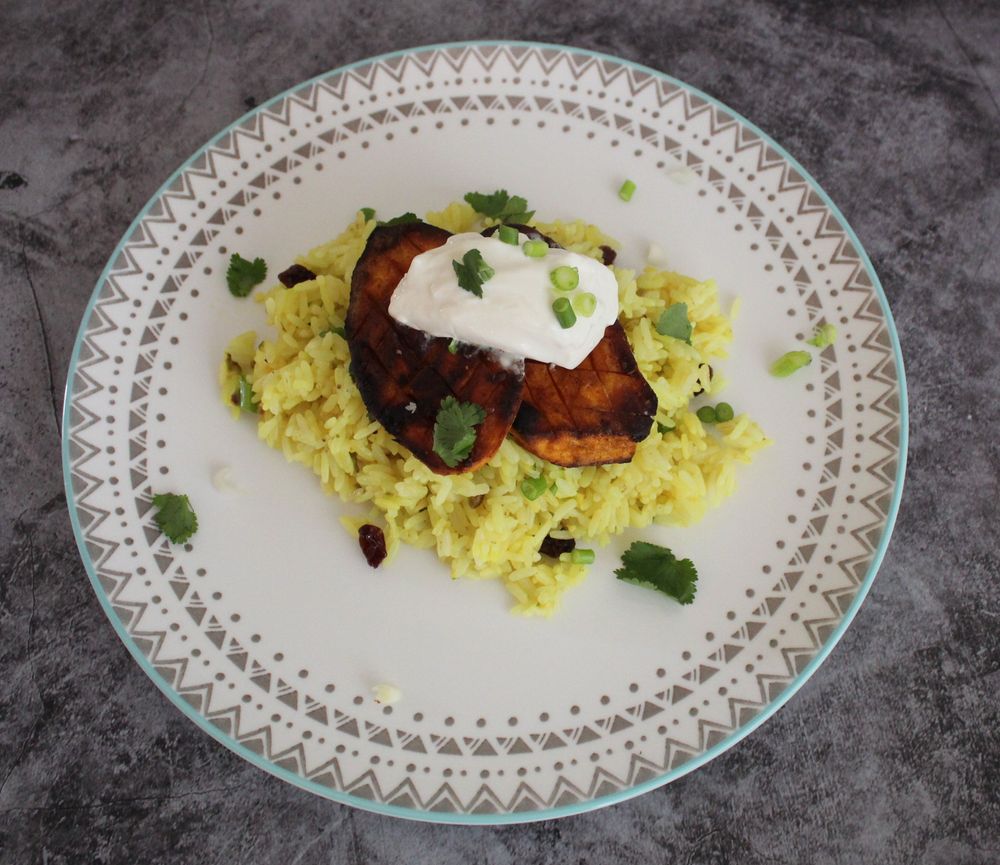 Did you try this recipe?
Let us know how it went, comment below and share a picture on Instagram or Twitter with the hashtag #natliciousfood
*Disclosure
Some of the above links are affiliate links, meaning at no additional cost to you, I may earn commission when you click through and make a purchase.