Sweet and tangy tofu
This tofu will blow your mind, it's crispy, tangy and sweet.
Vegan, nut free | Serves 3 | MAIN
Ingredients:
2 tablespoons of cornflour
280g firm tofu (I'm using tofoo), cut in medium size squares
2 tablespoons of olive oil
Juice of 1 and half lemon
2 tablespoons of maple syrup
1/2 teaspoon of oregano, chilli flakes and dried parsley
1/2 teaspoon of each garlic paste and ginger paste
Salt and pepper
1 red pointy pepper, cut in squares
2 spring onions, green part, sliced
Pinch of sesame seeds
Steps:
Preheat a non-stick pan, on a medium heat.

In a bowl, add the cornflour and the tofu, stir to combine the tofu completely.

Add the olive oil in the pan, and the tofu pieces on a single layer.

Cook for 2-3 minutes on each side, until they get a nice golden colour.

While the tofu is cooking prepare the lemon dressing, by mixing the lemon juice, maple syrup, garlic and ginger paste and all the dried herds.

Once the tofu is golden, add the lemon dressing in and cook for 2-3, to caramelise before adding the pepper and spring onions.

Cook them for additional 3 minutes.
I served it with rice and peas and sprinkled some sesame seeds on top.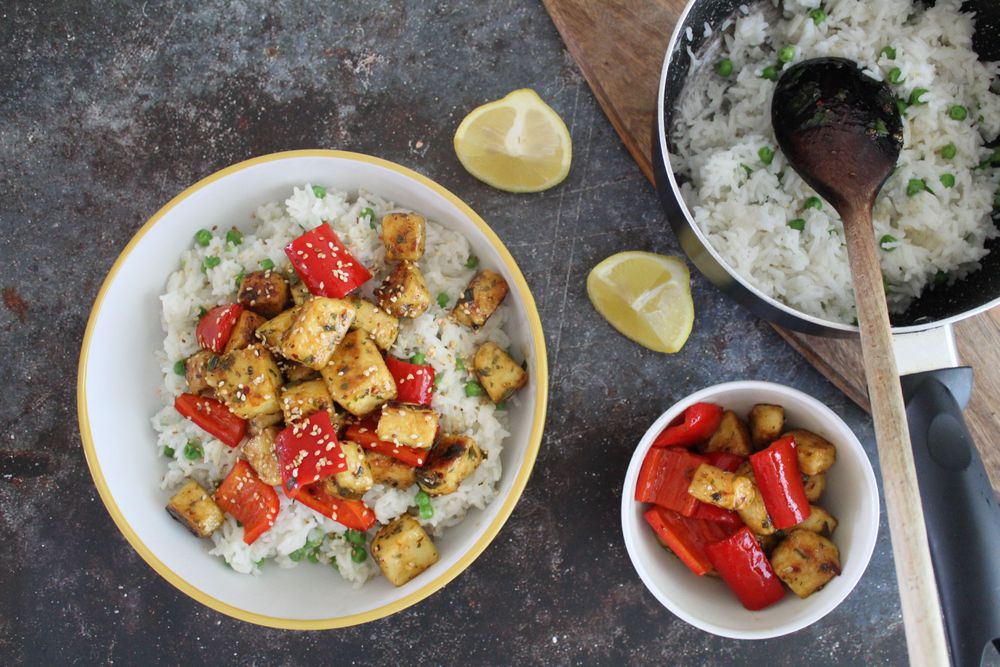 Happy cooking everyone!
Did you try this recipe?
Let us know how it went, comment below and share a picture on Instagram or Twitter with the hashtag #natliciousfood
*Disclosure
Some of the above links are affiliate links, meaning at no additional cost to you, I may earn commission when you click through and make a purchase.