Summer sandwich
Summer is officially here and I made this sandwich inspired by what's in season. It makes a perfect lunch on the go, great to take at the beach or to a hike!
Vegan, nut free, soy free, gluten free | Serves 2 | MAIN
*Use gluten free bread
Ingredients:
1 small courgette
1 small aubergine
1 tablespoon olive oil
Salt and pepper
1/2 teaspoon of each dried oregano and garlic granules
2 tablespoons pesto
2 tablespoons vegan mayonnaise
A handful of salad greens (lettuce, arugula, lollo rosso)
1/2 spring onion
Bread of your choice (I used whole grain baguettes)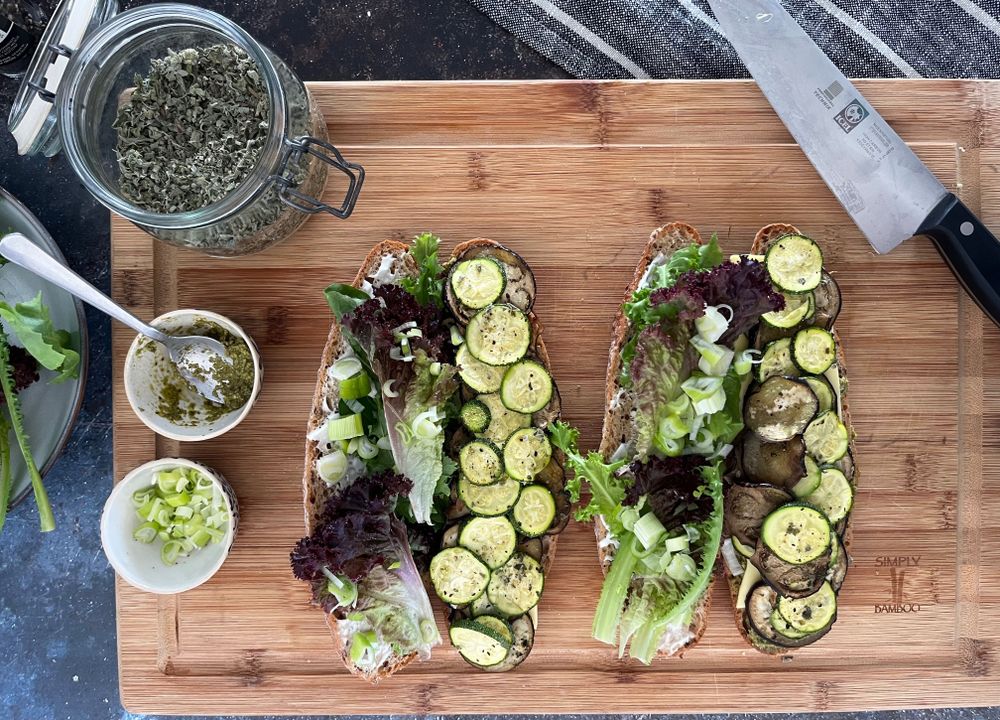 Steps:
1.Cut the courgette and aubergine in round thin slices and spread them on an even layer on a baking tray.
2.Season with all the herbs and drizzle the olive oil on top.
3.Bake in a preheated oven at 180°C for 10-15 minutes or until golden.
4.While the veggies are cooking, prepare your sandwiches.
5.Start by slicing the bread, spread the pesto in one side and the mayonnaise in the other.
6.Continue with your greens and add the sprinkle the chopped spring onions.
7.Once the aubergine and courgette slices are cooked add a layer of each in your sandwich.
8.Serve immediately or wrap to enjoy on the go!
Notes:
*You can toast your bread if your like.
*Feel free to add cucumbers, tomatoes or avocado and jar peppers would work great too!
Happy cooking everyone!
Did you try this recipe?
Let us know how it went, comment below and share a picture on Instagram or Twitter with the hashtag #natliciousfood
*Disclosure
Some of the above links are affiliate links, meaning at no additional cost to you, I may earn commission when you click through and make a purchase.