Savoury crepes
If you are bored with your usual breakfast, I've got your cover. These savoury chickpea crepes are delicious and so versatile as you can fill them with whatever you like. They are full of plant-based protein, fibre, lots of vitamins and they are gluten free.
Vegan, gluten free, nut free | Serves 4 | BREAKFAST
Ingredients:
140g gram flour (chickpea flour)
Pinch of salt and pepper
1/2 teaspoon of each oregano, chili flakes, garlic granules, turmeric, dried parsley
1/2 teaspoon of Dhow Nature Foods turmeric (10% discount code: DHOWLIKENATALI)
130ml water
50g vegan butter (I used Flora buttery)
Steps:
1.Melt the butter in the microwave for 30 seconds on 800W or in a saucepan for few seconds.
2.Add the flour and all the herbs in a bowl and stir to combine.
3.Add the water and melted butter and mix with a whisk.
4.Let the mixture aside to rest for 10 minutes while you prepare the filling.
5.You can go as wild as you want in regards to the filling. I used a mixture of Quorn smoky ham, cream cheese, grated cheese, sautéed mushrooms, spinach and fresh chilis.
6.Preheat a non-stick pan, on a medium heat.
7.Use a ladle to add batter into the pan, lift and tilt the pan to move the mixture around for a thin and even layer. Is ready when you see some bubbles on the top and the edges come off the pan.
8.Flip over, using a spatula and cook until golden. This won't take long.
9.Once you flipped the crepe, add the filling you are using on half of it and then fold the crepe over the fillings.
10.Cook for a minute or so and continue until you have used all the batter.
Happy cooking everyone!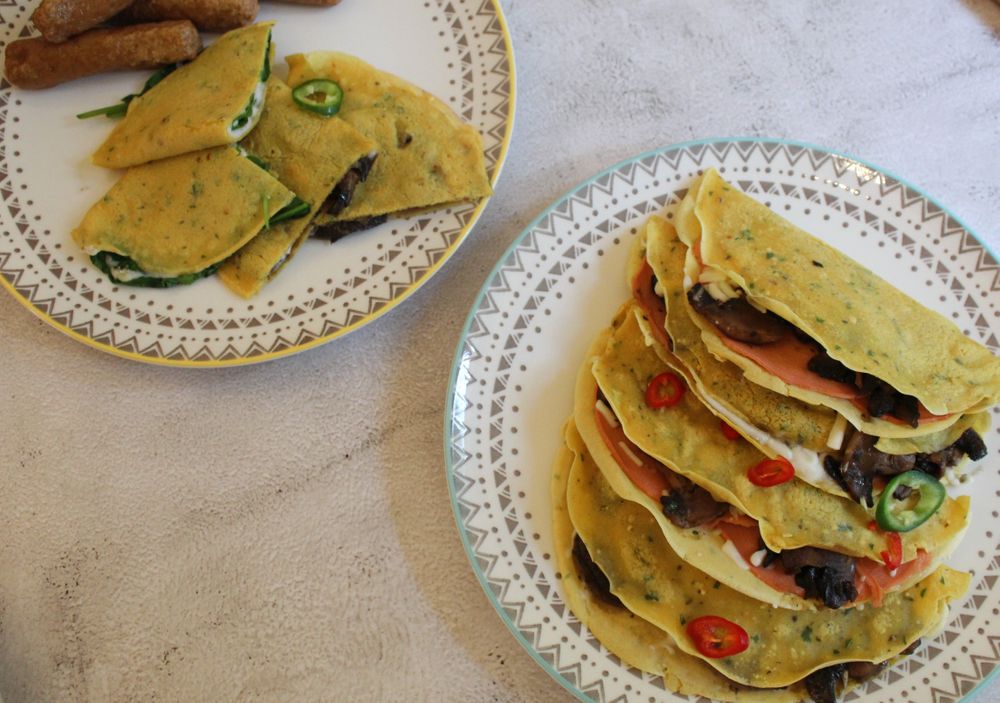 Did you try this recipe?
Let us know how it went, comment below and share a picture on Instagram or Twitter with the hashtag #natliciousfood
*Disclosure
Some of the above links are affiliate links, meaning at no additional cost to you, I may earn commission when you click through and make a purchase.