Rainbow protein bowl
This 20-minute rainbow protein bowl is full of flavour and textures. It's a little bit spicy, with a sweetness of the mango salsa and some crunchiness from the lettuce and tempeh!
Vegan, nut free | Serves 2 | MAIN
Ingredients:
Tempeh:
200g tempeh, cut in 1cm thick slices
1 tablespoon of each tomato paste, soy sauce, olive oil and maple syrup
Salt and pepper
1/2 teaspoon of each garlic granules and paprika
Bulgur:
1 tablespoon olive oil
1 onion, sliced
2 cloves of garlic, crushed
1/2 red chilli, julienne
Salt and pepper
1/2 teaspoon of each cumin, paprika and garlic granules
1 tablespoon tomato paste
250g red kidney beans (drained weight), drained and washed
4 tablespoons sweetcorn (frozen or from a can)
160g bulgur wheat
Mango salsa:
1/2 mango, cut in small cubes
1/2 red onion, cut in small pieces
1/2 red chilli, cut in small pieces
Fresh coriander
1 tablespoon of olive oil
1/2 lime, juice
Serve with:
Fresh coriander
Lime juice
Spring onions
Lettuce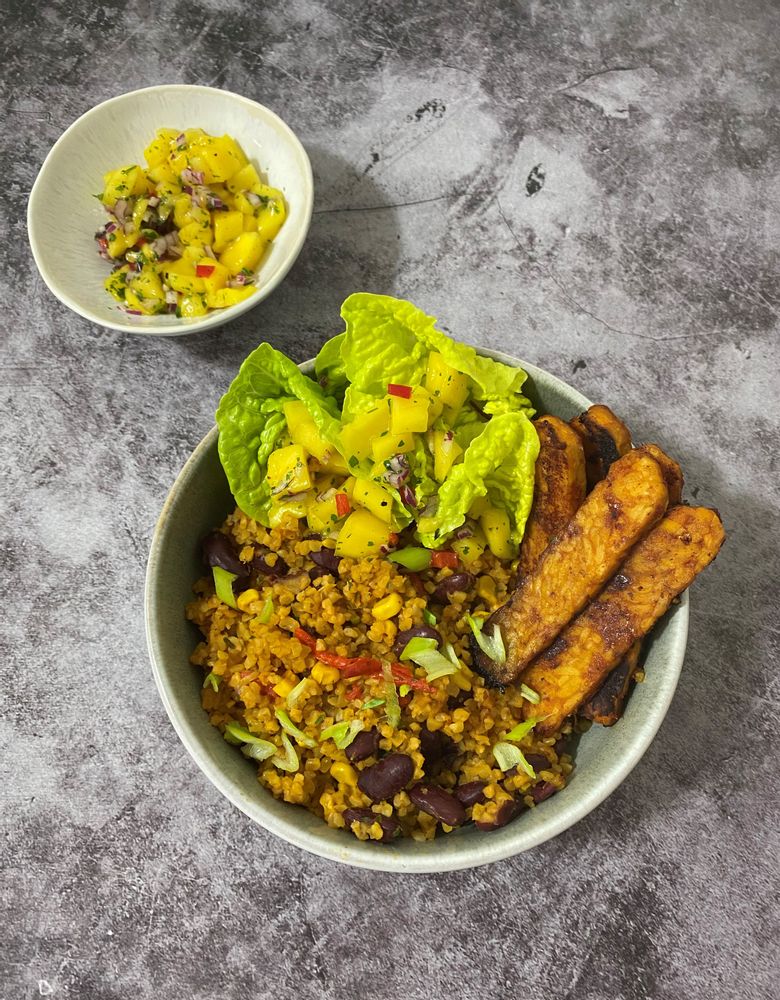 Steps:
1.In a wide pan, add some boiling water and add the tempeh pieces. Boil for 8-10 minutes.
2.Prepare the marinade for the tempeh, by mixing all the remaining ingredients in a ball. Set aside until needed.
3.Now for the bulgur, in a medium pot, on a medium heat, add the olive oil and onions and sauté until translucent.
4.Then add the garlic and red chili, sauté for a couple more minutes.
5.Season with all the spices and add the tomato paste. Cook for another minute.
6.Add the beans and sweetcorn, stir around and then add the bulgur along with 500ml of boiling water. Add some more salt at this point.
7.Bring to boil, lower the heat, cover and cook for 10 minutes.
8.Once the tempeh has finish boiling, add the pieces into the sauce, and coat well.
9.Prepare your mango salsa, by mixing all the ingredients in a bowl.
10.In a preheated pan, add a splash of olive oil and add the tempeh pieces in one layer. Cook for 2-3 minutes on each side.
11.Once the bulgur is cooked (water must be fully absorbed), serve with a squeeze of lime juice, some fresh coriander, lettuce and spring onions.
Happy cooking everyone!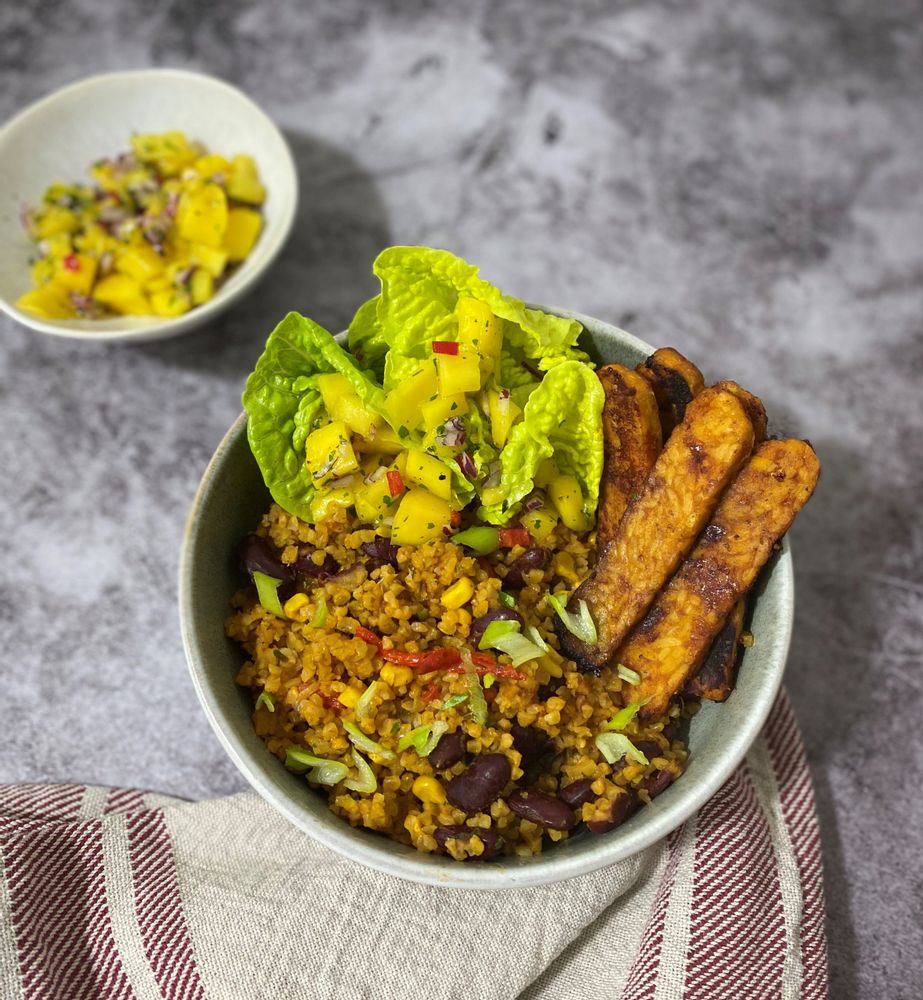 Did you try this recipe?
Let us know how it went, comment below and share a picture on Instagram or Twitter with the hashtag #natliciousfood
*Disclosure
Feel free to support me on Patreon!
Some of the above links are affiliate links, meaning at no additional cost to you, I may earn commission when you click through and make a purchase.