Oats with caramelised apples
Oats with caramelised apples
Oats are one of the healthiest breakfast options out there. Here I'm presenting you my favourite recipe of porridge, which consist of caramelised apples, peanut butter and granola!
Vegan, soy free | Serves 1 | BREAKFAST
Ingredients:
1/2 teaspoon of coconut oil
1 apple, cut in small cubes
1 teaspoon of maple syrup
Pinch of cinnamon
250ml milk (I used soy)
200g rolled oats
1 teaspoon of peanut butter (I used Meridian rich roast)
Steps:
In a small pot, on a medium heat, melt the coconut oil and then add the apples, sauté for a minute, then add the maple syrup and cinnamon and cook for another minute or two. You want the apples to soften a bit but have a bite.

Remove the apples from the heat and add in a bowl.

In the same pot, add the milk and 125ml of water.

Stir and bring to boil, then add the oats and cook for few minutes, stirring occasionally.

When it starts to thicken up, add the peanut butter and stir to dissolve.

Taste and adjust the sweetness if needed by adding more maple syrup.

Serve with granola, cinnamon and the caramelized apples.
If you prefer your oats a bit runnier, add more water or milk (I prefer mine more on the thick side).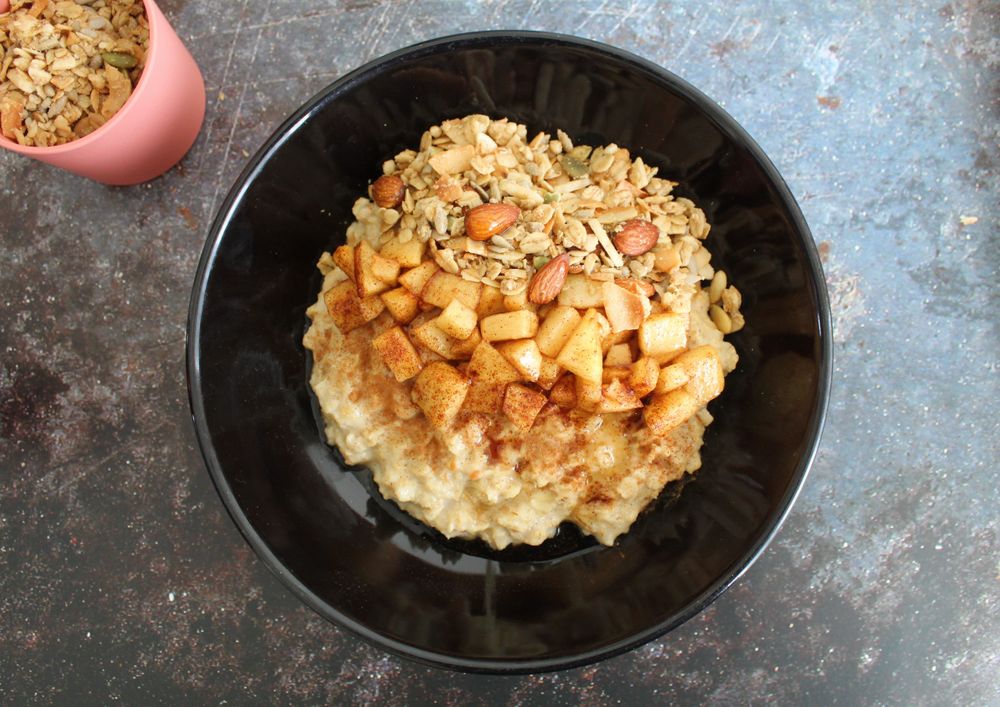 Enjoy!
Did you try this recipe?
Let us know how it went, comment below and share a picture on Instagram or Twitter with the hashtag #natliciousfood
*Disclosure
Some of the above links are affiliate links, meaning at no additional cost to you, I may earn commission when you click through and make a purchase.