Piccalilli potato salad
A different twist on your classic potato salad, and it won't disappoint!
Vegan, nut free, soy free, gluten free | Serves 4 | SALAD
Ingredients:
500g potatoes
Salt and pepper
1 spring onion, sliced
A handful of fresh coriander, sliced
2 tablespoons piccalilli
1 tablespoon sauerkraut
100g sweet corn (from can), drained and rinsed
1/2 teaspoon dried oregano
2 tablespoons olive oil
1/2-1 lemon juice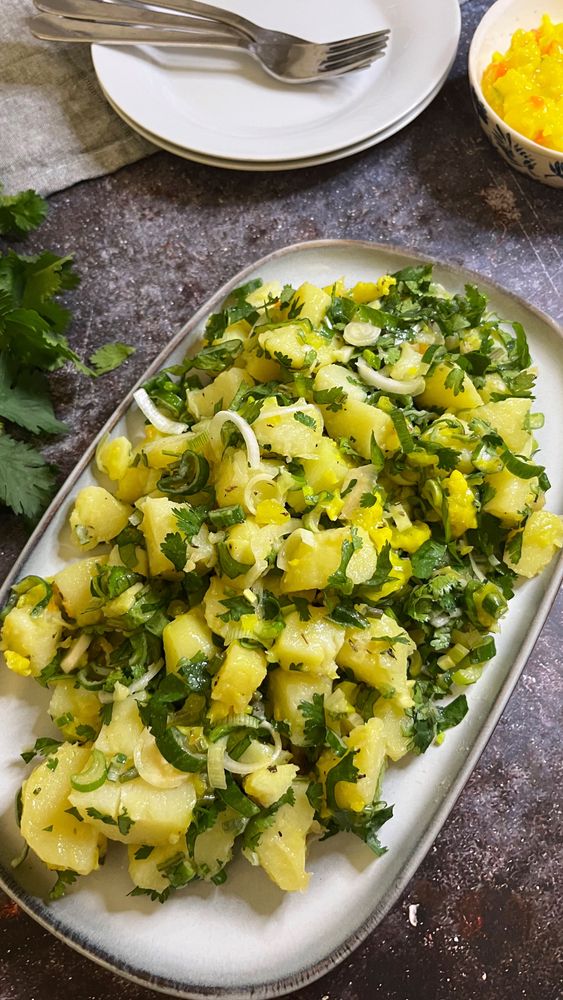 Steps:
1.Wash thoroughly the potatoes, add them in a pot and cover with water.
2.Add some salt and boil on a medium high heat for 30-40 minutes or until the potatoes are cooked.
3.Once they are cooked, drain the water, and set aside to cool down.
4.Peel the potatoes and cut them in bite size pieces.
5.Add all the ingredients in a large mixing bowl and combine well.
6.Taste and adjust the seasoning to your taste.
Happy cooking everyone!
Did you try this recipe?
Let us know how it went, comment below and share a picture on Instagram or Twitter with the hashtag #natliciousfood
*Disclosure
Feel free to support me on Patreon!
Some of the above links are affiliate links, meaning at no additional cost to you, I may earn commission when you click through and make a purchase.