Oven baked beans
Beans are a staple pantry ingredient and with this recipe I can assure you that you are going to love them even if you are not a fan.
Vegan, soy free, gluten-free | Serves 3-4 | MAIN
Ingredients:
3 x 230g cannellini beans or butter beans (drained weight), drained and washed
1 medium size onion, peeled and finely diced
3 cloves of garlic, peeled and finely diced or crushed
2 carrots, peeled and cut into small cubes
2 potatoes, peeled and cut into small cubes
1 celery stick, finely diced
1 bay leaf
1 vegetable bouillon cube
1 tablespoon of tomato paste
Pinch of chilli flakes, salt, pepper
1/2 teaspoon of oregano
A handful of cherry tomatoes, cut in half
1/2 red onion, peeled and cut into thin round slices
2-3 tablespoons of olive oil
1 tablespoon of fresh parsley, finely diced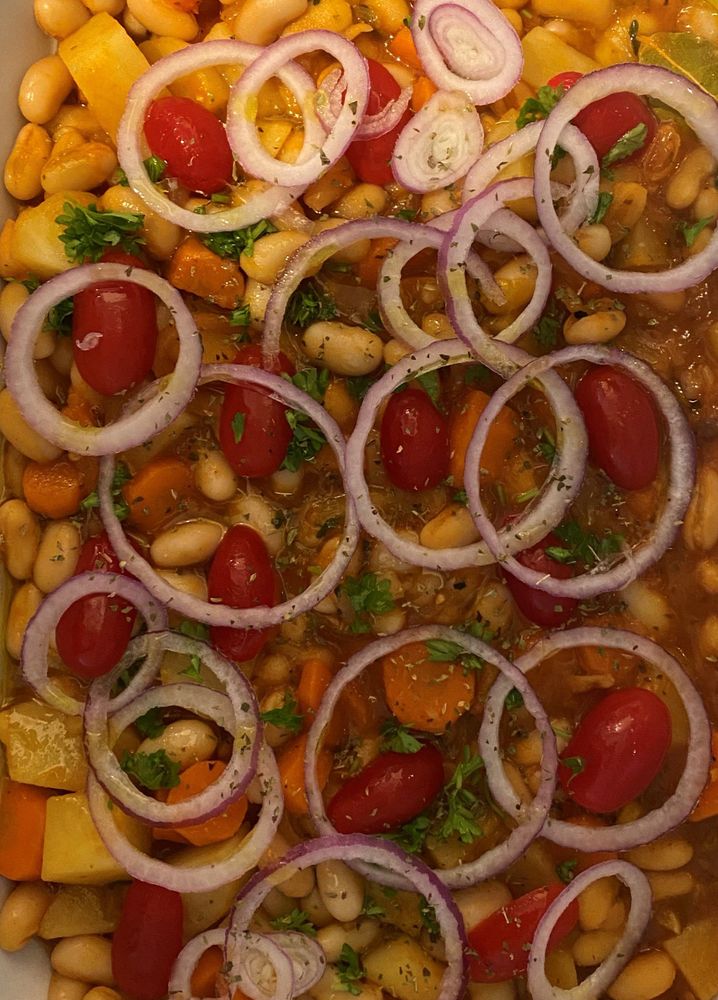 Steps:
In a large pot add a touch of oil on a medium heat and add all the vegetables and herbs and sauté until soft and golden brown (this might take up to 10-12 minutes). Add splashes of water to deglaze the pot if needed.

Add the tomato paste and stir it through for a couple of minutes.

Add the veggie cube, beans, bay leave and around 350ml of boiling water (the water should cover all the ingredients). Bring to boil and turn the heat to low. Simmer for 15-20 minutes and stir occasionally. The potatoes at this point must be almost cooked.

Add the beans in a baking tray, add the cherry tomatoes, red onions, sprinkle some salt and oregano. Cover with aluminum foil and bake in a preheated oven for 15-20 minutes at 180°C.

Cook uncover for the last 5 minutes. Finish with a drizzle of olive oil and parsley. Serve them with bread.
Happy cooking everyone!
Did you try this recipe?
Let us know how it went, comment below and share a picture on Instagram or Twitter with the hashtag #natliciousfood
*Disclosure
Some of the above links are affiliate links, meaning at no additional cost to you, I may earn commission when you click through and make a purchase.