No bake Oreo cupcakes
These little vanilla Oreo cupcakes are ideal for any occasion! Delicious and creamy, perfect for any Oreo lover!
Vegan, nut free, soy free | 14 cupcakes | DESSERT
Ingredients:
For the base:
308g Oreo (2 packages)
2 tablespoons of vegan butter (I used Flora buttery)
For the cream:
400g Violife cream cheese (or cream cheese of choice)
400ml full fat coconut milk (can)
120g powdered sugar
2 tablespoons of maple syrup
1 tablespoon of vanilla
Steps:
Add the coconut milk in the fridge the day before you make the cupcakes so that the cream separates from the water (we will use only the creamy part).

In a food processor, add the biscuits and butter and blend until the biscuits have broken down and the mixture sticks together.

Keep 2-3 tablespoons of the Oreo mixture aside for decoration.

In a muffin tin, add 2 tablespoons of the Oreo mixture and press down with your fingers.

While you prepare the cream, add the Oreo base in the freezer.

For the cream, add the cream cheese, coconut cream (only the creamy part), the sugar and vanilla in a bowl and combine with a hand mixer.

Fill the muffin tins with the cream and smooth them out with the back of a spoon.

Freeze overnight for the cream to set. The next day, remove from the freezer, let aside for 10 minutes before removing from the muffin tin.

Use a butter knife to help you remove them from the tin. If you are using a silicone mould, you don't need to wait for 10 minutes, you can remove them immediately.

Add a little bit of the Oreo crumbles you kept on each cupcake for decoration.
Keep in the fridge and serve cold.
Enjoy!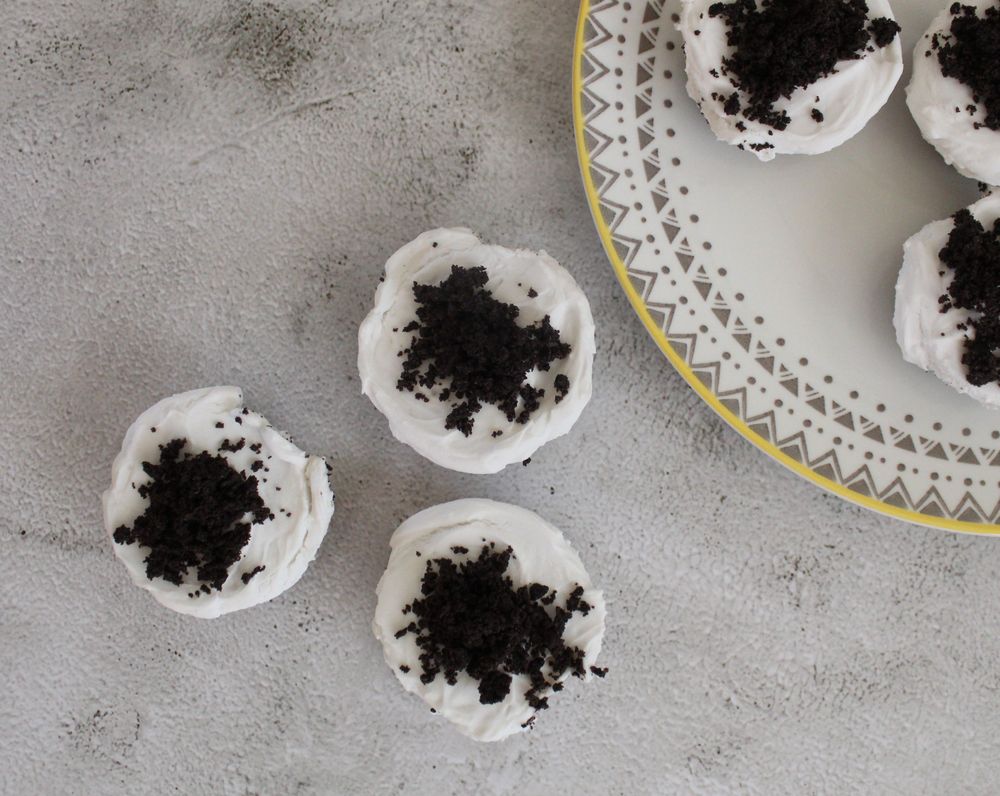 Did you try this recipe?
Let us know how it went, comment below and share a picture on Instagram or Twitter with the hashtag #natliciousfood
*Disclosure
Feel free to support me on Patreon!
Some of the above links are affiliate links, meaning at no additional cost to you, I may earn commission when you click through and make a purchase.