My lentils
Lentils have been in my life since I can remember myself. When I went to uni and I had to cook for myself, this was one of the first recipes I learned and until now is a weekly favourite.
Vegan, nut free, gluten free | serves 3 | MAIN
Gluten free if you omit the pasta or use gluten free.
Ingredients:
250g dried brown lentils, thoroughly washed
1 bay leaf
1 teaspoon oregano
1/2 teaspoon garlic granules
1 veggie cube (or 1 teaspoon veggie powder)
80g orzo pasta
1 tablespoon tomato paste
80ml olive oil
1 medium size onion, peeled and finely diced
2 cloves of garlic, peeled and finely diced
2 spring onions, sliced
Salt and pepper
Steps:
1.In a large pot, add 800ml of water and the rinsed lentils and bay leaf, on a medium heat.
2.Boil them for 30 minutes. After 30 minutes, they must be almost cooked.
3.Add the oregano, garlic granules and veggie cube, along with the orzo, tomato paste and 200ml of water.
4.Stir well to dissolve the tomato paste and veggie cube.
5.In a saucepan, add the olive oil along with the onions and garlic with a pinch of salt, and sauté on a medium-low heat for 5 minutes or until golden.
6.Remember to stir the lentils, as the orzo tend to stick in the bottom.
7.Once the onions and garlic are soft and golden, add them into the lentils and simmer them for another 10 minutes.
8.Check the seasoning and adjust to your preference.
9.Serve with salad and bread.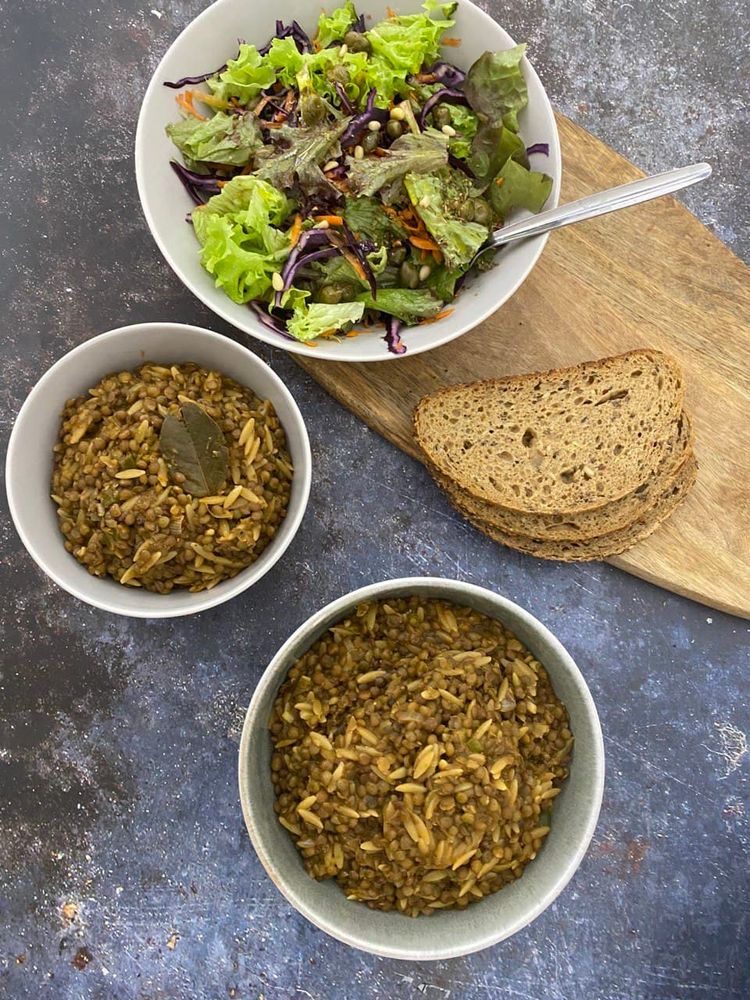 Notes:
*Some lentils take longer time to cook than others, you can soak them overnight if you are not sure about the quality.
Happy cooking everyone!
Did you try this recipe?
Let us know how it went, comment below and share a picture on Instagram or Twitter with the hashtag #natliciousfood
*Disclosure
Feel free to support me on Patreon!
Some of the above links are affiliate links, meaning at no additional cost to you, I may earn commission when you click through and make a purchase.