Mushroom and spinach pasta
Mushroom and spinach pasta
This easy pasta with mushroom and spinach can make a great mid-week meal and it's easy to make!
Vegan, nut free, soy free, gluten free * | Serves 2 | MAIN
*Use gluten free pasta
Ingredients:
3 tablespoons of olive oil
250g mushrooms
1 teaspoon butter (I'm using naturli)
1/2 onion, chopped
Salt and pepper
1/2 teaspoon of each dried oregano and thyme
1 clove of garlic, minced
1 tablespoon tomato paste
120g tomato passata
A handful of fresh spinach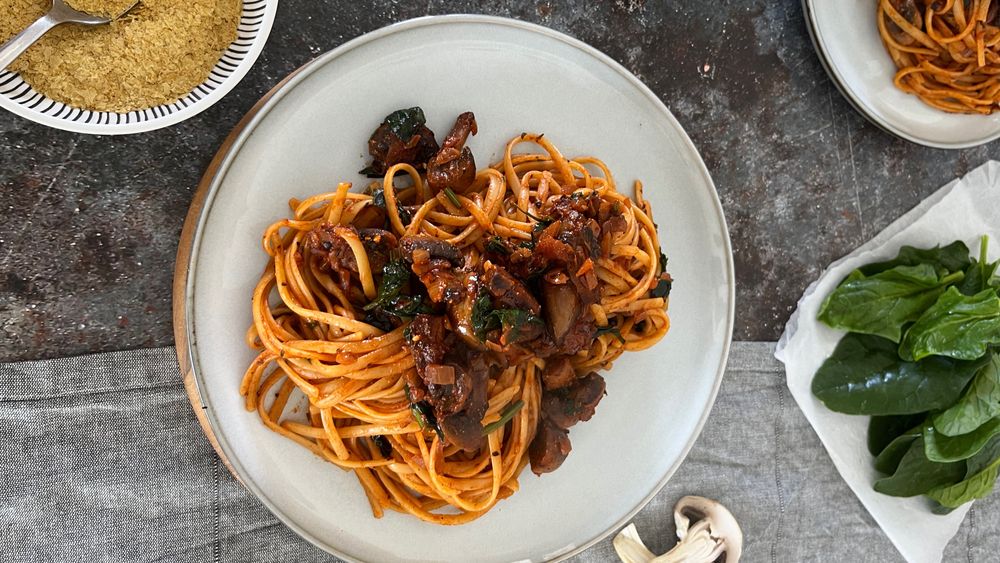 Serve with:
300g pasta of choice
2 tablespoons nutritional yeast
Fresh parsley
Steps:
1.Cut the mushrooms in big pieces.
2.In a wide pan, on a medium high heat, add half of the oil and add the mushrooms.
3.Saute them for 10 minutes, stirring occasionally.
4.Add the butter and remaining oil, along with the onions and sauté until translucent.
5.Add the garlic and remember to season.
6.Add a little bit of water if the pan it too dry.
7.Continue with the tomato paste, sauté for a couple of minutes and add the tomato passata.
8.Add 80ml of water, stir and cook for few minutes.
9.Add the fresh spinach and cook for a minute or two.
10.Finish it with some parsley and nutritional yeast.
11.Cook your pasta according to the package instructions and add some of the pasta water into the sauce.
Happy cooking everyone!
Did you try this recipe?
Let us know how it went, comment below and share a picture on Instagram or Twitter with the hashtag #natliciousfood
*Disclosure
Some of the above links are affiliate links, meaning at no additional cost to you, I may earn commission when you click through and make a purchase.