Mediterranean pasta
Quick, easy and light, this pasta will satisfy any lover of Mediterranean food. The good quality Greek virgin olive oil elevates the hamble vegetables to another level.
Vegan, soy free, gluten free | Serves 2 | MAIN
*Use gluten free pasta, to make it gluten free
Ingredients:
Coriander pesto:
15g fresh coriander
1 clove of garlic
Juice from 1 lemon
30g Pine nuts
Salt and pepper
Pinch of oregano
5 tablespoons Vassae Greek olive oil
Veggies:
2 tablespoons Vassae Greek olive oil
200g cremini mushrooms, cut in cubes
100g courgette, cut in cubes
Fresh Thyme
2 tablespoons of capers
4 sun-dried tomatoes (from jar), sliced
Serve with:
Lemon zest
Fresh coriander
Pine-nuts
Plant-based feta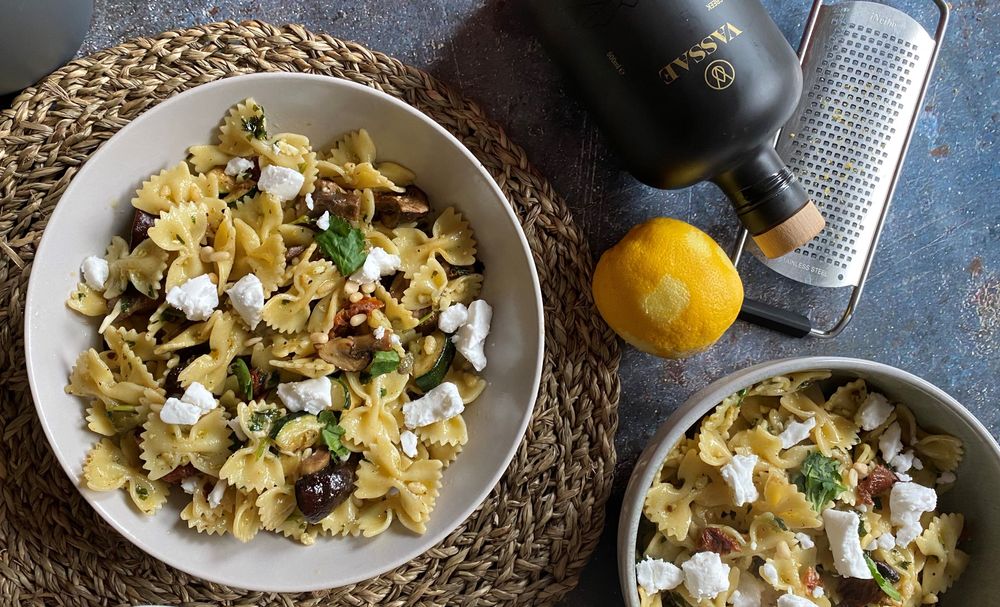 Steps:
1.Boil your pasta in salted water, according to the package instructions.
2.In a food processor, add all the ingredients for the pesto, except from the oil and blend. Add the oil while blending, and blend until you get a smooth paste. Stop and scrape the sides as needed.
3.In a hot pan, add a splash of olive oil and sauté the mushrooms for 3-4 minutes, stirring occasionally.
4.Add the courgette into the same pan, season with salt, pepper, thyme and add the rest of the olive oil.
5.Your pasta must be ready now, drain and add into the large bowl along with the pesto.
6.Once the veggies are golden, add them into the bowl along with the sun-dried tomatoes and capers and give it a good mix.
7.Serve with crumbled feta, lemon zest, more coriander and pine nuts.
Happy cooking everyone and enjoy!
Did you try this recipe?
Let us know how it went, comment below and share a picture on Instagram or Twitter with the hashtag #natliciousfood
*Disclosure
Some of the above links are affiliate links, meaning at no additional cost to you, I may earn commission when you click through and make a purchase.