Jackfruit biryani
This was a dish that my grandma would make in all special occasions, from birthdays to Christmas. For my vegan version I'm using jackfruit and let me tell you that the smell of this took me back to my grandma's kitchen!
Vegan, nut-free | Serves 6 | MAIN
Ingredients:
For the jackfruit marinade:
3 tablespoons of vegan yogurt (I used alpro Greek style)
1/2 teaspoon of each paprika, cumin, curry, chili flakes, black peppercorns
1/2 teaspoon of Dhow Nature Foods turmeric (10% discount code: DHOWLIKENATALI)
1 teaspoon of each garlic and ginger paste
Salt and pepper
2x225g jackfruit (drained weight), drained and washed
For the rice:
250g basmati rice
1 teaspoon of olive oil
500ml boiling water
Pinch of salt
1 bay leaf
For the onions:
3 tablespoons of vegetable oil
2 onions, cut in thin slices
For the sauce:
2 curry leaves
1/2 teaspoon of cumin seeds
1 cinnamon stick
2-3 start anise
1 onion, chopped
2 potatoes, peeled and cut in big cubes
1 teaspoon of tomato paste
300ml boiling water
250g frozen peas
Serve with yogurt and fresh mint.
Steps:
1.In a bowl add all the ingredients for the jackfruit marinade and mix well.
2.Cover and refrigerate for a couple of hours or overnight.
3.Rinse the rice very well with cold water, until the water comes out clear (this will take few minutes).
4.In a medium pot, on a medium heat, add the olive oil, then the rice and sauté for a minute to coat the rice in oil.
5.Add the water, bay leave and salt and stir. Bring to boil, lower the heat, cover and cook for 10 minutes. Once the rice is cooked, remove the bay leaf.
6.In a large pot on a medium heat, add the vegetable oil and once the oil is hot add the slices onions. Fry, for a couple of minutes until golden brown.
7.Remove the onions from the oil and place them on a plate lined with kitchen paper to adsorb any excess oil.
8.Continue cooking in the same pot. Add the curry leaves, cumin seeds, cinnamon stick and start anise and sauté for a minute until the spices have released their aromatics.
9.Add the onions and potatoes and sauté them for 4-5 minutes.
10.Add the marinated jackfruit and fry for few minutes. Add the tomato paste and stir to incorporate.
11.Add the water, bring to boil, lower the heat, cover and cook for 25 minutes, stirring occasionally.
12.After 25 minutes the potatoes should be cooked. If not, cook for additional 5 minutes (use a fork to check if they are cooked).
13.The sauce must have thickened as well. Add the peas and stir to incorporate.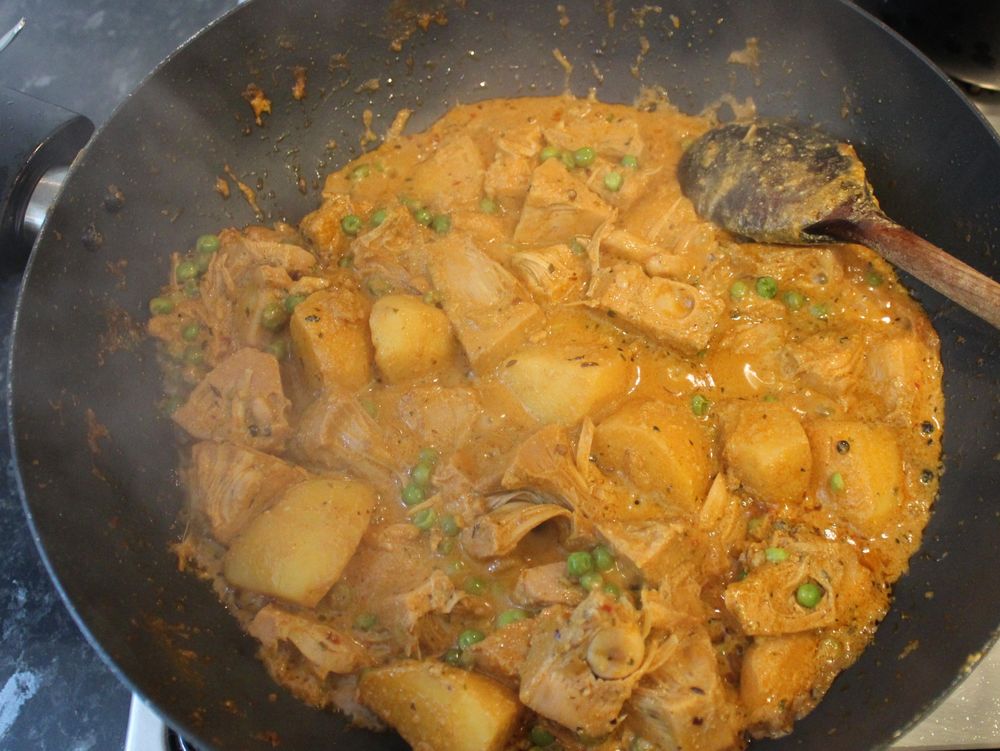 14.Spread the rice on top in an even layer, then add the fried onions, cover and cook for 5 minutes. Turn off the heat and let it rest for 5-10 minutes before serving.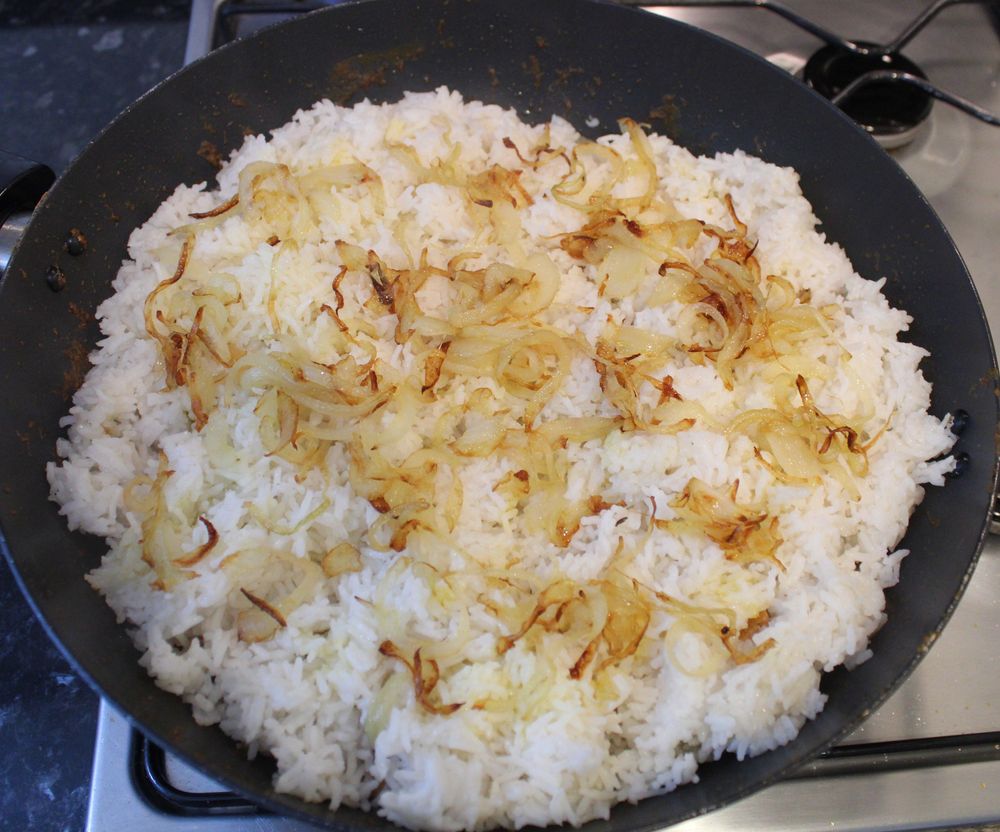 15.Serve with yogurt and fresh mint.
Happy cooking everyone!