Homemade cannelloni - Kanellonia
Homemade cannelloni - Kanellonia
A delicious recipe, that has few components to make but it's totally worth it!
Vegan, nut free, gluten free | Serves 2 | MAIN
Use gluten free flour to make it gluten free.
Ingredients:
Mincemeat:
1 onion, chopped
1 carrot
2 cloves of garlic, chopped or minced
2 tablespoons olive oil
200g vegan mince meat
Salt and pepper
1/2 teaspoon of each garlic granules, oregano, chilli flakes
1 bay leaf
1 tablespoon tomato paste
1 veggie cube
80g tomato passata
Fresh, frozen or dried parsley
Bechamel sauce:
1 heaped teaspoon of vegan butter
1 tablespoon of all-purpose flour
160ml milk
Salt and pepper
Pinch of nutmeg
2 tablespoons nutritional yeast flakes
Savory crepes:
250ml plant-based milk
15ml vegetable oil
140g all-purpose flour
Pinch of salt
To assemble:
1 tablespoon olive oil
60ml tomato passata
150g vegan cheese grated
Dried oregano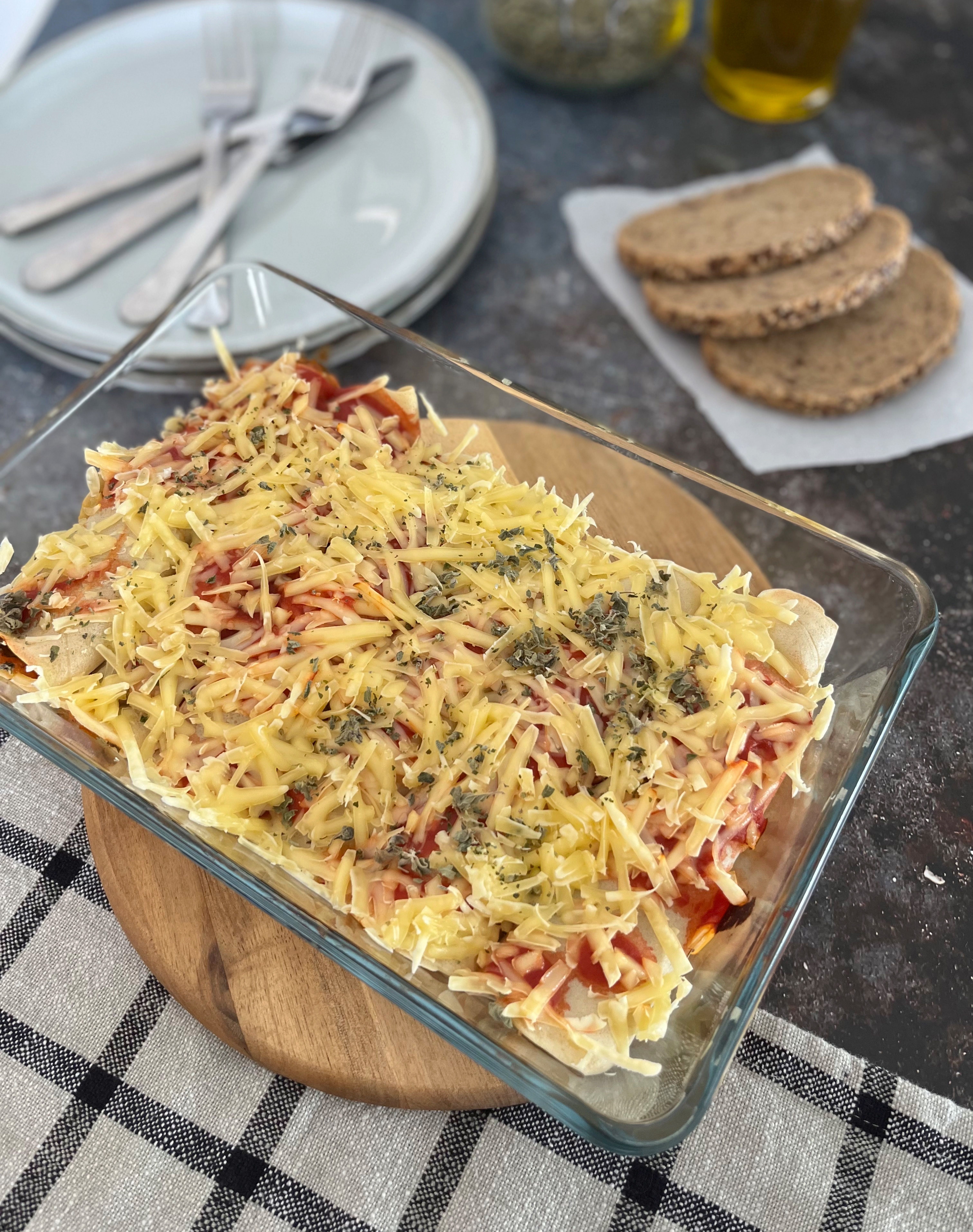 Steps:
1.Cut the onion and garlic.
2.Peel the carrot and grate it.
3.In a pan, on a medium heat, add the olive oil and the mincemeat.
4.Saute for a couple of minutes, before you add the onion, garlic and carrot.
5.Season with salt and pepper and the rest of the herbs and saute for a minute.
6.Add 60-80ml of water and lower the heat for few minutes, to cook the onions.
7.Once the water has been absorbed, add the tomato paste, veggie cube and bay leaf.
8.Cook the tomato paste for a minute and add the tomato passata, along with 160ml of water.
9.Let it simmer on low heat, stirring occasionally, until you prep the bechamel sauce.
10.In a saucepan, on a medium heat, add the butter and once it starts melting add the flour and whish constantly.
11.You need to cook the flour down, in order to avoid tasting it later on.
12.Once the flour has been absorbed from the butter, it will create a thick paste, start adding the milk in batches and remember to keep whisking.
13.Season with salt, pepper, nutmeg and nutritional yeast flakes.
14.The bechamel is ready once is creamy and silky.
15.back to the mincemeat, taste and adjust the seasoning to your preference, add the parsley and mix in the bechamel sauce.
16.Combine everything well and set aside to cool down, until we prep the crepes.
17.In a large mixing bowl, all the milk, oil and whisk.
18.Add the salt in the flour and add the flour mixture in the wet mixture in batches, whisking constantly, to avoid any lumps.
19.The consistency must be like a pancake batter.
20.Lighlty grease a pan, on a medium heat, and use a ladle to add batter into the pan, lift and tilt the pan to move the mixture around for a thin and even layer.
21.Cook on a medium heat. They are ready when you see some bubbles on the top and the edges come off the pan. Flip over, using a spatula and cook until golden. This won't take long.
22.Continue until you have used all the batter (it makes 6-7 crepes).
23.Now it's time to assemble. Start by adding the olive oil in the bottom of a baking tray.
24.Add 2 tablespoons of the mincemeat in each crepe and roll it, making a cigar.
25.Places the crepes next to each other, drizzle the tomato passata on top, then add the cheese and sprinkle some oregano.
26.Cover with foil, and bake in a preheated oven at 180°C for 15 minutes, then remove the foil and bake it for additional 10 minutes or until it gets nice and golden.
27.Serve with bread and salad.
Happy cooking everyone!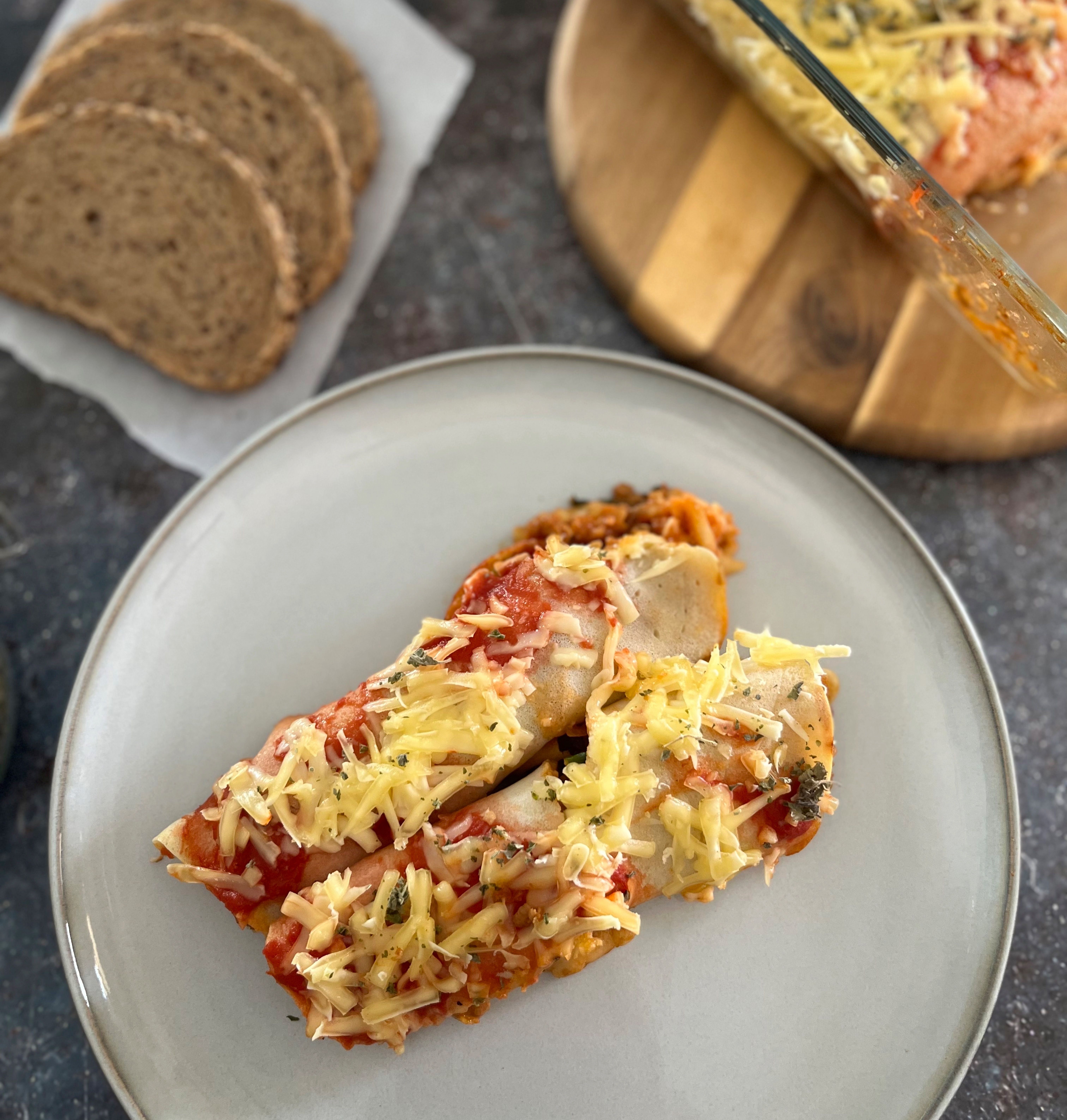 Notes:
*Cook the crepes on medium heat.
*You can prep the mince and crepe batter in advance.
*You can prepare it up to step 25, freeze it and bake it later.
*You could add extra cheese in the mince filling.
*You could use store bought savoury crepes or use tortillas.
Did you try this recipe?
Let us know how it went, comment below and share a picture on Instagram or Twitter with the hashtag #natliciousfood
*Disclosure
Some of the above links are affiliate links, meaning at no additional cost to you, I may earn commission when you click through and make a purchase.