Green orzotto
This green orzotto is creamy, packed with veggies and delicious!
Vegan, nut free | Serves 3 | MAIN
Ingredients:
2 tablespoons olive oil
1 shallot
2 cloves of garlic
1/2 leek stick
Salt and pepper
1 courgette
1 head of broccoli
1/2 teaspoon dried oregano
1/2 teaspoon garlic granules
600ml veggie broth
180g orzo
80g peas
1 teaspoon Dijon mustard
50ml soy cream
2 tablespoons nutritional yeast
25g vegan cheese, shredded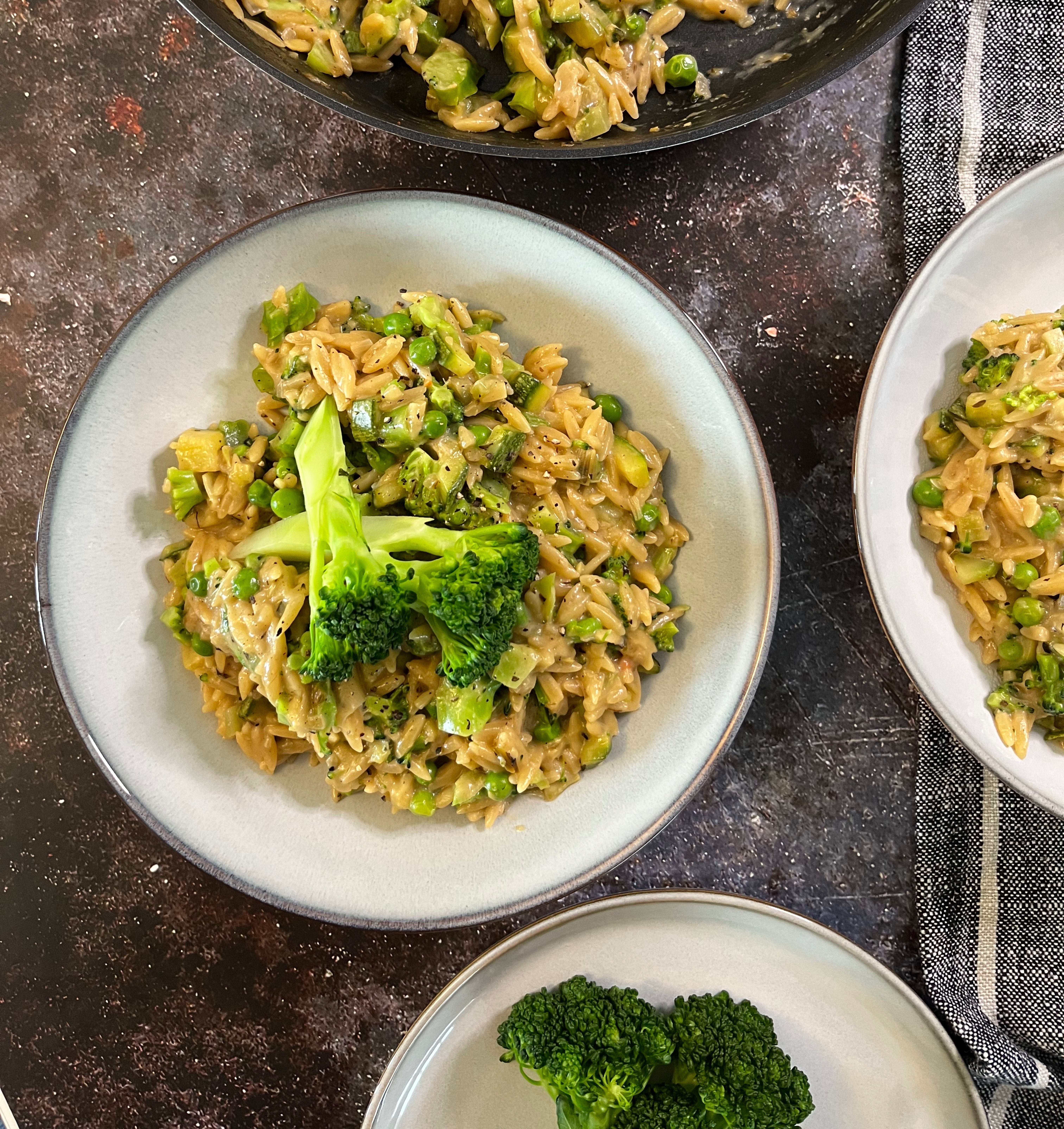 Steps:
1.Start by cutting all the veggies in small cubes.
2.Remove the hard parts of the broccoli stem and chop this one as well.
3.Add the veggie broth in a sauce pan on a medium heat and let it simmer.
4.Add the olive oil in a wide pan on a medium heat, followed by the shallot and garlic.
5.Saute for a couple of minutes before you add the chopped courgette and broccoli stem. Remember to season with salt.
6.Saute for 2-3 minutes stirring occasionally.
7.Add a ladle of the veggie broth and stir around.
8.Continue with the orzo and few ladles of the broth.
9.Keep stirring it and once the water has been absorbed continue adding 2 more. You want to keep doing that for approximately 13-15 minutes.
10.After 10 minutes, add the peas and the chopped broccoli florets with some veggie broth.
11.Add the mustard, soy cream, nutritional yeast and cheese.
12.Taste and adjust the seasoning if needed.
13.Enjoy warm and serve with some steamed broccoli or a salad!
Happy cooking everyone!
Did you try this recipe?
Let us know how it went, comment below and share a picture on Instagram or Twitter with the hashtag #natliciousfood
*Disclosure
Some of the above links are affiliate links, meaning at no additional cost to you, I may earn commission when you click through and make a purchase.