Gigantes plaki
Gigantes plaki or giant baked beans, another delicious favourite Greek recipe. This is one of those recipes that everyone loves, and it tastes even better the next day!
Vegan, nut free, soy free | Serves 4 | MAIN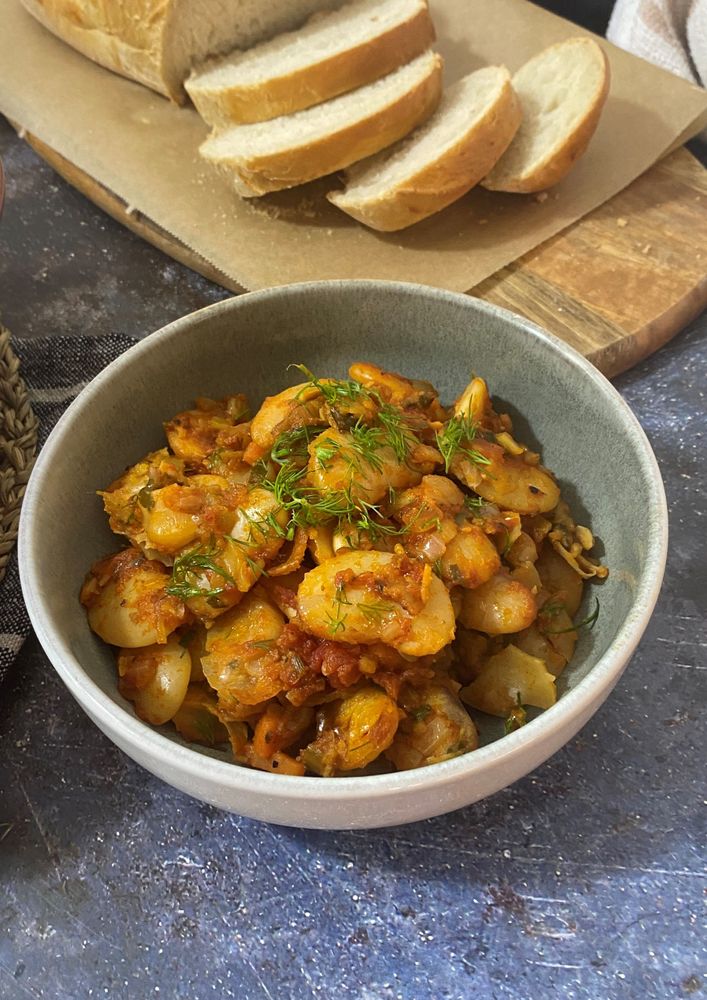 Ingredients:
350g butter beans
3 tablespoons olive oil
1 onion
2 carrots
2 celery sticks
2 cloves of garlic, crushed
1 teaspoon sugar
Salt and pepper
1 bay leaf
1/2 teaspoon chilli flakes
1 teaspoon dried oregano
1 tablespoon tomato paste
400g peeled tomatoes, from a can
1 veggie cube
1/2 bunch of fresh parsley, chopped
Serve with:
Vassae Greek olive oil
Fresh dill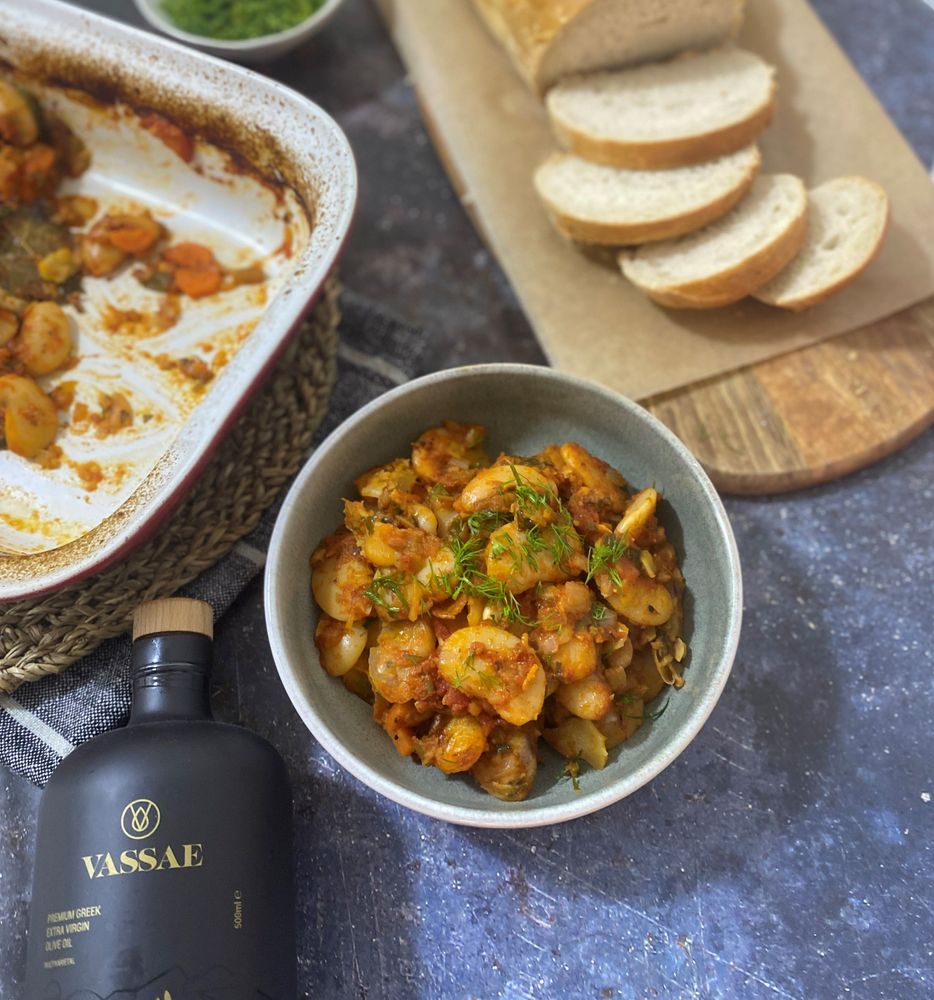 Steps:
1.Soak the beans overnight in water.
2.The next day, drain and rinse the beans.
3.Add the beans in a large pot, cover with plenty of water and boil for an hour until the beans are tender.
4.Use a spoon to remove any foam that appears, while boiling.
5.In the meantime, you can prepare all your vegetables, by chopping them into small cubes.
6.When the beans are almost cooked, start preparing the sauce.
7.In a wide pan, on a hight heat, add the oil, onion, carrots, celery, garlic with a generous pinch of salt and the sugar.
8.Saute for 8-10 minutes, stirring occasionally.
9.Add all the spices and tomato paste and cook for 2-3 minutes.
10.Continue with the peeled tomatoes and vegetable stock.
11.Your beans must be ready by now, drain them and add them into the sauce.
12.Season the beans generously and add 500ml of water.
13.Bring to boil and cook on the stove for 15 minutes before you add the parsley.
14.Add the bean mixture into an oven proofed dish and bake at 180°C in a preheated oven for an hour covered and 15 more minutes uncovered.
15.Serve with olive oil, dill, and bread.
Notes:
*The cooking time of the beans it varies, so adjust the boiling and baking time according to your beans.
*You can use a pressure cooker to boil the beans and the time will decrease massively.
*You can use canned butter beans and skip steps 1-4.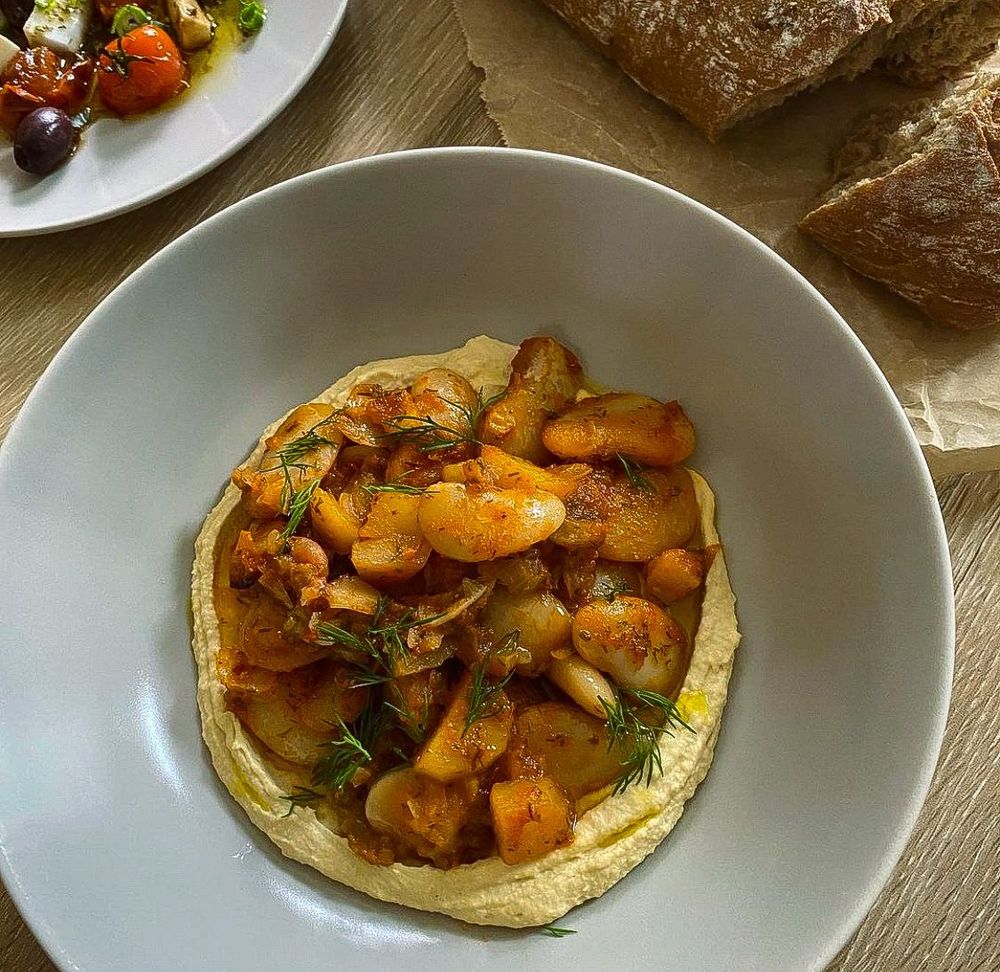 Happy cooking everyone!
Did you try this recipe?
Let us know how it went, comment below and share a picture on Instagram or Twitter with the hashtag #natliciousfood
*Disclosure
Feel free to support me on Patreon!
Some of the above links are affiliate links, meaning at no additional cost to you, I may earn commission when you click through and make a purchase.